These Dairy-free Gingerbread Men cookies are by far my new favorite holiday treats! They are so soft and chewy, fully spiced and flavorful with a perfect amount of ginger and molasses flavor. But what better way to pair this sweet treat than with a cup of amazing Spiced 'Eggless' Eggnog! 'Tis is surely the season to be jolly! CHEERS.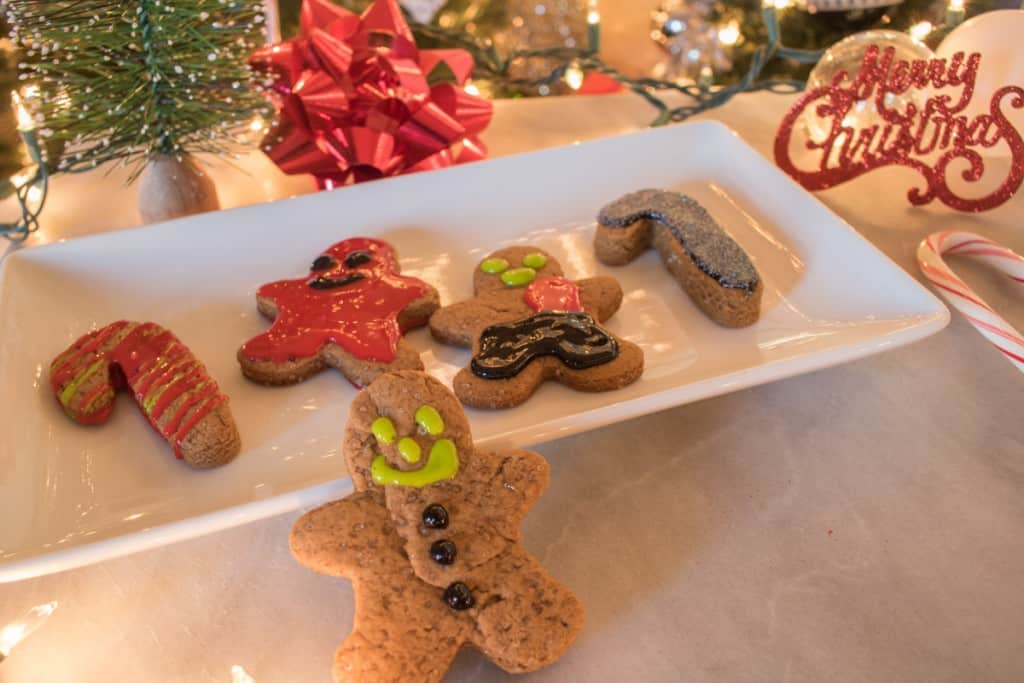 Gingerbread Men cookies are such a Christmas classic and must-do for every family, I think.
Not only is it a great tasting sweet treat, but it's such a fun thing to do when you have toddlers or kids. The decorating can be a bit of a struggle (at least it was for me! Haha.), but once again, it's really fun!
Speaking of Gingerbread…be sure to check out these delicious Gingerbread Cinnamon Rolls w/ Maple Cream Cheese Frosting.
I had a pretty busy day on my day off today. A day spent mastering these recipes, tending to my little guy, making a nice Veggie chili for dinner, and gift wrapping.
I've begun my gift wrapping early this year since my little guy can be pretty unpredictable and I didn't want him finding any of his gifts. Haha.
While my mission isn't fully complete, I most certainly did get a lot accomplished thus far! Yay! More importantly, while gifts this year are full of toys, most will consist of things that can be put to good use.
The great thing about having a 2 year old is that their personality really does shine in this stage, so you start to uncover their real likes/dislikes.
Knowing this makes the gift buying process a lot easier and more hopeful that toys won't be neglected after a day or so of being touched. Ever lived out this struggle?
Anyway, It's been EXTREMELY cold in NYC this week and the remainder of the week seems to pose the same threat. I mean frigid cold!
Winter surely is rearing it's ugly head this year! We even had a bit of snow last weekend and I'm wondering if this will happen closer to Christmas as well.
Hey—a white Christmas isn't necessarily bad, right? Hopefully, we won't need an 'SOS' for that snow!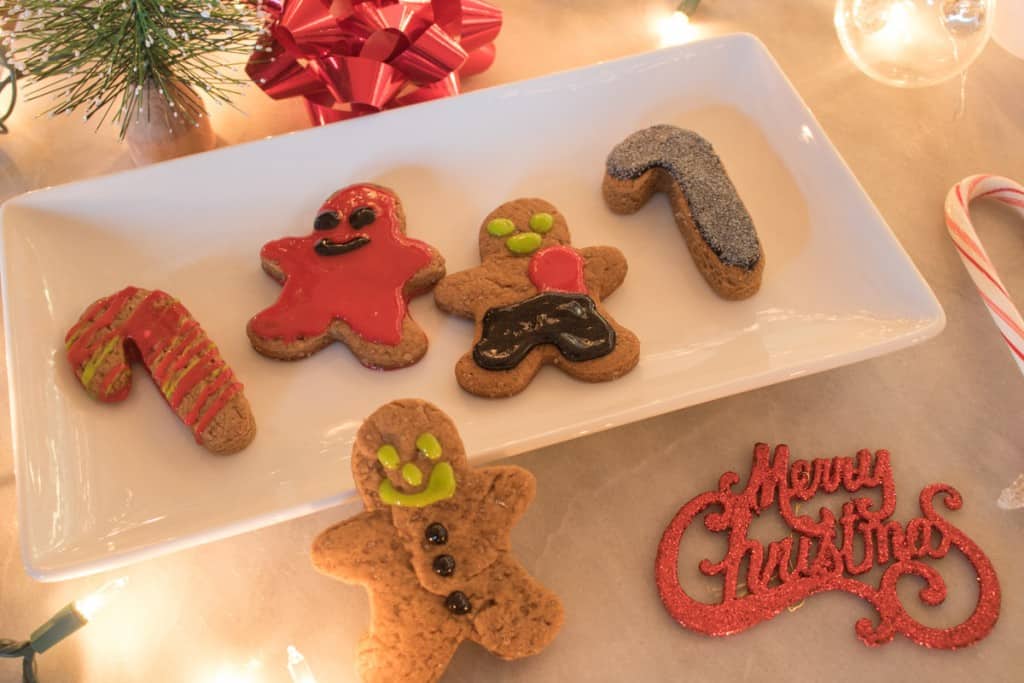 Dairy-free Gingerbread Men
These Dairy-free Gingerbread Men cookies are by far my new favorite holiday treats! They are so soft and chewy, fully spiced and flavorful with a perfect amount of ginger and molasses flavor.
Must-Haves:
3

cups

Organic All-Purpose flour

(I use Bob's Red Mill)

1

Tbsp

ground giner

1

Tbsp

ground cinnamon

1/4

tsp

ground cloves

1/4

tsp

ground nutmeg

3/4

tsp

baking powder

1/2

tsp

baking soda

1/2

tsp

sea salt

3/4

cup

organic brown sugar

10

Tbsps

vegan butter, softened

(I used Earth's Best)

1

large egg yolk

1

Tbsp

vanilla extract

1/4

cup

organic blackstrap molasses

(If using regular molasses, use 1/2 cup)

2

Tbsps

coconut milk

(You can use your fave plant-based milk!)
Instructions:
Preheat your oven to 350 degrees Fahrenheit.

In a medium bowl, whisk together the flour, ginger, cinnamon, cloves, nutmeg, baking powder, baking soda and sea salt and set aside.

In the bowl of an electric stand mixer (fitted with the paddle attachment,) cream together the brown sugar and vegan butter until well combined, scraping the sides as need. Next--add the egg yolk and vanilla extract. Then add in the molasses and 2 Tbsps of coconut milk.

Turn the mixer's speed on low speed while you add in the dry ingredients and mix until combined. Add any additional milk as needed just to bring dough together (not too dry or wet).

Divide dough into two equal portions then roll each portion out evenly to 1/4-inch thickness (too thin and it makes the cookies extra crisp). Chill on a cookie sheet in freezer for 10 - 20 minutes, or until firm and then cut into gingerbread men shapes using cookie cutters.

Remove cutout cookies and transfer each one to a cookie sheet, spacing cookies about 1-inch apart, and bake in the oven for 8 minutes or until slightly set (they should leave a slight indentation when pressed down gently). Repeat process with remaining cookies.

Remove cookies from oven and cool on baking sheet 2 minutes before transferring them to a wire rack to cool completely.

Once all cookies are completely cooled, pipe icing (store-bought or homemade) over cookies to decorate and add additional sprinkles, etc if desired. Place in the refrigerator (for a few minutes) if needed, to ensure that icing sets.

Store cookies at room temperature in a tightly closed container or glass cake stand.
Tips | Notes:
STORAGE: Once properly stored in an air-tight container, cookies last for a few days at room temperature.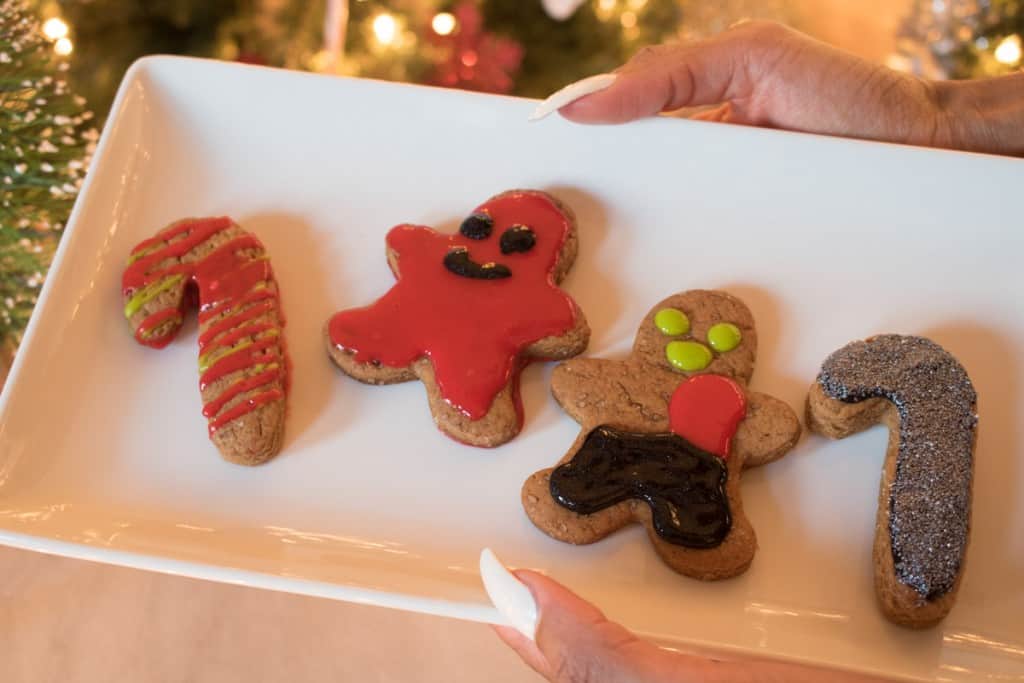 But what is Christmas without eggnog, right?
What if you could enjoy a nice eggless glass of eggnog? Would you want to try it?
If you're like me and you are a bit hesitant to drink a tall glass of eggnog because of the raw eggs situation, then this recipe will be a lifesaver!
It's full of flavor and holiday spices, so you won't even miss a beat! Plus, there's a secret ingredient that makes this 'not so classic version' of this holiday drink so velvety and creamy that you wouldn't even guess that it wasn't the actual thing!
Check out the recipe below.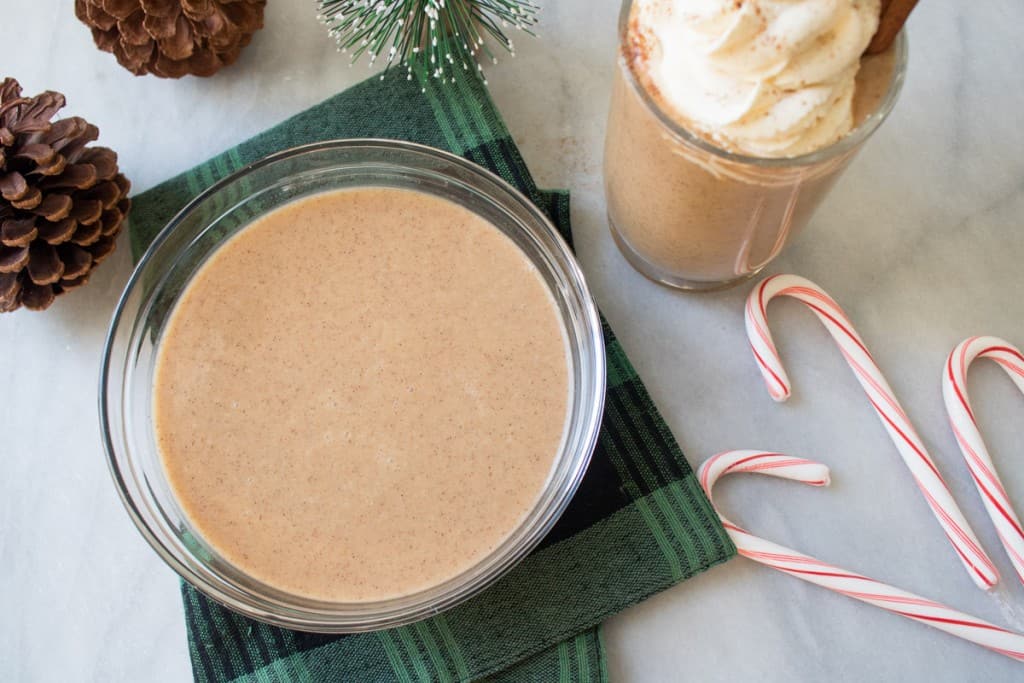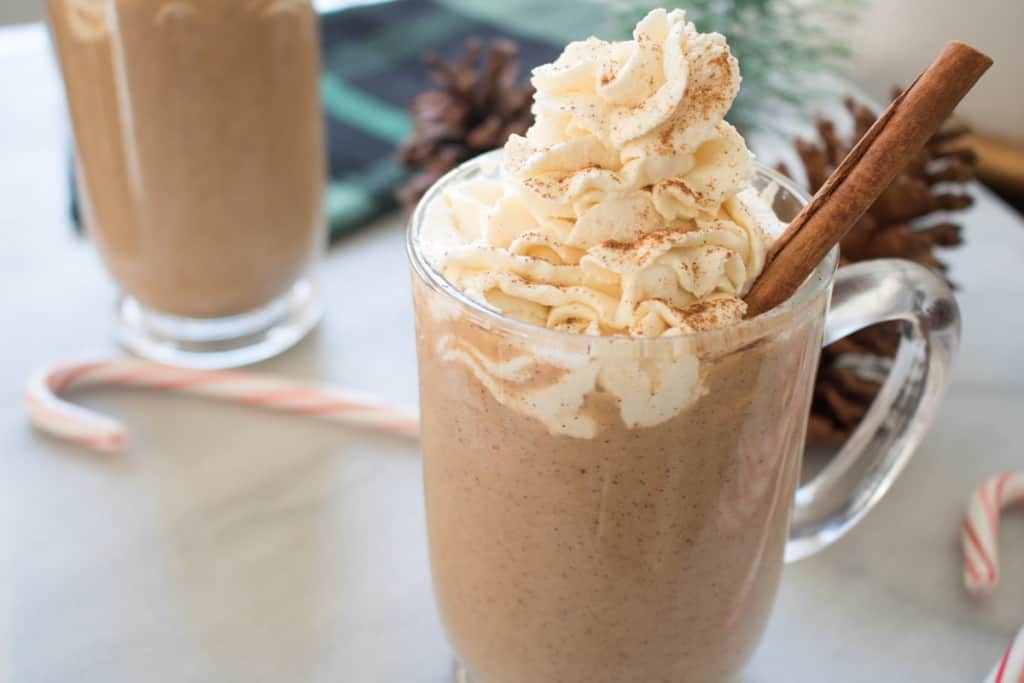 Spiced 'Eggless' Eggnog Recipe
Ingredients:
6 cups of Coconut milk (OR Almond milk)
2 Tbsps organic maple syrup
1 tsp vanilla extract
1 Tbsp ground cinnamon
1/2 tsp ground nutmeg
1/2 tsp ground ginger
1/2 tsp ground cloves
2 Tbsps pure cane sugar
6 Tbsps sugar-free instant vanilla pudding
Combine coconut milk, cane sugar, maple syrup, vanilla extract, and ground spices in a pitcher or bowl. Slowly add dry pudding powder, whisking constantly as you pour in pudding powder. For a smoother consistency, add everything to a blender and blend on low-medium speed until smooth.
Pour liquid back into pitcher OR bowl and cover with plastic wrap and let chill for about an hour until it thickens.
Serve eggnog and top with homemade whipped cream (non-dairy version using coconut milk for my vegans!) and additional sprinkles of ground cinnamon.

Cheers to a beautiful holiday season filled with candy canes, spices, sweet treats, and love!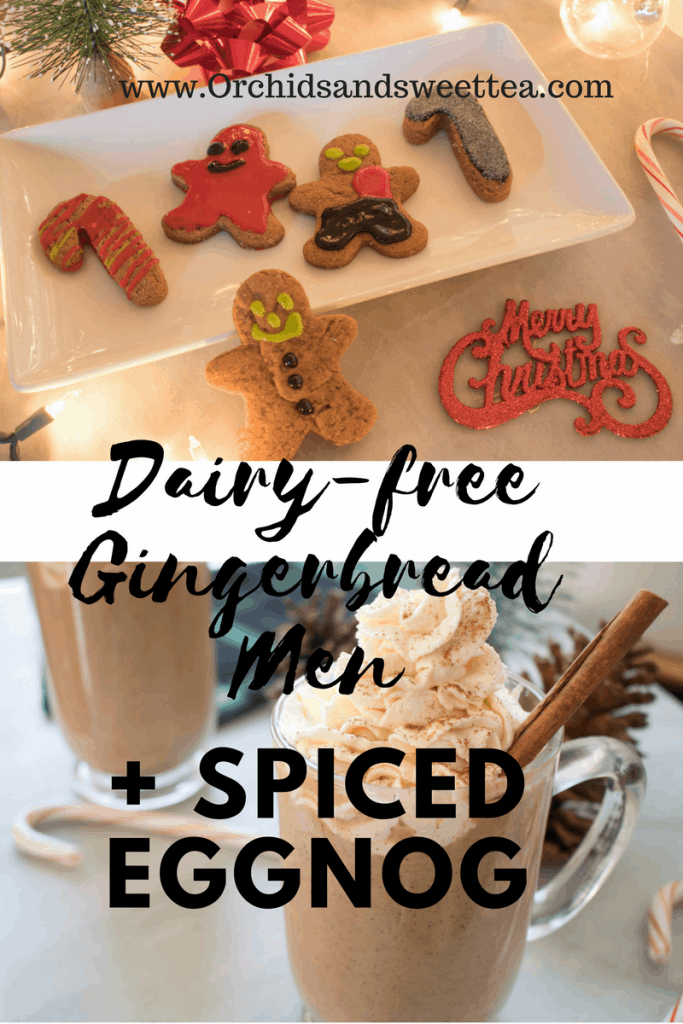 Dairy-free Gingerbread Men + Spiced 'Eggless' Eggnog.
Love our content? Share it!