Curly Kid: Natural Hair Care 101 — When it comes to natural hair, finding and sticking to a hair care regiment that works is super important! Not only is it important for adults, but more-so for your little ones as well. Sometimes, it can be difficult to understand what type of products work best and perhaps it's even harder to actually get your little one to it still long enough to make it all work; but no worries! Natural hair care is all about experimenting and it might take a few trial + error moments, Mamas!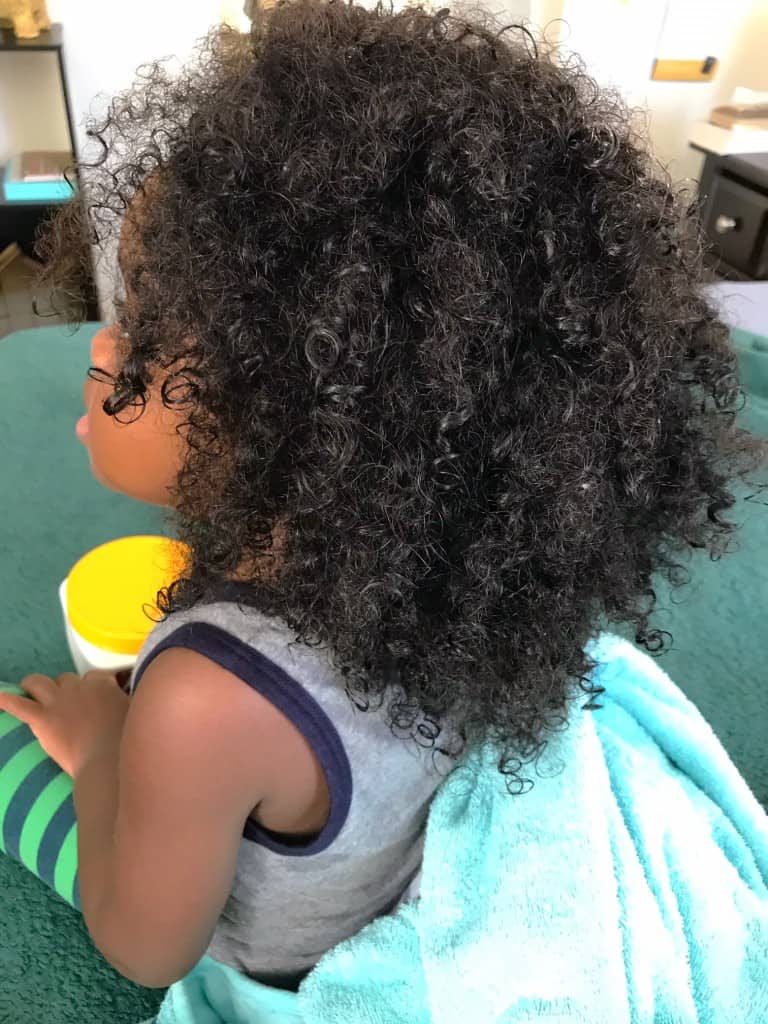 So, wash days in our house are pretty systematic. I tend to wash my little guy's hair about once a week and definitely not on the day that I'm caring for my own natural hair! That's just too much! Haha.
Anyway, when it comes to washing his hair, unfortunately, it's not always an easy process. Let's just say that he's not a huge fan of getting his hair wet, then lathered, rinsed, and then conditioned. But hey! It has to be done in order to keep those tresses healthy.
Usually, I can get away with making the process a bit easier by playing his favorite music during bath time or maybe allowing him to watch his favorite cartoon on his iPad. Yup, that usually works for sure!
As far as I can remember, I've been a major fan of using Mielle Organics for my little guy's hair. I'm a devoted user of her Almond Mint Oil and Avocado Moisturizing Hair Milk. They have recently come out with a brand new line of products (which I'm excited to try for myself), however, when it comes to his hair, I pretty much stick to what works.
To top things off, I like to use one of her products from her tot's line: SACHA INCHI CURL ENHANCING CREAM. This works as a great sealant and holder for his braids. I'll be sure to leave links below to all these products so that you can take a further look and purchase these products if you'd like by the way. **Please note that this is not a sponsored post and is solely based on my own personal opinion**
More recently, however, I chose to experiment a bit by trying a few new products for his hair, therefore, I wanted to do a bit of sharing with you guys, of course! These products have held true to keeping his hair healthy, moisturized, and strong.
While each product works best depending on your individual hair type, I'm a fan, so I thought I would recommend a few great ones for you Mamas:
Jane Carter Solution Nourish and Shine
This hair oil is by far an amazing new addition to our natural hair product collection. I once used this on my hair a few years ago, therefore, I decided to revert back to the familiar and use this for my little guy.
Please keep in mind that a little goes a long way, so no need to drench your little one's hair with this. As described in the product description, this Jane Carter Solution nourish and shine can help give you silky-soft and healthy-looking hair.
It has natural butters, vitamins and essential oils to help moisture your scalp and hair. This solution easily applies with your hair, without leaving it greasy. Sodium lauryl sulfate, paraben and alcohol free.
Miss Jessie's Baby Buttermilk
I've been a dedicated fan of Miss Jessie's for a long time. While their products aren't necessarily cheap, I am a big believer that it's worth it because of the quality! I enjoy their deep conditioners, personally!
However, I've recently purchased this Miss Jessie's Baby Buttermilk as a nice creamy based product for my little guy's hair and I DO NOT regret it!
It's super light-weight, smells amazing, and truly does leave your little one's hair moisturized, especially for those curls! I alternatively use the Buttercream version, which is also amazing as a way to change things up and ensure that his hair doesn't get use to one product.
Sacha Inchi Curl Enhancing Cream
This one is my definite go to on those days when I need my little guy's hair to be held in place, since I'm not a big fan of gel. Who wants hard curls or dry hair, right?
Not, I! Therefore, this is a great gel alternative. I've been using this product since my little guy was the age of 1, so I'm pretty confident in it's awesome work!
As described on the product page–the Sacha Inchi Curl Enhancing Cream combines multiple certified organic ingredients to deliver a unique formulation that's simple and effective in enhancing the natural curl pattern of your little one while depositing moisture. Sacha Inchi, the South American superfood, delivers natural oils that will keep curls well maintained.
 Every natural hair regimen needs a detangler, especially when it comes to your little one. I don't know about you, but my little guy HATES combing through his curls and the entire detangling process, so this most certainly helps!
It's great at softening the curls, which makes it easy to glide through. This is another product that I've used for more than a year so it definitely is one of my favorites. It's very affordable as well, so you can stock up if need be.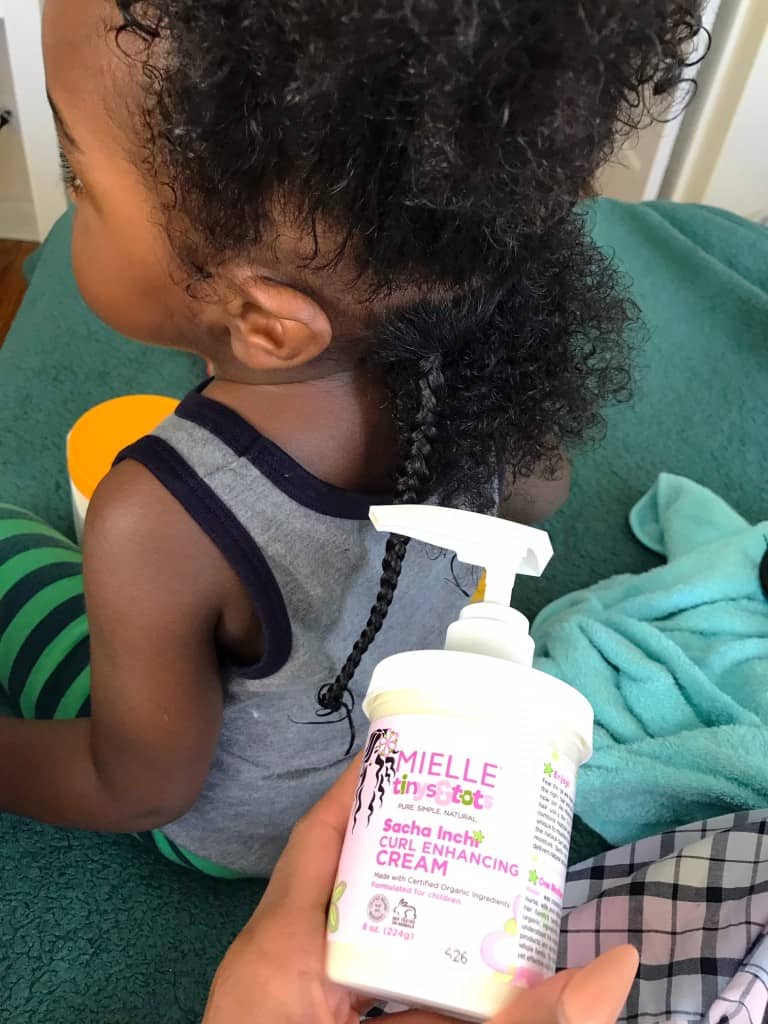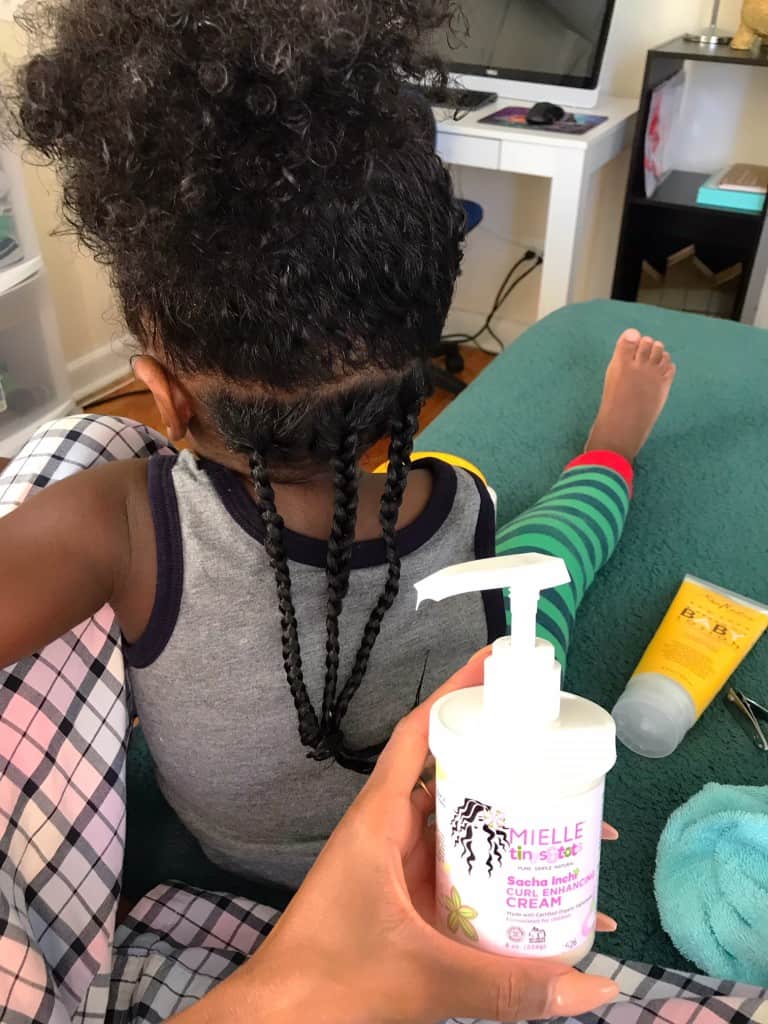 So, as I've stated before, finding the right products take a bit of time and effort. However, it's definitely something that can be achieved! I've learned a great deal from my own natural hair journey (including a TON of mistakes and a cabinet full of products I didn't use!), so it has made me a lot wiser when it comes to caring for my little guy's hair.
It's so important to understand that even your little one's hair need love and it is important to start their hair off on a healthy routine to ensure that it stays that way throughout their growth, whether you decide to cut your boy's hair or keep your girl's hair long or vice versa.
Their young scalps are important and the way you style their hair during both the night and day (protective styling) is an imperative process in retaining length, keeping their strands strong, and taming those curls so that they aren't tangled or nappy.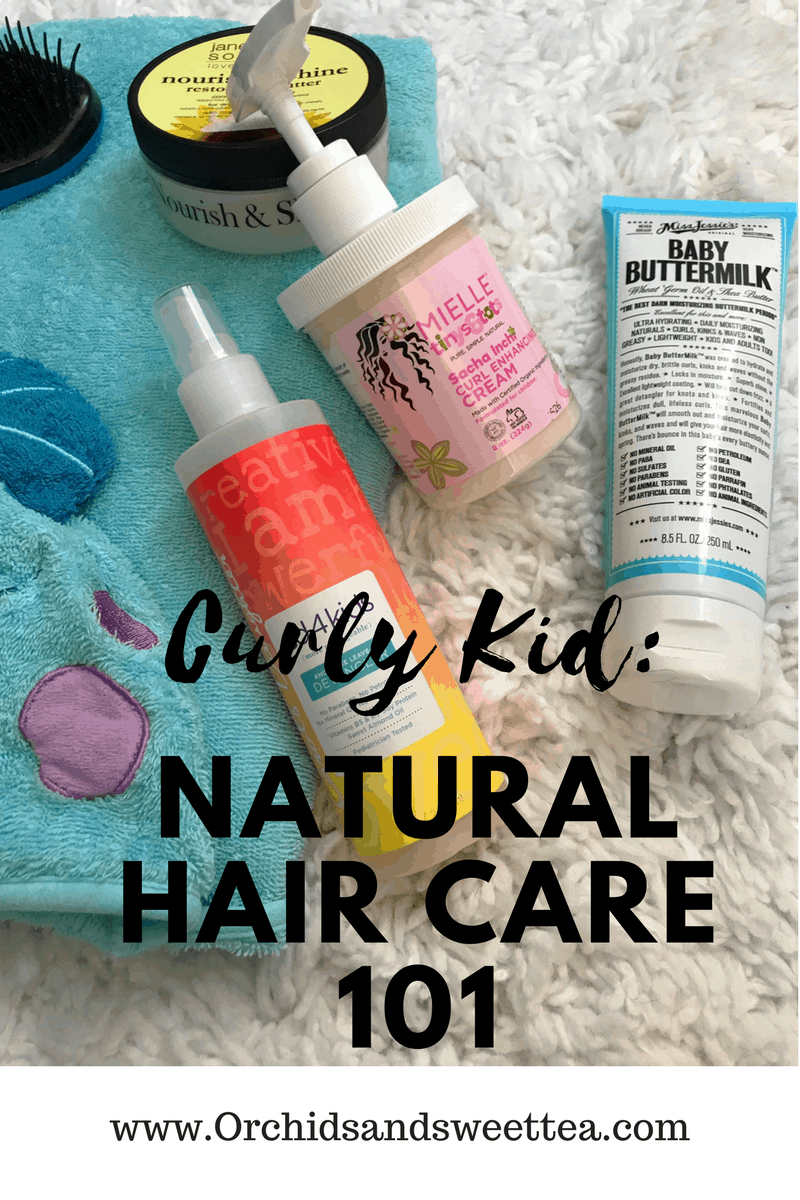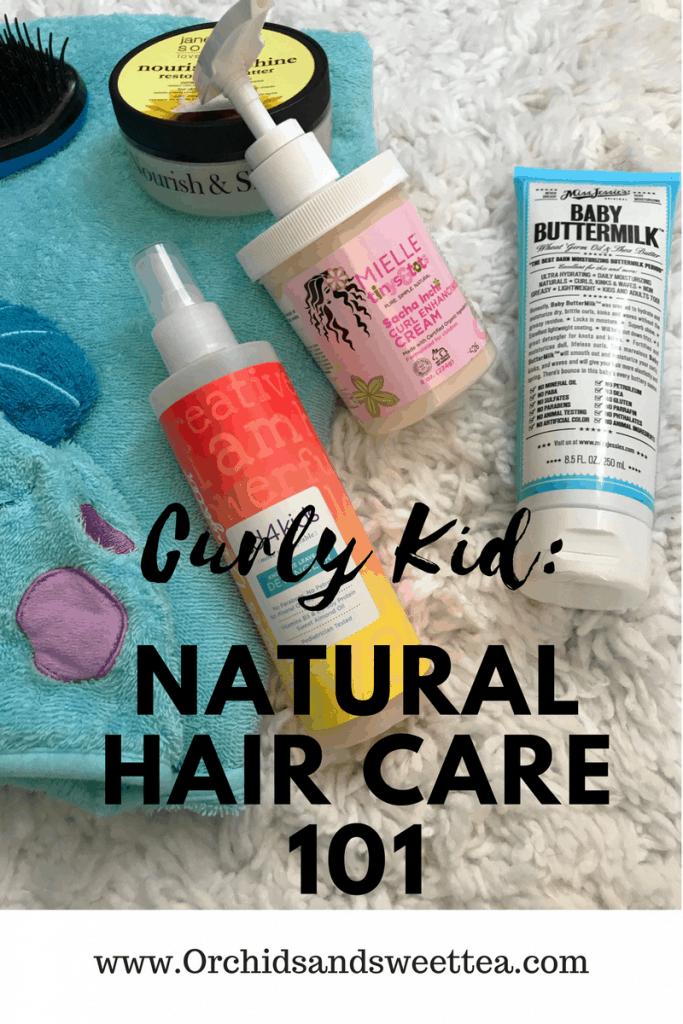 Be sure to read my previous post on my little guy's other Wash Day favorite products:
WASH DAY: HOW I CARE MY LITTLE GUY'S NATURAL HAIR
There you have it—My Curly Kid: Natural Hair Care 101 favorite new products!
DID THIS HELP IN ANY WAY?
If this post helped in any way or you just loved it, be sure to tag us on Instagram at #Orchidsandsweettea so that we can share the love. Don't forget to comment below, + share!