Crispy + Chewy Christmas Chocolate Chip Cookies—-the epitome of Christmas carols + chocolate chip goodness in every single bite! These cookies are incredibly soft and chewy with a beautiful outer crispiness! Made with all organic ingredients, these cookies are easy, thick, perfectly bite-size and bursting with delicious funfetti + chocolate flavors, and REQUIRES NO CHILLING! This is the perfect sweet indulge for the entire family during ANY season, especially during the Holidays.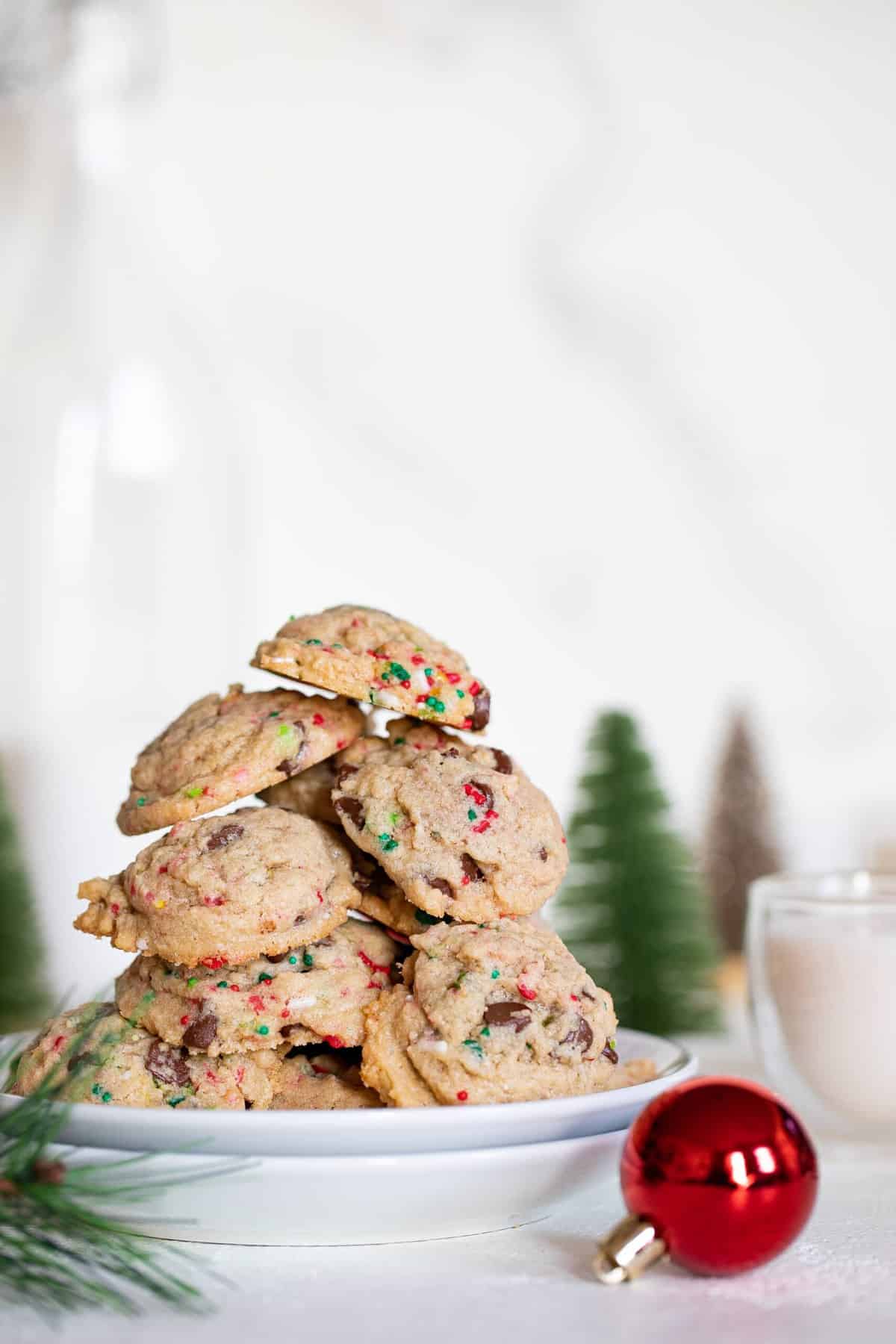 OK, so can I indulge in these Crispy + Chewy Christmas Chocolate Chip Cookies for a sec? Honestly, cookies (especially chocolate chip ones) have become a recent fave that I can longer resist. Haha.
Can anyone relate? Ok. perfect.
Well, these chocolate chip cookies in particular are my fave because they were inspired by both my Soft Oversized Crinkled Sprinkle Sugar Cookies and these Perfect Dairy-Free Chocolate Chip Cookies.
I wanted to do something festive, yet simple enough for everyone to achieve and enjoy. Trust me, these little bite-size cookies are perfection and they didn't even last that long in my house. Plus, they don't require any chilling before baking so this saves a ton of time!
These Christmas Chocolate Chip Cookies are perfectly Crispy + Chewy!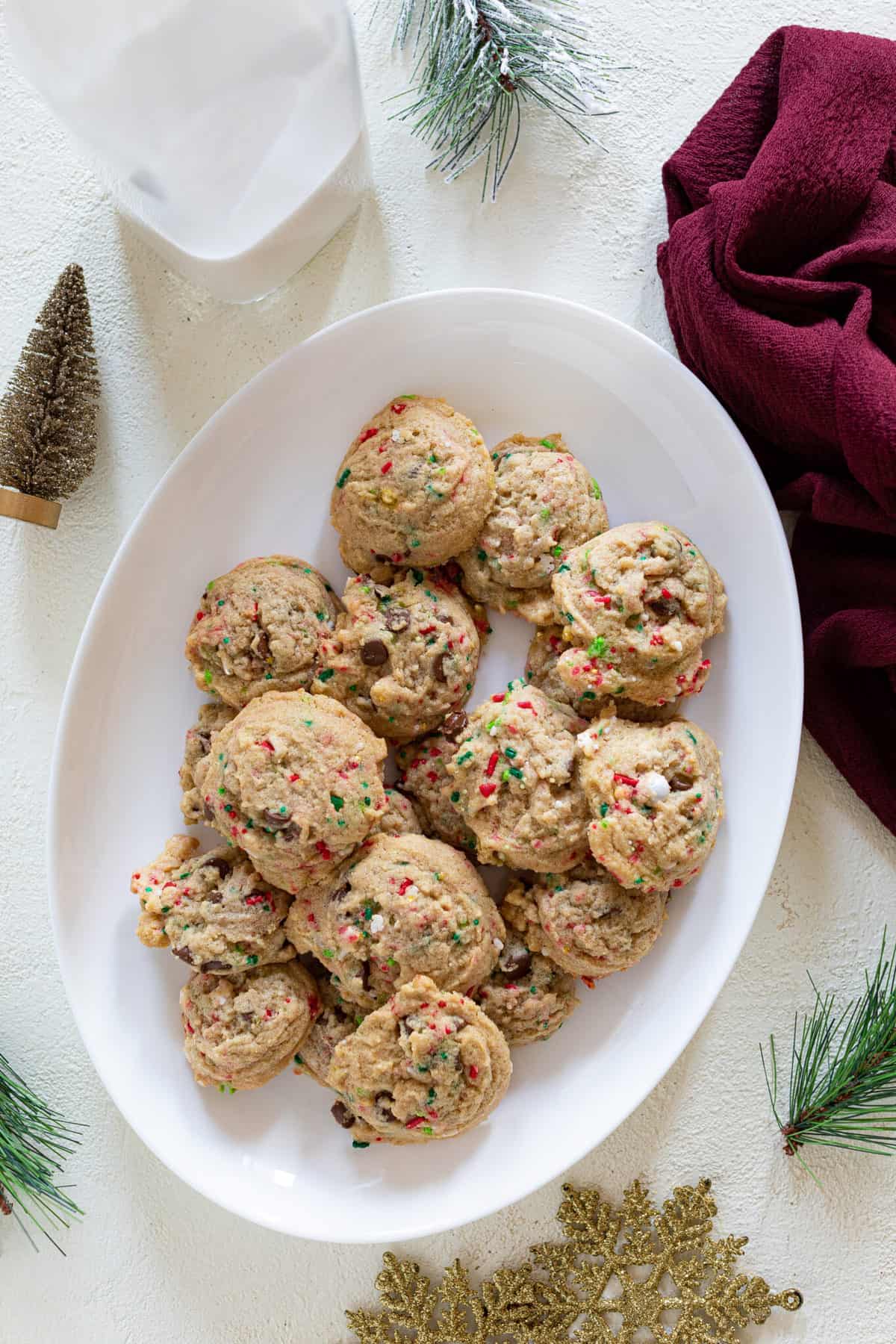 In case you weren't aware or you're new to my blog, I'm currently doing a 25 Days to Christmas countdown in terms of recipes and these little bites fall on Day4! Plus, it's #NationalCookieDay so there's that! How could I not drop this recipe on such an epic day? Haha.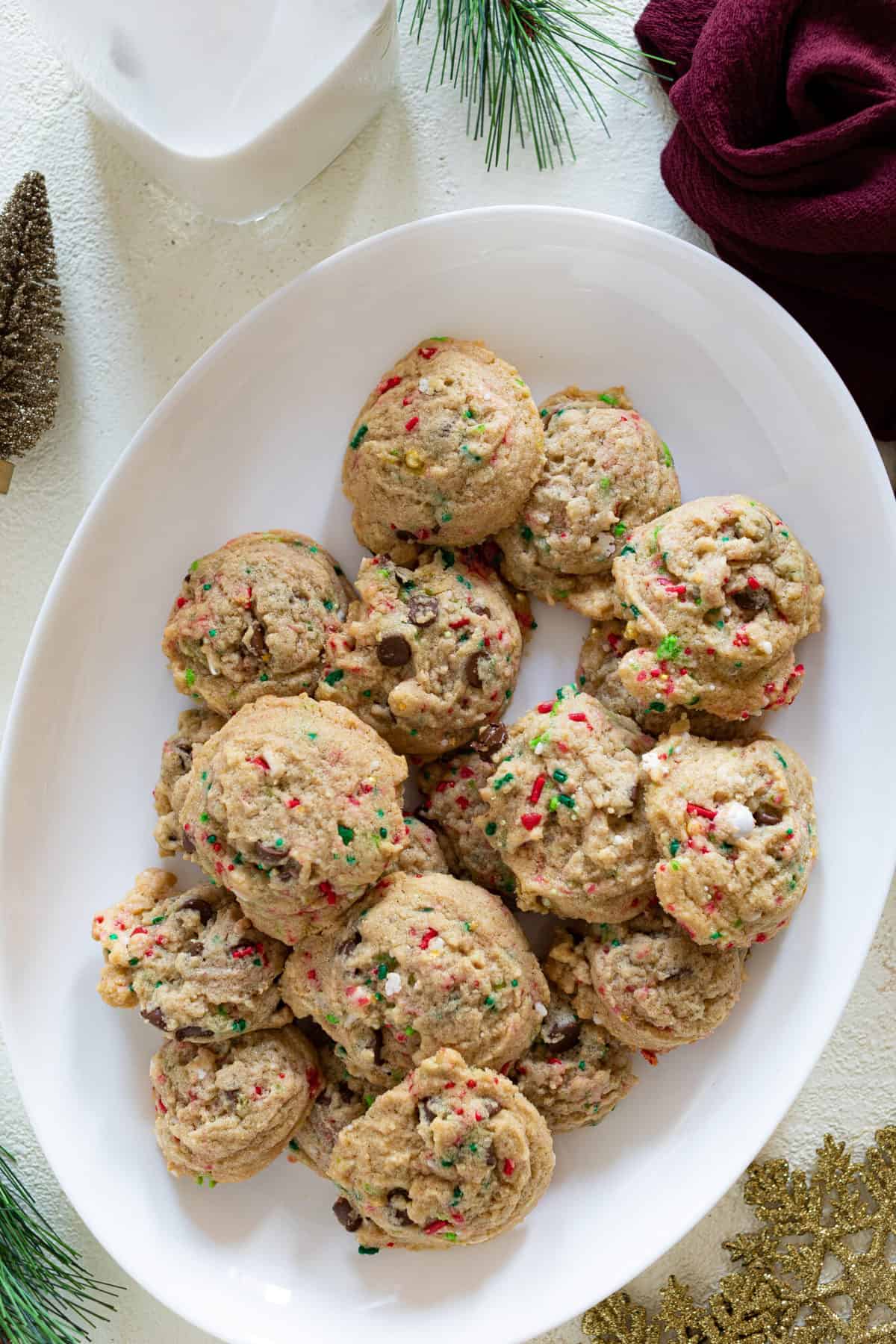 To confess—cookies were actually (and still sometimes are) the dessert that I least enjoy making because I often never make them as perfectly as I'd like.
While they might be simple for some to make, they aren't the easiest for me to make for some reason. Honestly, the shape or texture seems hard to achieve depending on the flavor for me. What about you?
Thankfully, however, I've been getting a lot better with my cookies and these were testament to that!
WHAT YOU'LL LOVE MOST ABOUT THESE COOKIES?
Super soft, gooey + chewy inside. Gently crisp around the edges + outside!
Minimal ingredients needed.
Easy to make.
Melts in your mouth.
Oozing with delicious chocolate chip flavor.
Super festive for the Holiday season and a perfect family baking activity!
Just SO DARN GOOD.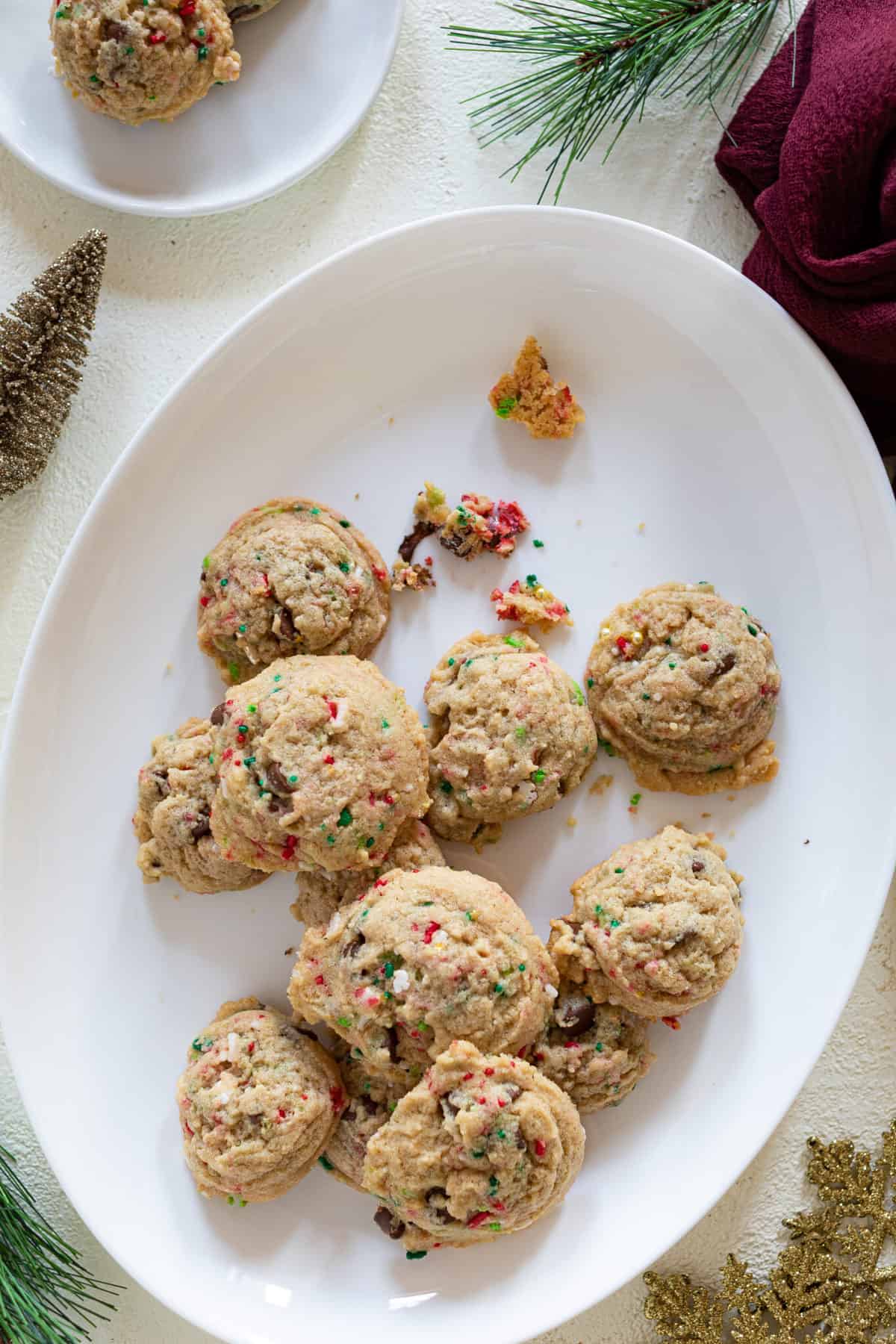 5 TIPS TO MAKING THE PERFECT CRISPY + CHEWY COOKIES.
#1: WHEN IT COMES TO MIXING, DON'T OVER-MIX. JUST MIX UNTIL FULLY COMBINED!
Yes, so in most cases, over-mixing can be a real disaster. It can sometimes turn your sweet treats super dense, hard, or one not so amazing mess. Therefore, try to avoid over-mixing and stop the moment everything is completely combined and incorporated!
#2: TOO STICKY? REFRIGERATE!
OK, so while regular cookies often require refrigeration, this cookie recipe doesn't. However, if you've mixed everything together well and it appears SUPER STICKY, simply refrigerate them after scooping them onto your baking sheet and they'll form nicely and bake well.
#3: WORK SMALLER SCOOPS AS OPPOSED TO BIGGER ONES.
Personally, I found that my cookies baked better (and more in tact) whenever I scooped them small instead of regular sized like traditional cookies. Because the batter is a bit more "soft", I find that scooping too large might make them super flat and not so great in texture. But of course, it all depends on the texture of the batter in the first place.
#4: PARCHMENT PAPER AWAY!
I do this for all of my cookie (or baking) recipes, however, in case that you don't, it's especially important for cookies—-use that Parchment Paper or non-stick mat. It's going to ensure that they don't stick or became a disaster.
#5: COOL, COOL, + COOL SOME MORE!
These little beauties are SUPER SOFT therefore movement might not be the best before they are fully cooled. Simply cool them onto the baking sheet after removing them from the oven for about 5 minutes before transferring them to a cooling rack to fully cool, somewhere between 15-20 minutes in a cool place.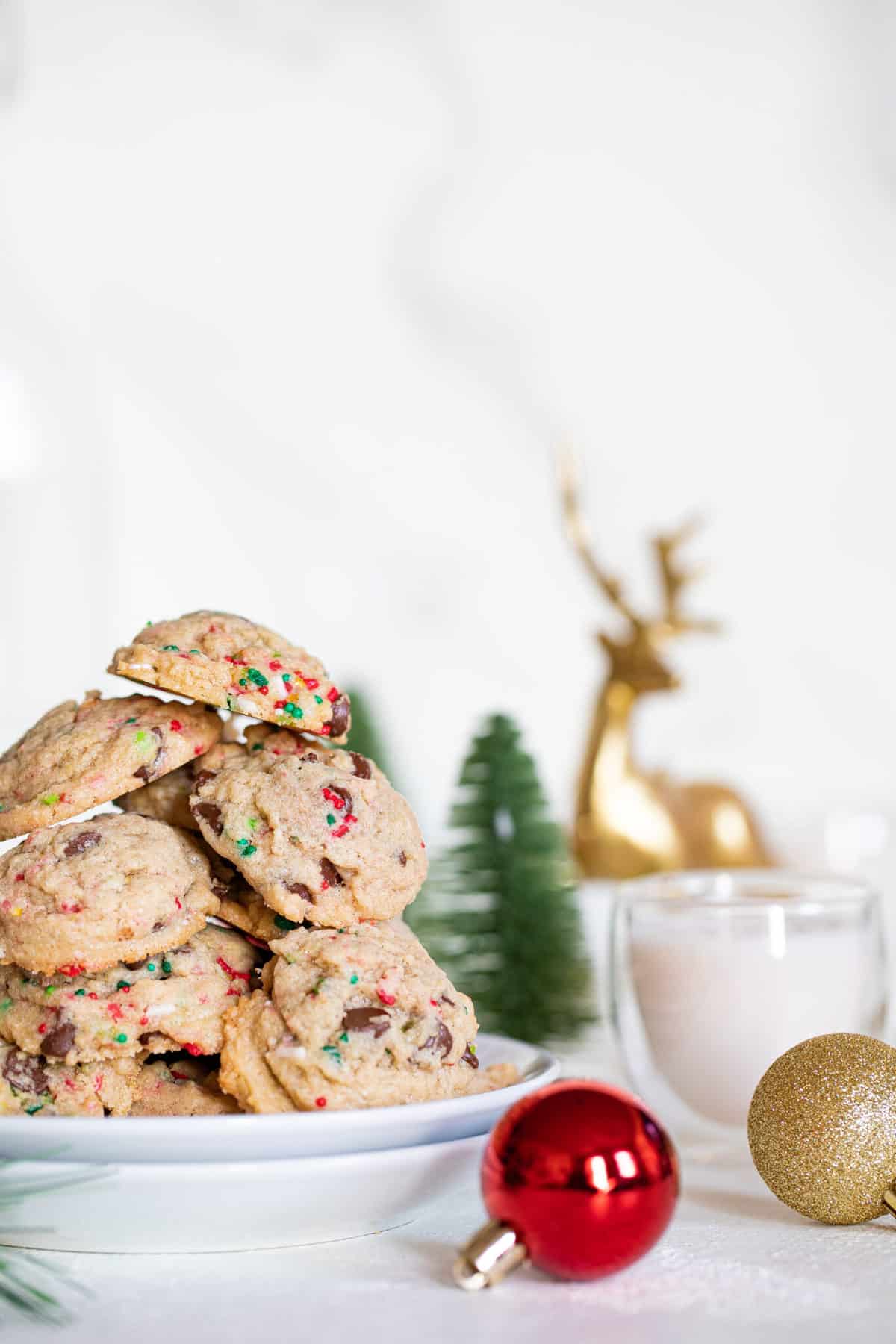 Obsessed with Cookies? These are Our Reader Faves!
These Soft + Crisp Crinkled Butterscotch Cookies are truly my newest favorite flavor of cookies. Unlike standard cookies, these small handheld favorites are full of bold buttery and sweet butterscotch flavors—which work perfectly together. In addition, they are slightly crinkled in look and comes thinly crispy and makes for a real obsession.
These Chewy Apple Oatmeal Raisin Breakfast Cookies are just that—soft and chewy! More importantly, these cookies are a notch up from the classic oatmeal raisin flavor. The bold apple flavor creates a nice bit of tartness that works beautifully with the cinnamon spice and sweetness from the raisins. A great healthy option for breakfast, as a quick snack, or a sweet treat after dinner.
These Peanut Butter Oatmeal Chocolate Chip Cookies are incredibly soft and chewy! Made with simple everyday ingredients, these cookies are easy, thick, and bursting with peanut butter , oats, and chocolate chip flavors, which work so perfectly together! This is the perfect sweet indulge.
These Vegan Chocolate Chip Cookies are THE Best! Don't believe me? Try them for yourself. More importantly, the use of applesauce (Yes, you read it right!) gives these cookies a nice chewiness, softness, + gooeyness that will leave you wanting just one more cookie (or maybe 2 or 3! Haha!). Super easy to make and whipped together in 20 short minutes.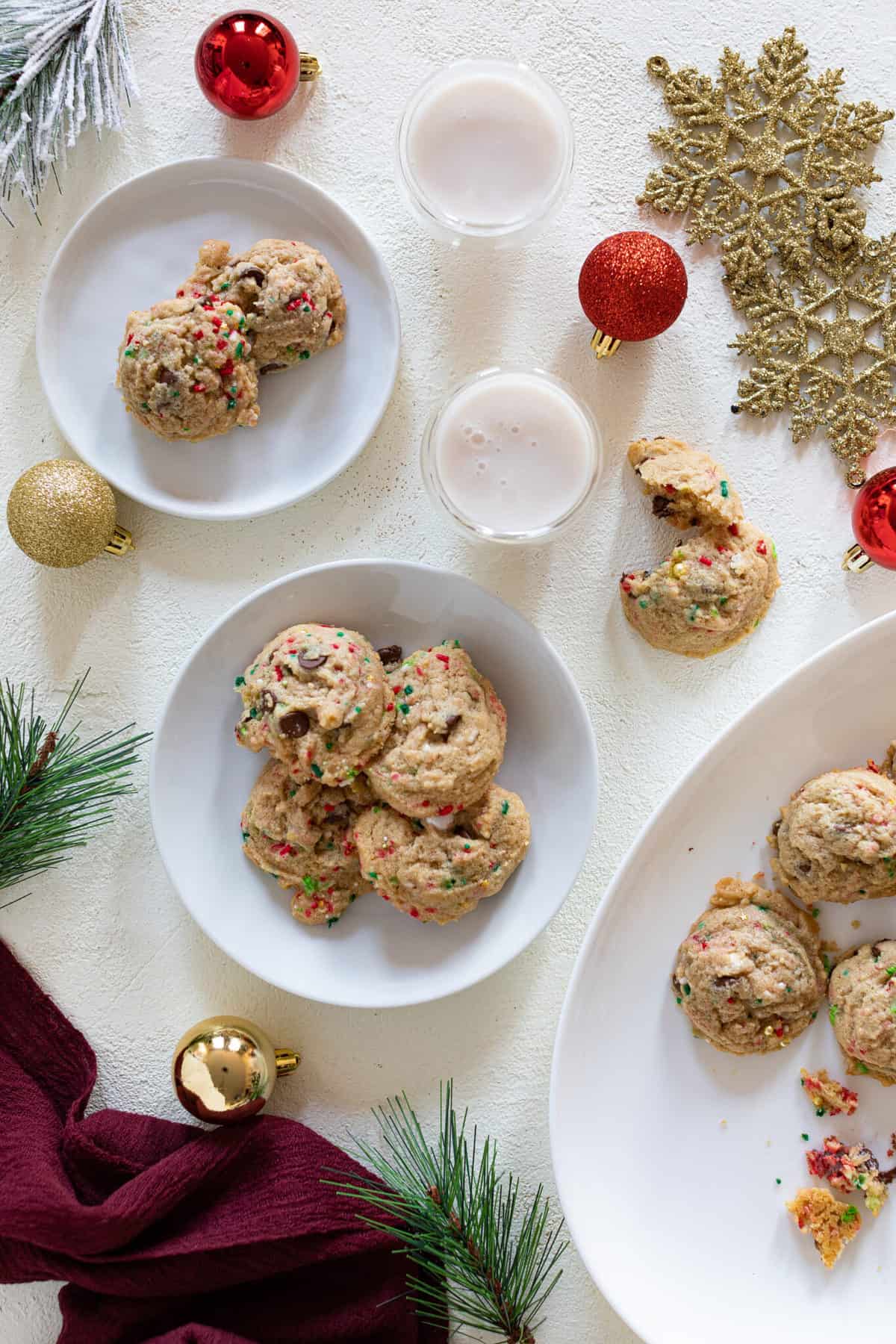 When it comes to these Dairy-Free Chocolate Chip Pecan Cookies, there isn't much that can be said–they are JUST PERFECT! Super soft, crumbles in your mouth, extremely easy to make, and completely dairy-free; these cookies make for a great sweet treat for those early mornings where you can't help yourself to something sweet before breakfast, or after lunch or dinner.
Common Mistakes that Can Affect Your Chocolate Chip Cookies.
OK, so I know that I mentioned a few tips above, however, I recently read an article on Insider where they spoke about common baking mistakes that we might make which can drastically affect our chocolate chip cookies specifically. I really enjoyed this article because I know that throughout my time as a baker, I've made MANY, if not ALL of these mistakes and had to learn from them!
So here's a brief list of common mistakes to avoid:
Over-mixing your batter can lead to a runny cookie.
You can't forget that Baking Soda! Using Baking Powder instead might not create the same taste.
The more flour you add, the more "mounted" your cookies will look (much like scoops of ice cream).
Not enough flour will cause your cookies to look ultra thin + crisp.
Never add all of the ingredients at one when mixing your batter. This will compromise the texture.
Having your eggs at room temp. matters in terms of texture + flavor.
Using less sugar creates "bready" textured cookies.
Avoid using too much butter. This will create overly buttery and "weighed down" cookies.
Of course, there are a host of other mistakes and explanations within each that you check out in the Insider's article. Thank me later!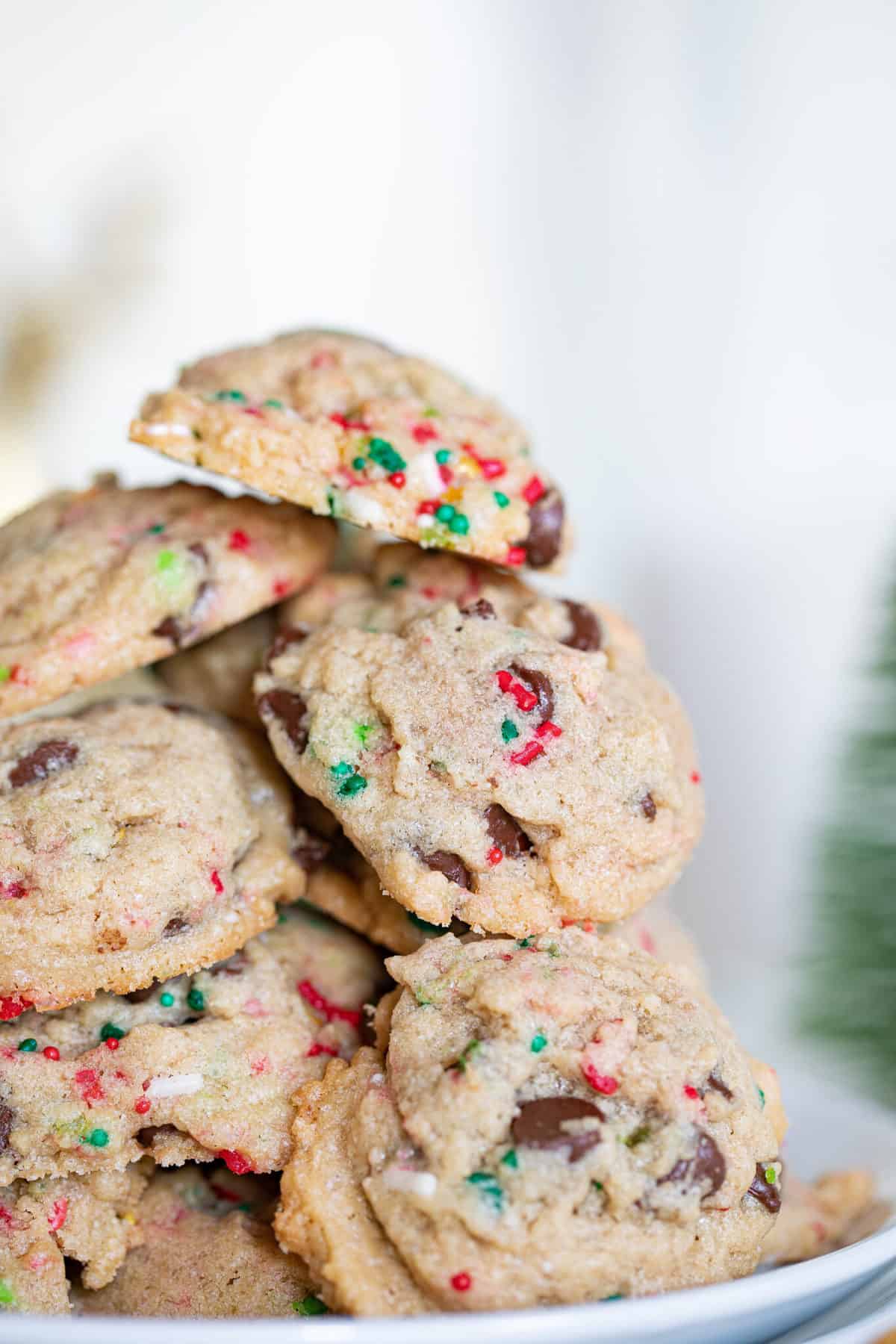 2

cups

organic all-purpose flour

(I use Bob's Red Mill)

¾

cup

unsalted butter, softened at room temp.

(That's 1 ½ sticks!)

¾

cup

lightly packed organic brown sugar

¼

cup

pure cane sugar

(I use Wholesome Sweets)

1

large

organic egg, room temp.

2

tsps

vanilla extract

2

tsps

arrowroot starch

(See Notes!)

1

teaspoon

baking soda

½

teaspoon

sea salt

1 ½

cups

semi-sweet chocolate chips

(I use Ghirardelli)

½

cup

Christmas colored sprinkles
Preheat oven to 350 degrees Fahrenheit and line a large baking sheet with parchment paper or a non-stick baking mat.

Next, in a medium bowl, whisk together the all-purpose flour, baking soda, arrowroot starch, and sea salt and set aside.

Now, in the bowl of your electric stand-mixer (w/ a paddle attachment), beat together the unsalted butter until creamy and add both sugars, beating on medium speed until creamy and fluffy, about 2-3 minutes. Beat in the eggs and vanilla. NOTE: Scrape down the sides if you need to.

Reducing to low-speed, add the dry ingredients and continue mixing until well incorporated, about another 3 minutes or so. Next, add the chocolate chips and sprinkles and gently fold them in using a rubber spatula, until fully incorporated into the batter. NOTE: Be careful not to over-mix. The batter should be thick.

Scoop the batter out into 1.5 Tbsps amounts and onto the baking sheet, keeping them roughly 1-inch apart. NOTE: I placed 6-8 cookies on each baking sheet to leave enough space in between each one.

Bake for 10-12 minutes until golden around the edges. At the HALFWAY MARK, about 5 minutes in, remove the baking sheet from the oven and carefully bang it onto a countertop a few times (2 or 3 times) before placing cookies back into the oven. This creates a slight "crinkled look" and flattens cookies a bit if too puffy. NOTE: The cookies will look really soft in the middles when you remove them from the oven, however, they will harden once cooled.

Remove them from oven and let cool for 5 minutes before carefully removing them from baking sheet before transferring them over to a cooling rack to cool completely.

Repeat same steps with each round of cookies until entire batter has been used.

Bon Appetit!
STORAGE: Cookies can be stored in a tightly covered container at room temperature for up to 3 days or refrigerated for slightly longer freshness (about 2 weeks). Can be frozen for 4-5 months and reheated to thaw out. Any unused cookie dough batter can be refrigerated for up to 3 days, or frozen for up to 1 month and then thaw overnight in the fridge, if you choose not to use it right away! STARCH: If you don't have arrowroot starch (which is a great GF starch), you can substitute with regular starch, tapioca flour, or regular all-purpose flour.
Calories:
228
kcal
|
Carbohydrates:
28
g
|
Protein:
2
g
|
Fat:
12
g
|
Saturated Fat:
7
g
|
Polyunsaturated Fat:
0.5
g
|
Monounsaturated Fat:
3
g
|
Trans Fat:
0.2
g
|
Cholesterol:
24
mg
|
Sodium:
101
mg
|
Potassium:
109
mg
|
Fiber:
1
g
|
Sugar:
17
g
|
Vitamin A:
196
IU
|
Calcium:
20
mg
|
Iron:
2
mg
Crispy + Chewy Christmas Chocolate Chip Cookies.