These Cranberry Chocolate Chip Date Energy Bites are a super easy, quick way to enjoy a healthy snack. Best way to satisfy our taste buds without the unhealthy sugars and additives. These bites are an awesome option for boosting energy, increasing fiber in take, and a great source of healthy nutrients. The perfect sweet treat for breakfast or a snack in between your meals. Completely Vegan.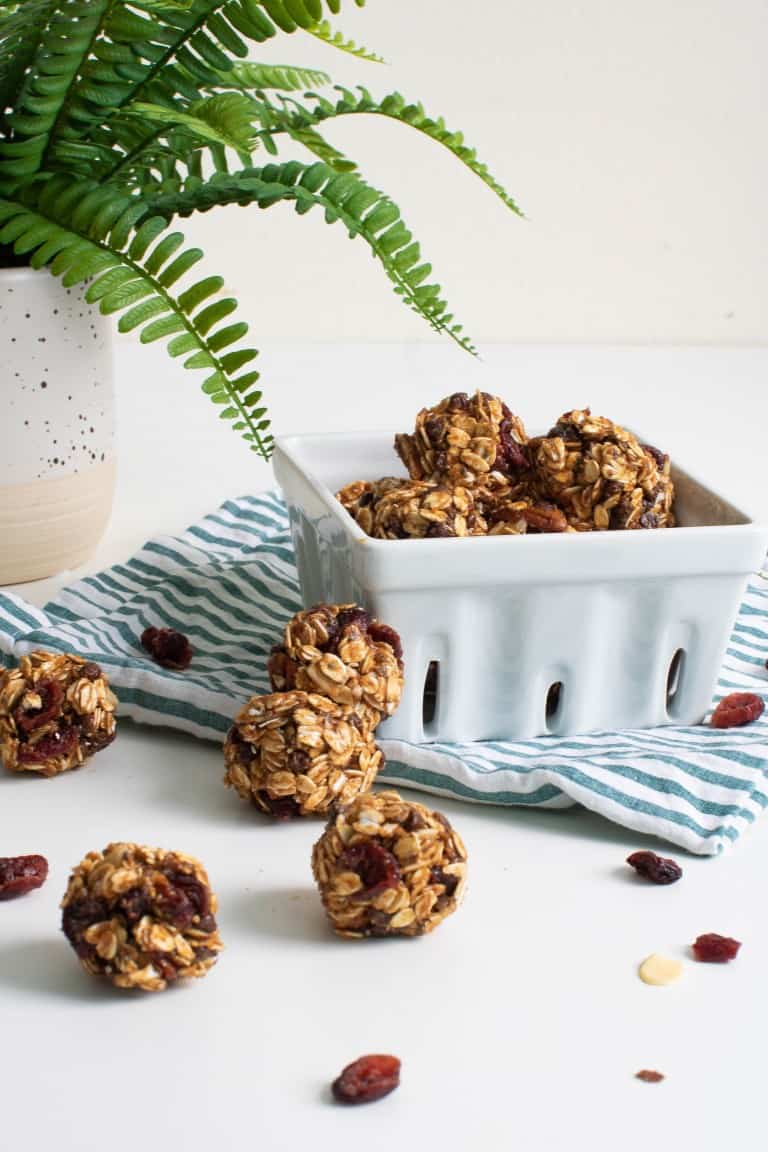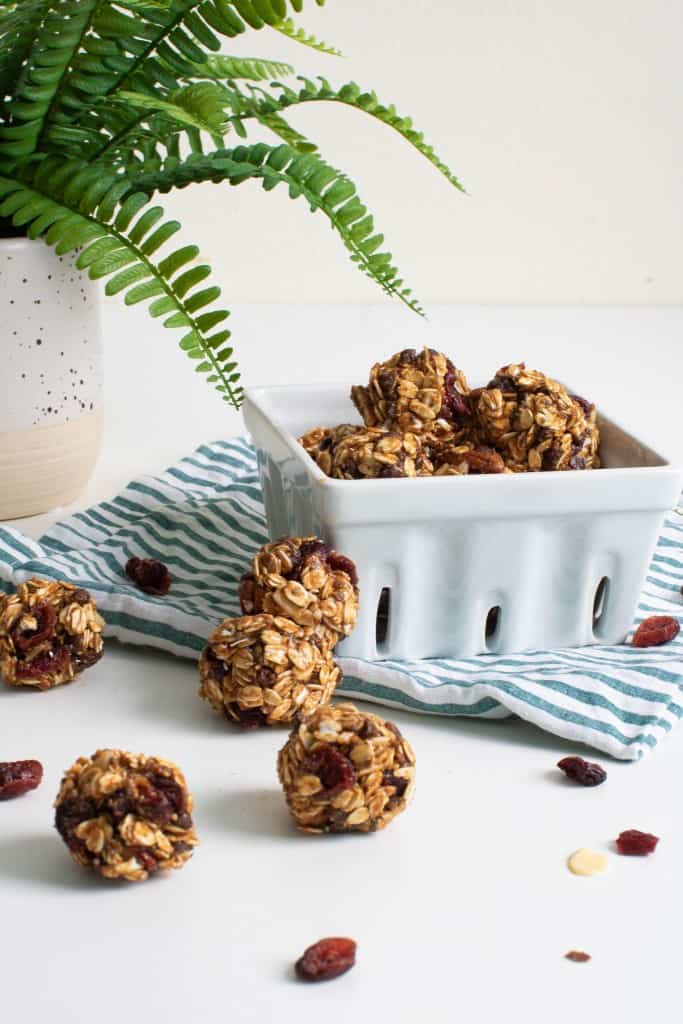 The weekend is finally upon us and I couldn't be happier. Although my weekend usually are jam-packed, I'm always just happy to spend quality time with my two favorite guys (hubby + little one) in the process.
While our breakfast dishes are often grander on the weekends (think pancakes, waffles, french toast, or something even more fancy!), I do love making quick, healthy snacks that are a perfect quick fix for those in between munches! Haha.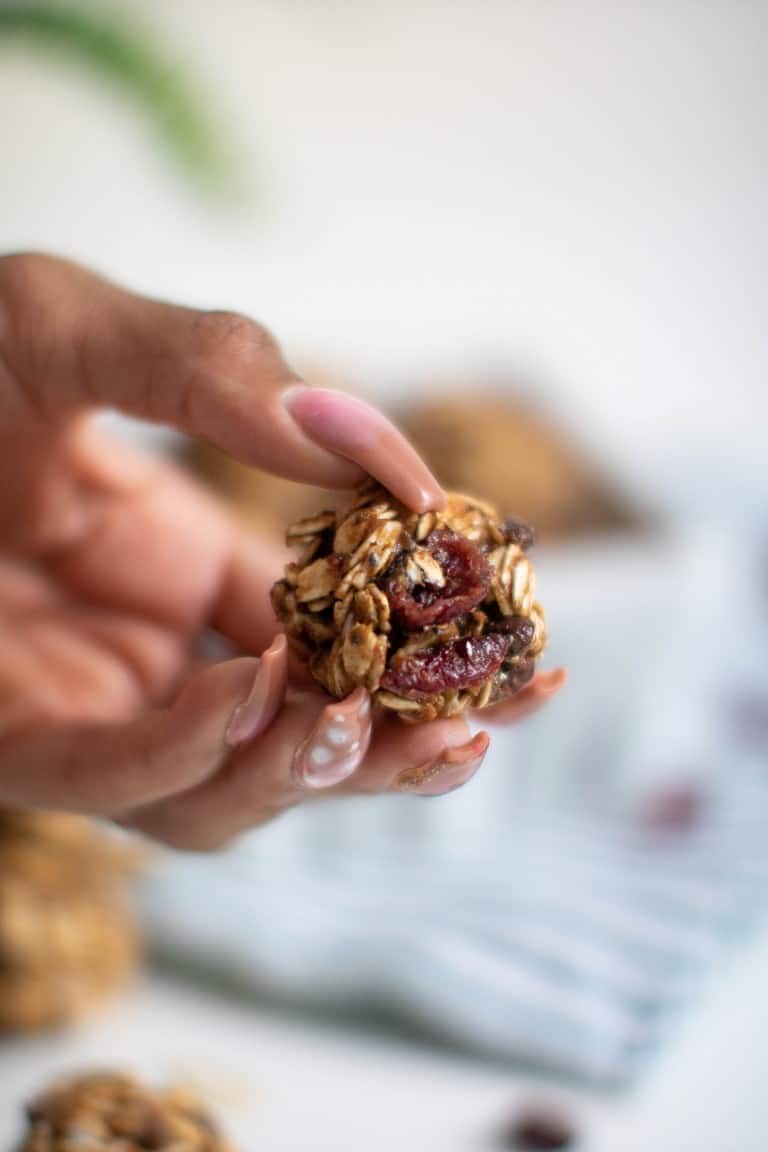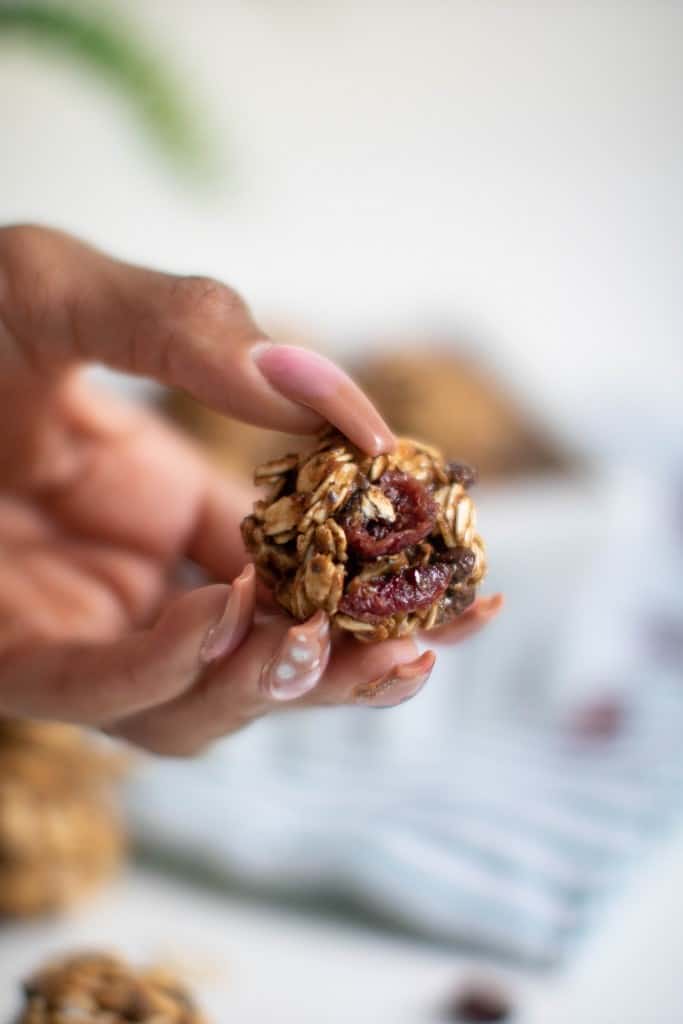 These Energy Bites don't disappoint at all. OK, so some of you might be wondering what an Energy Bite is anyway, right?
To break this down, an Energy Bite is basically a protein packed ball of goodness that often consists of old fashioned or rolled oats, some sort of nutty butter (peanut butter, almond butter, that sort of thing!), and flax seeds. That's the basis. Everything else is pretty customizable and can be added or not based on your tastebud's preference.
These little balls of goodness can be made in under 10 minutes and require only a short refrigeration time to ensure that they remain solid.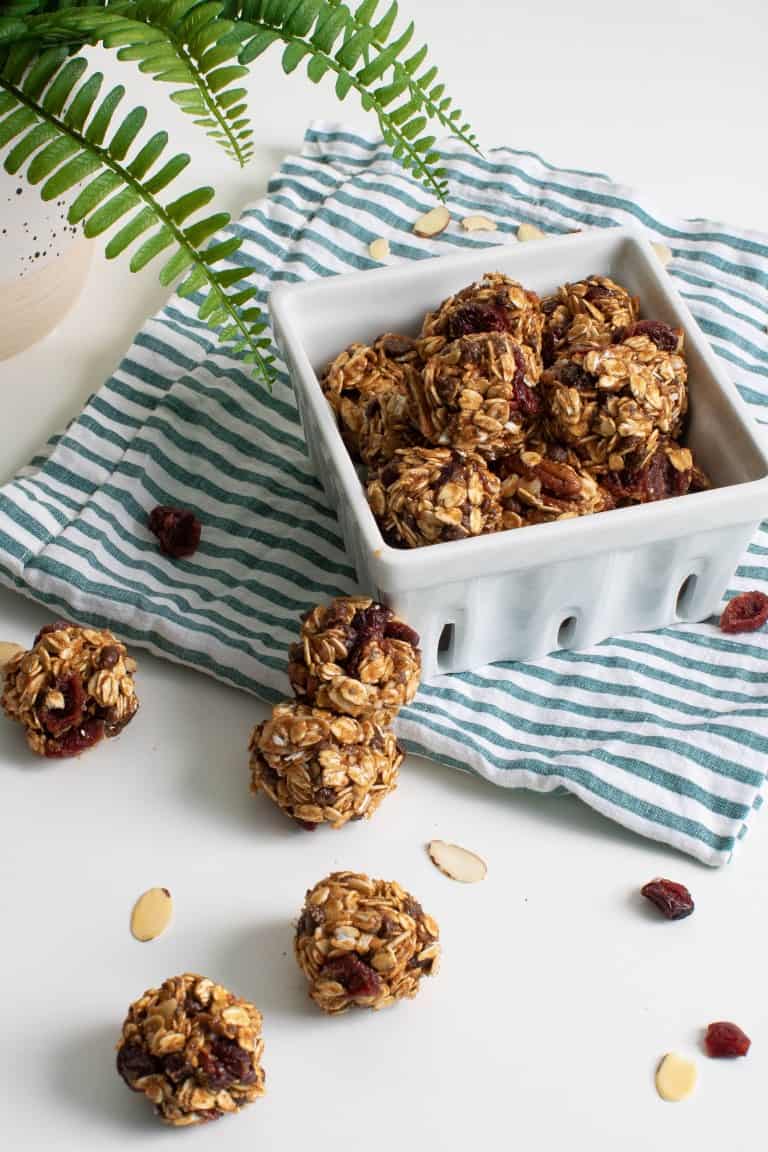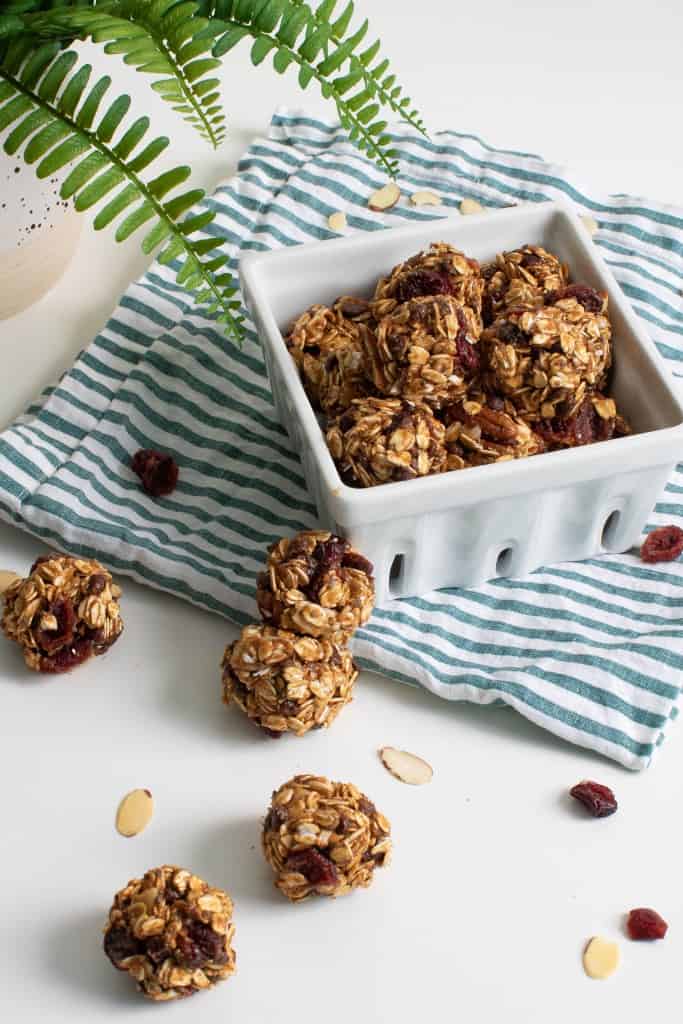 I use to make Energy Bites a lot as a quick way to gain healthy nutrients for breakfast, a snack or dessert, however, it's been a while since I've made my last batch—besides this recipe! I couldn't wait to share these with you because I made a few switches to the recipe's base AND they're just so good!
If you've been an avid reader of Orchids + Sweet Tea, then you may have seen this Chocolate Chip + Coconut No-Bake Energy Bites recipe. These non-bake bites were the beginning stages of my energy bites game. Haha.
However, I've been so excited to share this new version of energy bites with you because it's bold in flavor and complex in texture, depending on the ingredients.
Check out these amazing Crunchy 'PB + Jelly' Energy Bites! Let's not forget about these Chocolate Cranberry Almond Snack Bars, which are full of bold flavor, chewy, and super easy to make.
So what's different?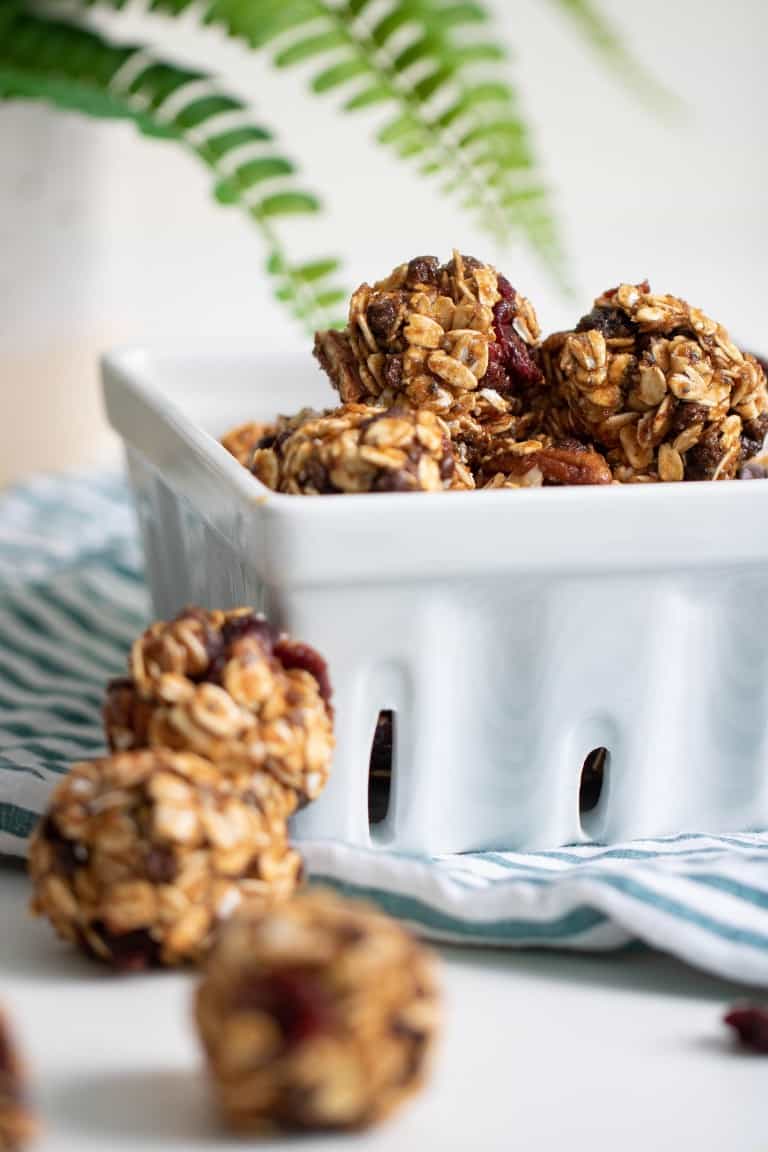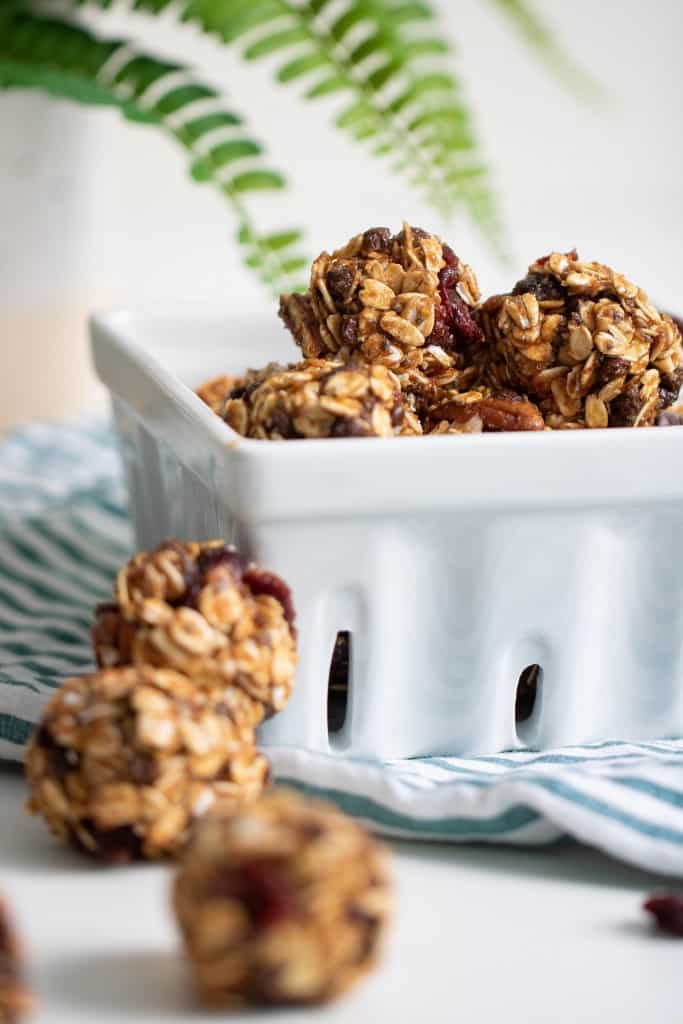 Why Dates Anyway?
OK, so if you aren't (or weren't) a fan of dates, then we have a ton in common. At first, I was slightly taken aback by the taste of dates and weren't a fan during my first few attempts. However, as I began experimenting more with them, I realized that it greatly depends on how you use them and with what ingredients.
More importantly, I chose to use dates as one of the bases for these bites because they are an awesome sweetener. When making a lot of vegan recipes, I often use 'organic' Vegan-approved sugars or maple. However, I've since discovered that dates make for an awesome sweetener as well. Just keep in mind that the taste is pretty bold so if you do use it as a sweetener, just know that the taste will be evident. Also, they make for a great 'binding' agent for baking goods.
The second great thing about dates is that they are LOADED with nutrients. If you weren't aware—-dates are HIGH in fiber, which is extremely beneficial to your digestive system and prevents constipation.
Other Benefits:
As we know, antioxidants are great at fighting diseases and protecting your cells from harmful toxins and free radicals.
May Help in Promoting Labor.
Yes, you've read right! For all my soon-to-be Mamas, you can help to promote labor by consuming dates. Studies show that dates may help to dilate the cervix and lower the need for induced labor. They also believe that dates help to reduce the overall labor time as well.
Excellent Natural Sweetener.
As previously stated, dates are a great natural sweetener for your baking needs. They come including fructose, which is a natural type of sugar found in fruit.
They Help with Bone Health + Blood Sugar Control.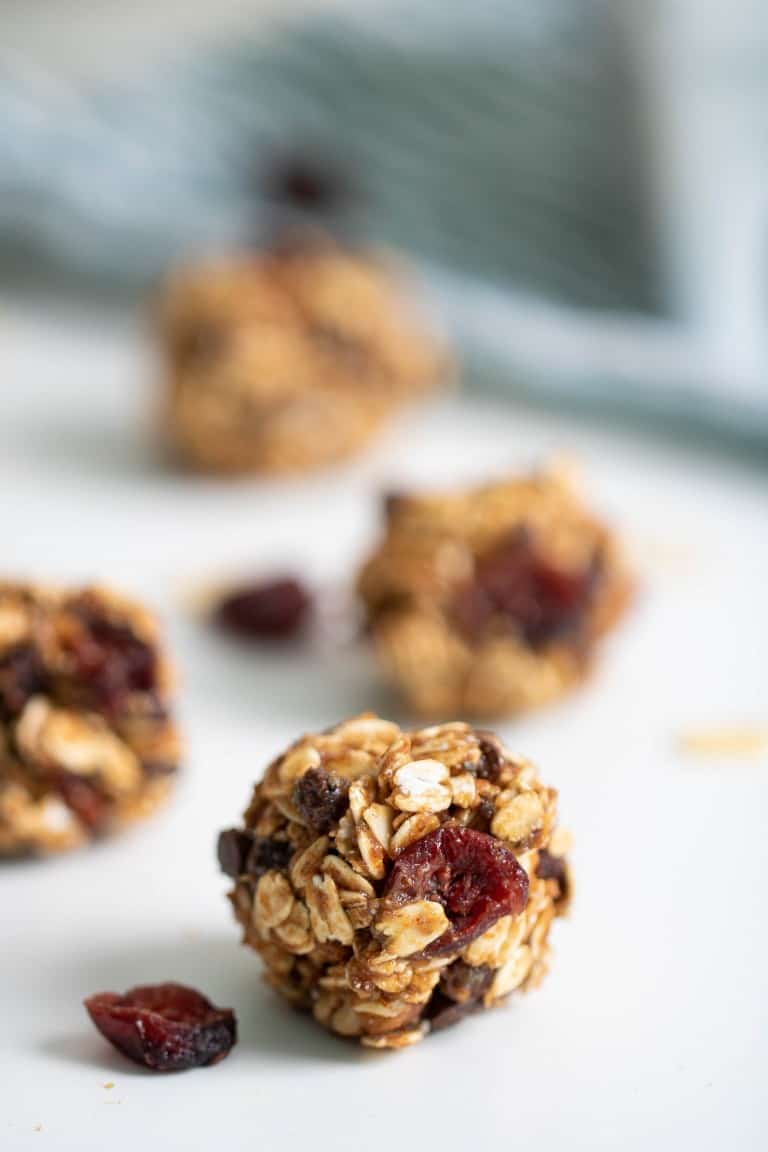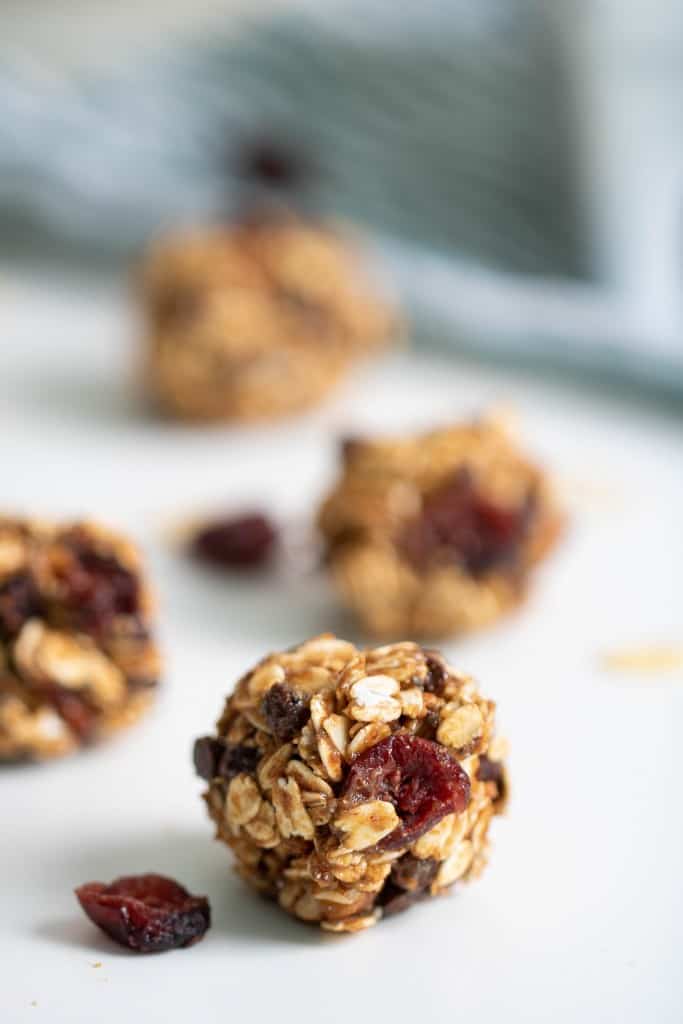 How To Make the Perfect Bites!
Tip #1: Refrigeration is KEY! When it comes to making Energy Bites, it's super important to refrigerate them slightly (for a few minutes) before rolling the dough AND then chilling them again after. Through trial and error, I've found that rolling them as soon as the dough is made makes things far more messy, especially after the 3rd or 4th ball (think—dough melting or not cooperating into a perfect ball).
Tip #2: Using a thicker sweetener definitely helps! While most people use honey as a sweetener, I found that using maple or dates works so much better. Remember, a great 'binder' creates a better outcome. Granted, using honey is just fine if preferred.
Tip #3: Always chop nuts! Again, since Energy Bites are super versatile and customizable, adding nuts are a great possibility. However if using pecans, almonds, walnuts, pine nuts, whatever—-always make sure that they are chopped into smaller pieces. This helps for the rolling process and ensure that things stay together nicely.
MADE OUR RECIPE(S)?
If you choose to make these Cranberry Chocolate Chip Date Energy Bites or any other recipe from us, be sure to tag us on Instagram at #Orchidsandsweettea so that we can share the love!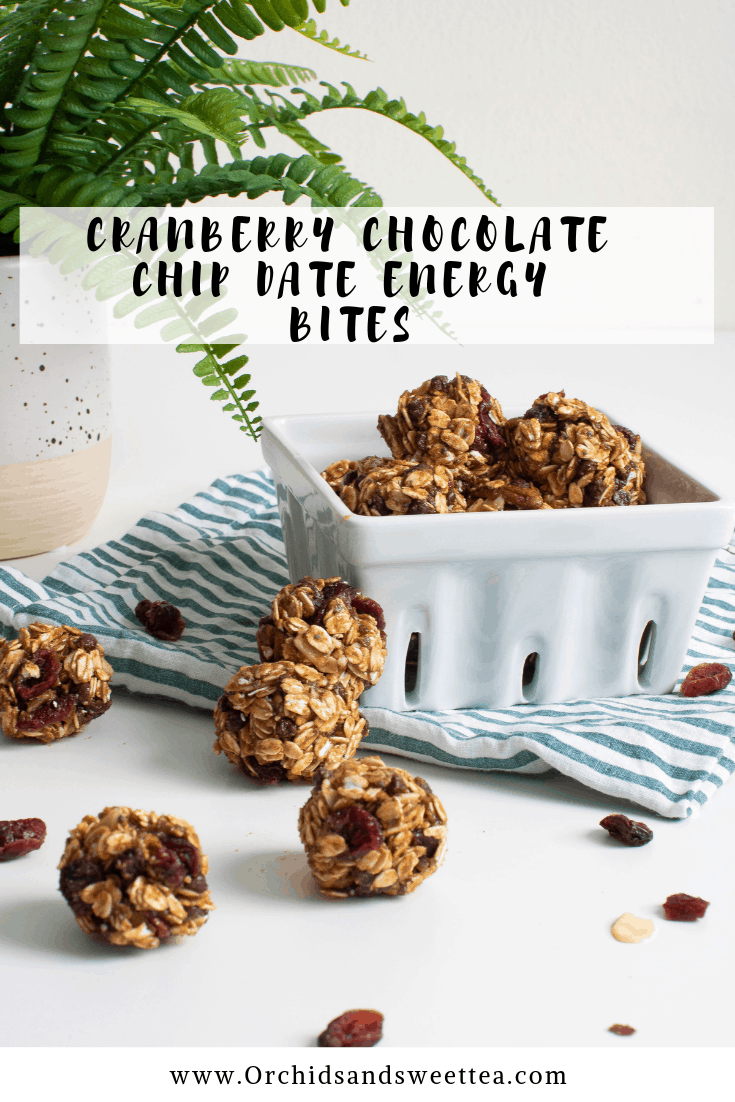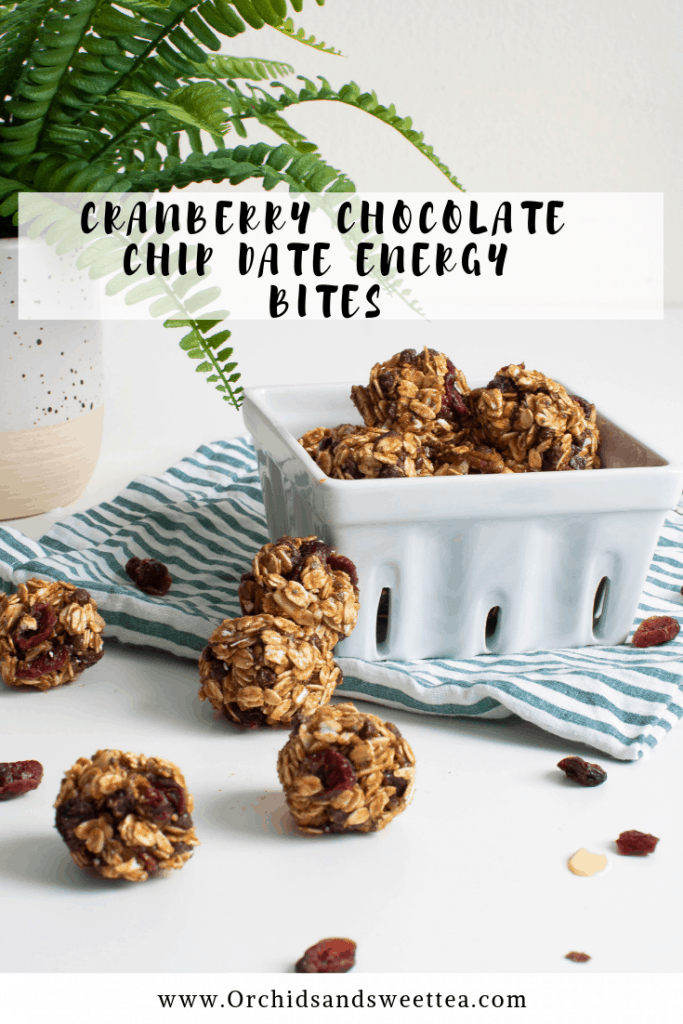 2

cups

organic Rolled Oats (GF version, of preferred)

1/2

cup

pure maple syrup

1

cup

chopped dates

1

Tbsp

chia seeds

1

Tbsp

ground flaxseed

pinch of

sea salt

1/2

cup

chopped walnuts

1

cup

dried cranberries

1/3

cup

chocolate chips (Dairy-free if preferred)
Combine the dates, maple, chia seeds, and flax seeds into a food processor and pulse until smooth and well combined. NOTE: If too thick, add more maple syrup, 1 Tbsp at a time until consistency is met.

Transfer the mixture to a large bowl along with the rolled oats, sea salt, walnuts, dried cranberries, and chocolate chips. Immediately, add mixture in bowl to the refrigerator (covered) and chill for 30 minutes.

Once chilled, scoop 1 1/2 Tbsps of mixture and using both hands—roll into a small ball. Repeat until all mixture is made. NOTE: Be sure to add energy bites to a baking sheet lined with parchment paper to ensure that they remain perfectly shaped.

Now, refrigerate rolled bites again for 5 minutes or so!

Remove from refrigerator and enjoy!
STORAGE: Can be kept refrigerated (covered) for up 2 weeks.
Cranberry Chocolate Chip Date Energy Bites.