When it comes to these Citrus Ginger Turmeric Ice Cubes and Tea, it's all about the spicy ginger and citrusy flavor from the orange paired with the bit of tartness from the lemon that comes naturally sweetened and infused with turmeric. Great as a detox or a boost in digestion, or energy booster, overall, this recipe is completely natural, easy to make, and perfect for any day or season. All vegan + gluten-free ingredients.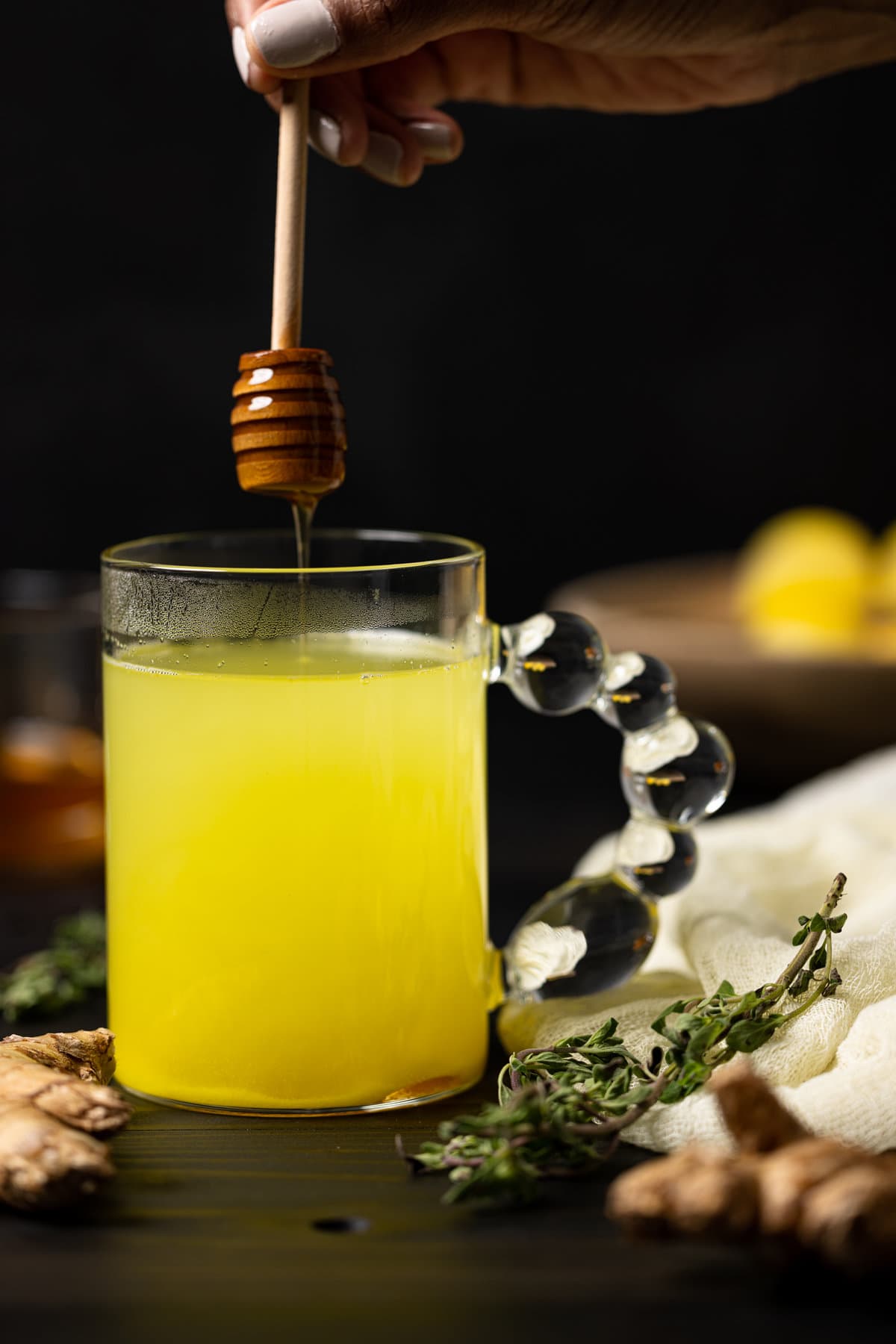 Citrus Ginger Turmeric Ice Cubes + Tea ---I couldn't be more excited to share these "wellness" ice cubes with you because they are such a convenient way of keeping your body reset and functional, especially when things get busy. As you may already know, I am such a huge tea lover and while I do understand that there are a ton of tea bag options in the market (many of which I love), there's nothing like homemade tea that does the trick.
Growing up in a Jamaican household, tea has always been a staple that I've seen on a daily basis, especially whenever ailments were present. Most of the teas were boiled over the stovetop from their natural "bush" or herb and then lightly sweetened and enjoyed. Today, I still adopt a lot of those principles and although I do love tea bags and the variations available, I always find myself leaning back into creating my teas fro natural ingredients for added benefit. Plus, this Detox Green Tea Shot Recipe is an awesome go-to for immune-boosting properties.
These Citrus Ginger Turmeric Ice Cubes and Tea are truly the most easiest, convenient, immune-boosting ice cubes that you can make and as with many of my recipes, you can always substitute and swap specific ingredients to meet your preference.
Plus, it's definitely a refreshing take on my very first detox drink that many of you love to this day-----Cucumber Ginger Lemon Detox Juice! Such an easy blend and drink.
Citrus Ginger Turmeric Ice Cubes: The Perfect Way to Avoid Waste
Making these Citrus Ginger Turmeric Ice Cubes are really worth it and not just because they taste great and are easy, but also because it helps to avoid waste. Have you ever had a handful of ingredients go bad without you even being able to get to them like ginger root, oranges, lemons, etc.?
Well, I love to blend up my favorite ingredients and herbs and store them long-term in the freezer so that I can use them later, whether it's in a smoothie, soup, tea, or whatever.
You can definitely use this method for a variety of ingredients including herbs (thyme, parsley, etc.), fruits, veggies, broths, etc. So simple!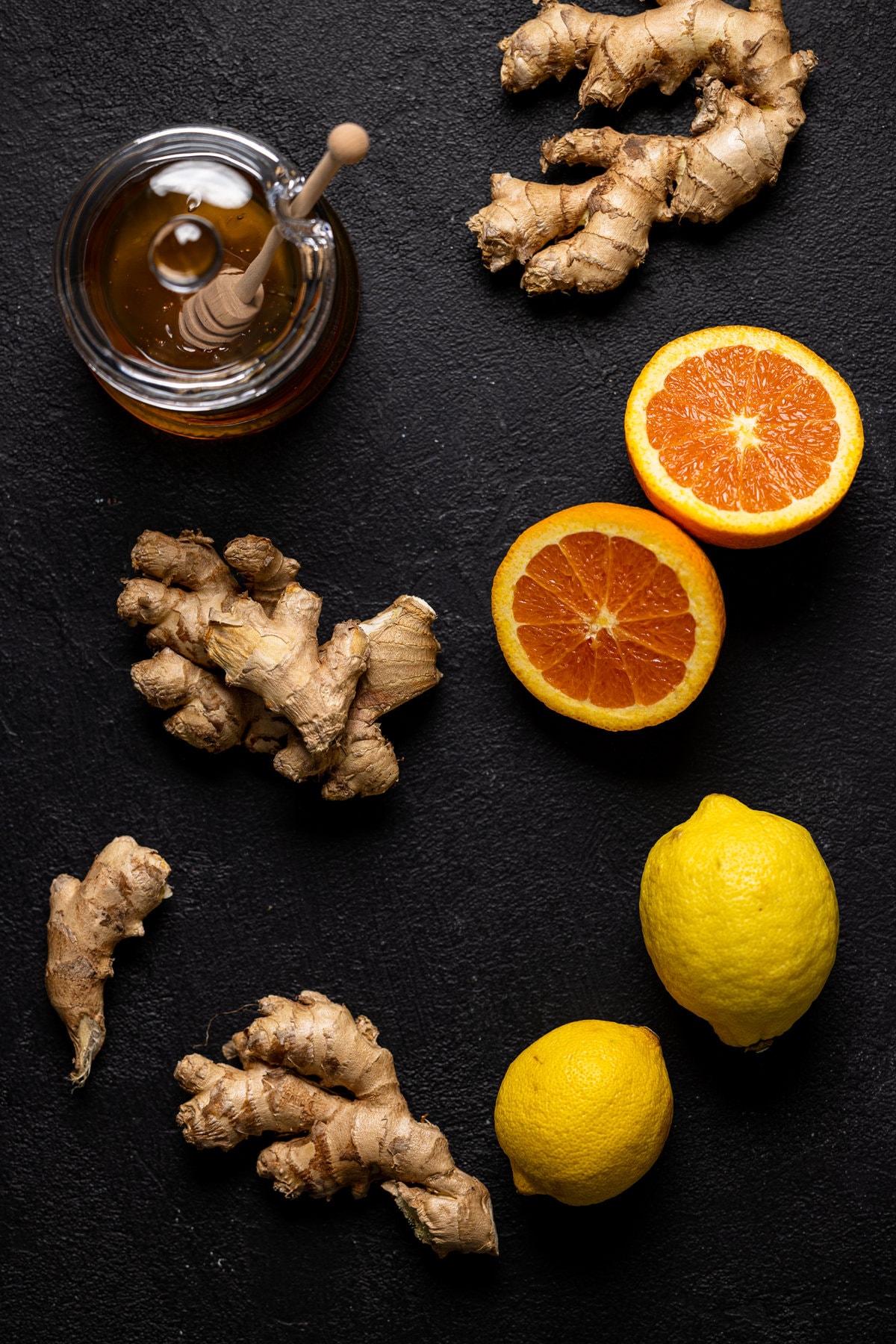 Health Benefits of Citrus Ginger Turmeric Ice Cubes
Together, the ingredients in these homemade ice cubes have some amazing health benefits, including:
Powerful plant-based antioxidants that fight disease-causing free radicals in the body
An immense system boost from vitamin C
Stimulating your metabolism for faster digestion and a healthy gut
Can treat nausea and indigestion
Improves cognitive function and memory
Helps hydrate and clear up skin
How to Make Citrus Ginger Turmeric Ice Cubes
Much like many other versions, you'll blend together your ingredients until smooth, pour them in your favorite ice cube tray, freeze, and then use them as a tea, in smoothie, soup, etc. That's it!
Ingredients for Ice Cubes
Here's what you need to make these amazing ice cubes:
Fresh ginger. You can use as little or as much ginger as you like. It adds spicy flavor to the drink, which some people love!
Freshly squeezed lemon juice. You'll need 2 lemons for this.
Orange juice + Peels. Jam-packed with health benefits including Vitamin C, provitamin A, folate, riboflavin, thiamine, vitamin B6, and calcium.
Turmeric. This orange spice is packed with antioxidant properties. Read more about the health benefits of turmeric here.
Black pepper. Adding a touch of black pepper to your lemonade will allow your body to absorb the turmeric better, and you won't taste it in the final drink.
Honey. This adds natural sweetness with antioxidant properties. You can also substitute with Meedjol dates or maple syrup for a vegan-friendly option.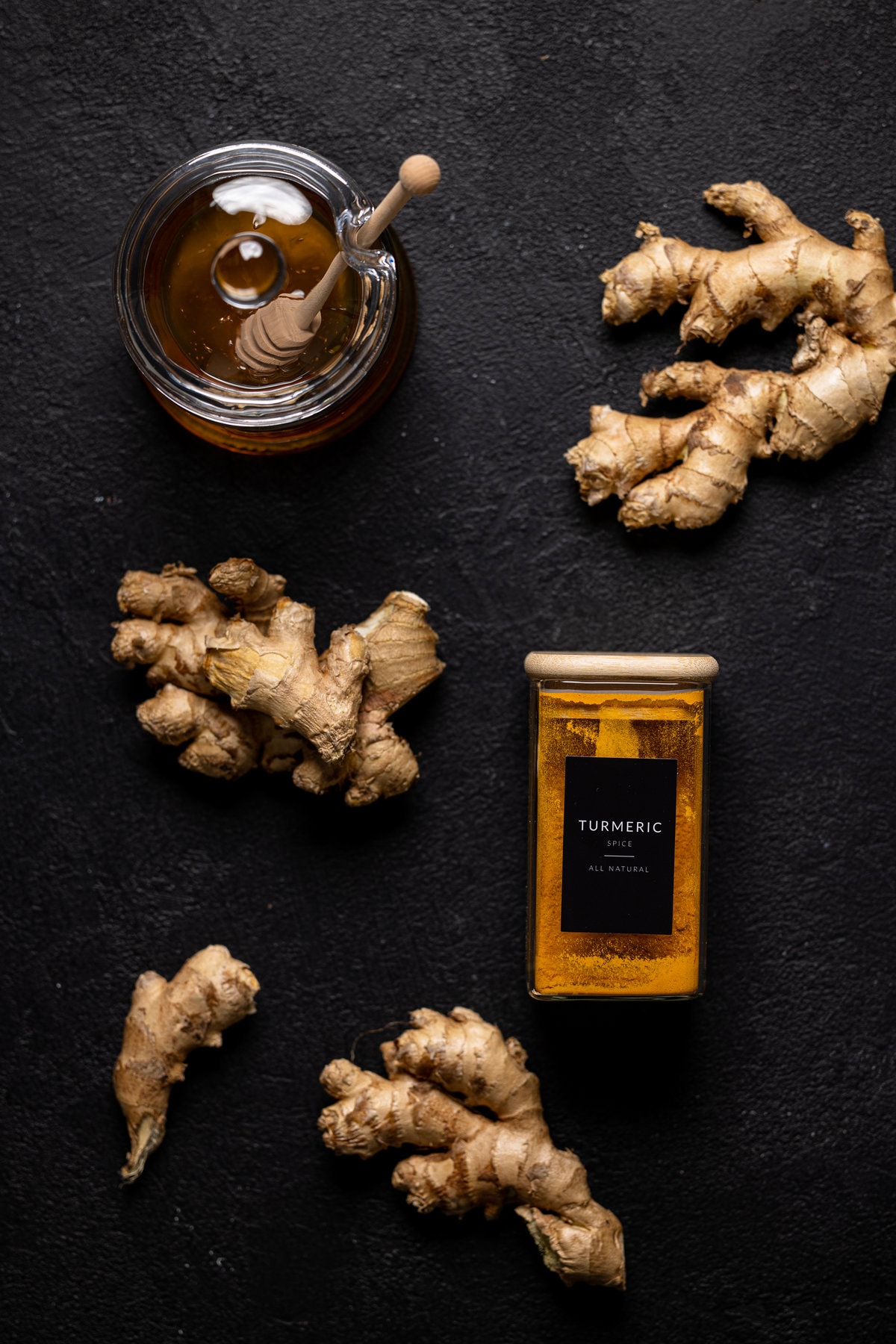 What is a Detox?
By dictionary definition, Detox is the psychological or medicinal removal of toxic substances from the human body. Therefore, detoxes like this one helps your body to reset and get rid of toxins (which can be built up by many factors internally and externally) so that we can feel rejuvenated, improve our health, and help with weight loss.
Why Orange Peels in these Citrus Ginger Turmeric Ice Cubes ?
While most of us might peel an orange and toss away the skin or perhaps only zest the skin when baking or cooking, be sure to save these in a storage bag if you can! In the Jamaican community, orange peels are great for healing stomach ailments and are often boiled in water as a tea.
However, these under utilized skins are also great for lowering blood pressure, suppressing anxiety/depression (when used in a bath or by rubbing it on your temple/forehead), improves heart health, lowers bad cholesterol, gets rid of a hangover, eases respiratory issues, and the list goes on.
You've also probably heard your doctor tell you to get more vitamin C when you're sick or immunocompromised. This is because vitamin C can help reduce the severity of your cold or flu as well as speed up your recovery. Fruits like oranges are a great source of vitamin C. But orange peels actually have three times the amount of vitamin C as the fruit inside. They also contain a lot of other great vitamins including provitamin A, folate, riboflavin, thiamine, vitamin B6, and calcium.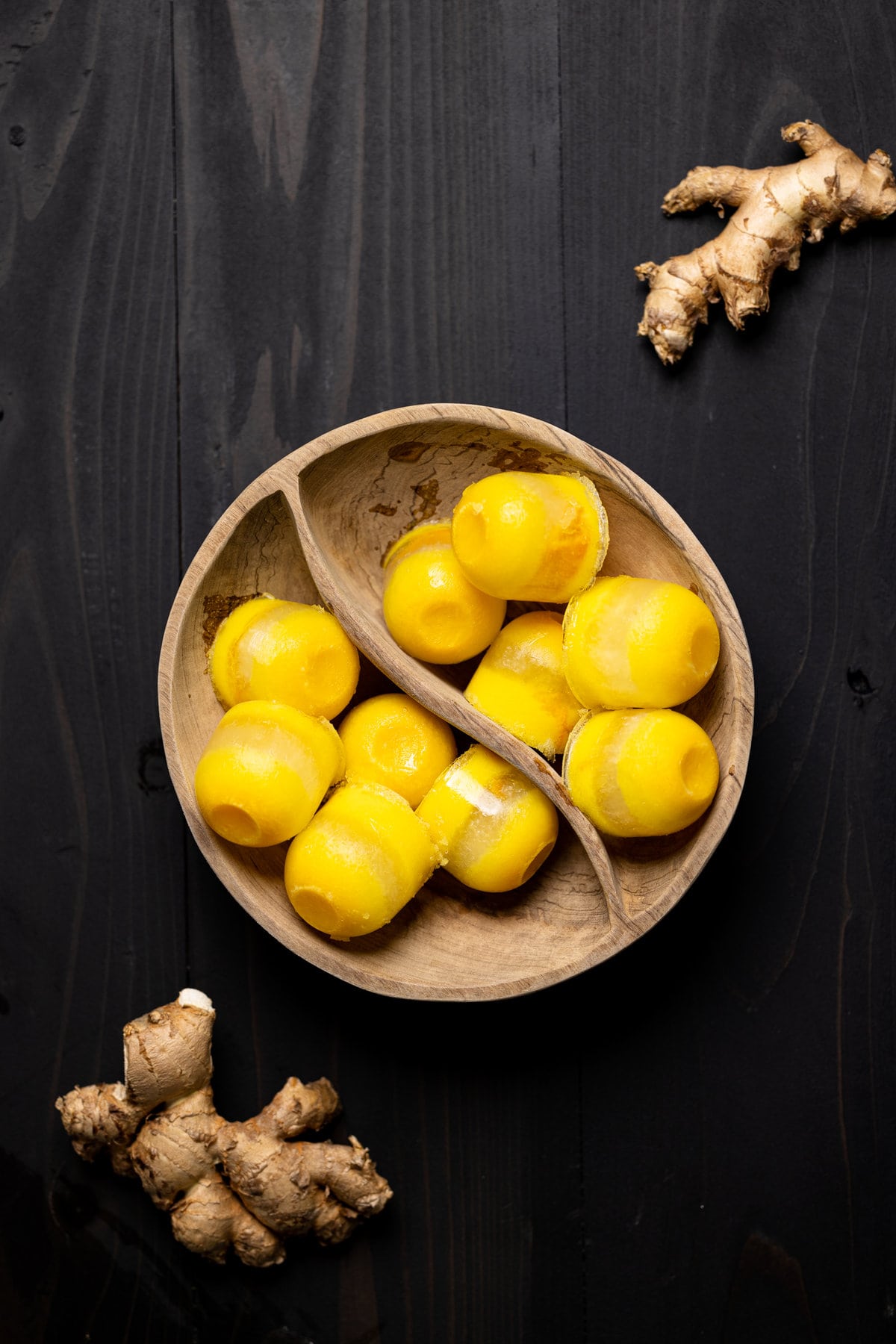 Why You Should Pair Lemon and Ginger Together:
There are some surprising health benefits from this refreshing turmeric lemonade recipe. In fact, when you combine lemon and ginger together, you'll reap some major benefits, including:
IMPROVES COGNITIVE FUNCTION:
The superfood combination of lemon and ginger does wonders to our brains. Compounds in both plants help soothe specific nerves, reduce anxiety and improve our mood. As a result, we can think more clearly. In addition, both lemon and ginger are full of antioxidants. These help eliminate oxidative stress and may lower your risk of Alzheimers and dementia.
IMPROVES SKIN HEALTH:
Lemon and ginger both have skin health-promoting properties. The vitamins and antioxidants in both foods help calm skin inflammation and improve glow.
These foods also have antibacterial and antiviral properties, which can help prevent skin infection.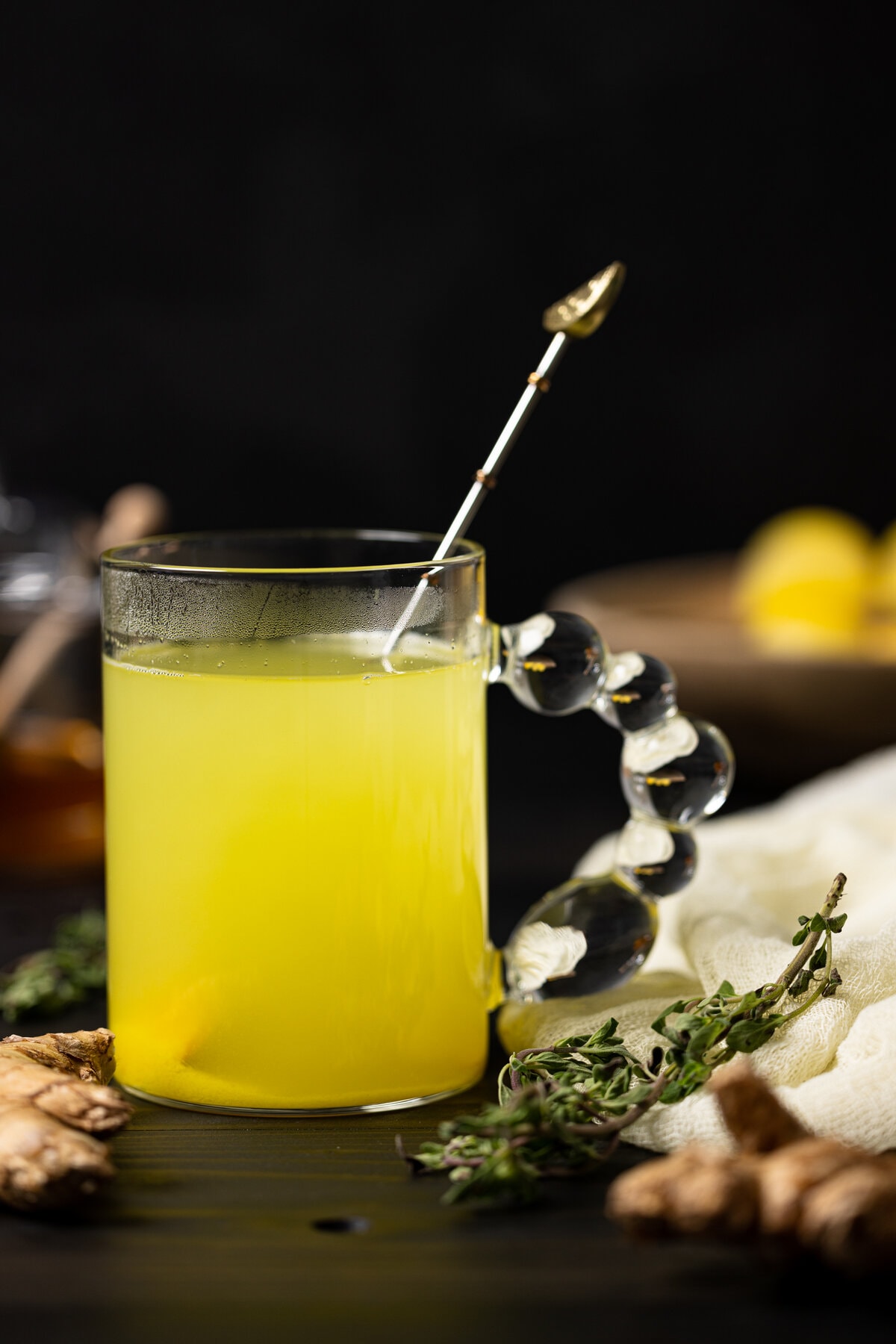 IMPROVES HAIR HEALTH
While each ingredient has been used individually to help your hair health, combining them actually provides a boost of vitamins A and C. These essential nutrients both promote hair growth.
In addition, lemon and ginger can reduce dry skin and dandruff naturally. So adding more of these ingredients to your diet is a great idea if you struggle with dry scalp.
HELPS TO RELIEVE PAIN:
Ginger in particular has powerful anti-inflammatory properties. For this reason, the root can also act as a pain reliever. It can help your body recover from body pain, menstrual cramps, surgeries, and other illnesses.
So the next time you find yourself contemplating on whether to take another painkiller, try sipping ginger tea as a natural home remedy.
HELPS CONTROLS DIABETES:
Finally, studies suggest that ginger can help moderate your blood sugar levels, which is good for anyone who suffers from diabetes. However, research shows that lemon can also help to control diabetes as well.
The soluble fiber and Vitamin C in lemon helps limit spikes in blood sugar, as well as blood pressure and cholesterol.
What Ice Cube Trays Work Best?
Honestly, I'm a big believer in using whichever type of ice cube tray molds you'd prefer. I chose to use these "crescent moon" shaped molds (which are standard ice trays), however, I also love using square cubes and any fun shapes for a more festive feel.
Personally, Amazon has some amazing options and you can also purchase ice cube molds as large retailers such as Target, Walmart, etc. Of course, depending on the size and shape, you'll get a different amount of ice cubes per batch, so keep that in mind!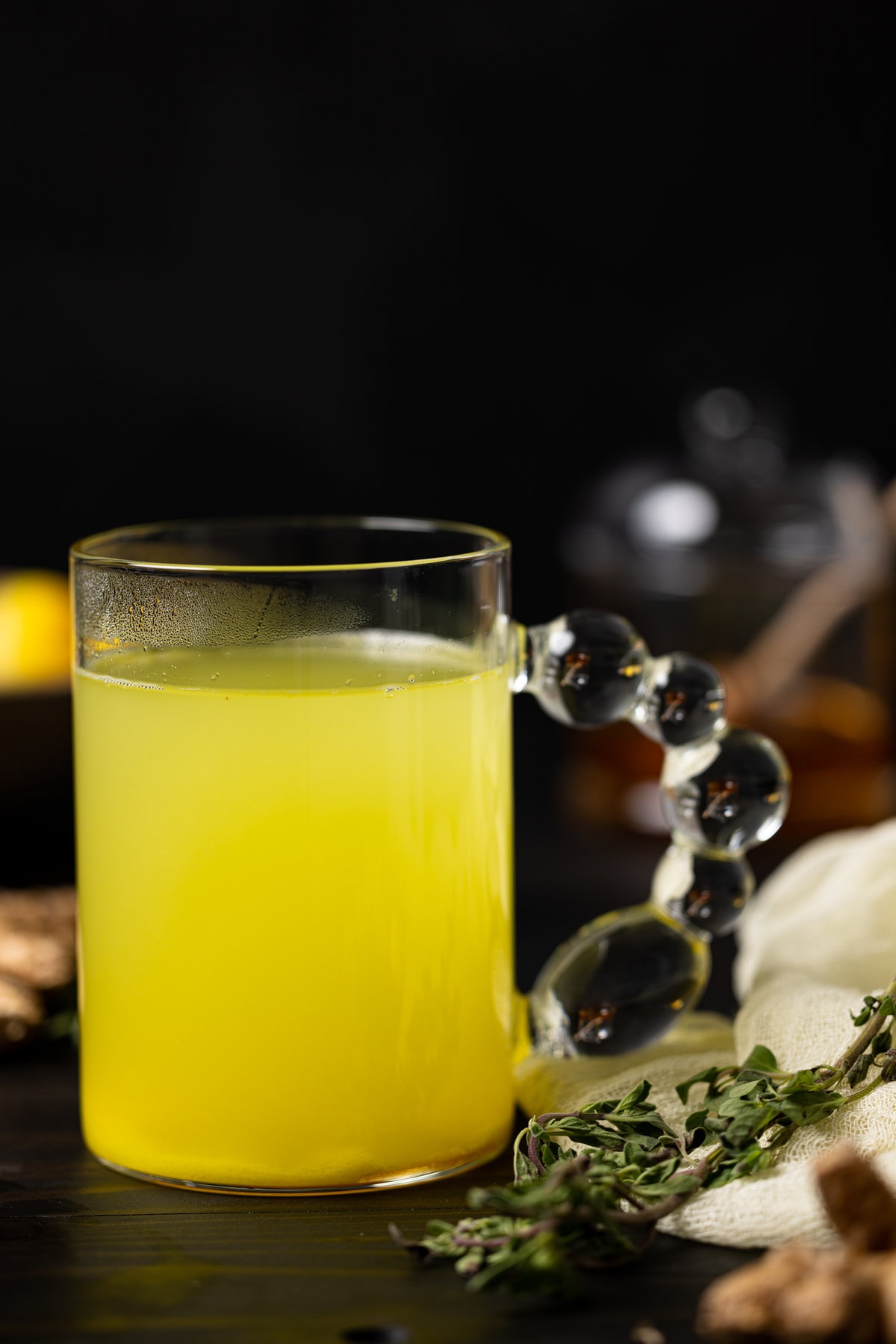 Why Add Turmeric to these Citrus Ginger Turmeric Ice Cubes?
Believe me, adding turmeric to these ice cubes doesn't change a thing in terms of compromising its taste. In fact, the slightly earthy flavor of this vibrant spice is delicious!
Turmeric has a compound called curcumin, which is a powerful source of anti-inflammatory antioxidants. However, the best way that our bodies can absorb all of these benefits is when we consume turmeric with black pepper. The compound in black pepper piperine is what helps us absorb curcumin, You can't taste the pepper much in this drink, but you get all of the health benefits.
In addition, piperine on its own can help relieve nausea and headaches and improve digestion.
Sweetener Options? Vegan-friendly?
Absolutely! I like to add a bit of natural sweetener to most things that I drink, including these Citrus Ginger Turmeric Ice Cubes. Maple syrup is a great option because it's vegan and has antioxidants, much like honey which adds additional nutrients. However, you can try any healthy sweetener substitutions you like.
In fact, this post about The Best Healthy Sugar Alternatives + Substitutes is a great place to start! For example, you can use a ripe banana to sweeten your ice cubes in general when using other ingredients.
My Fave Recipes to Start The Day
MADE OUR RECIPE(S)?
If you make this Citrus Ginger Turmeric Ice Cubes + Tea, be sure to tag me on Instagram @orchidsandsweettea!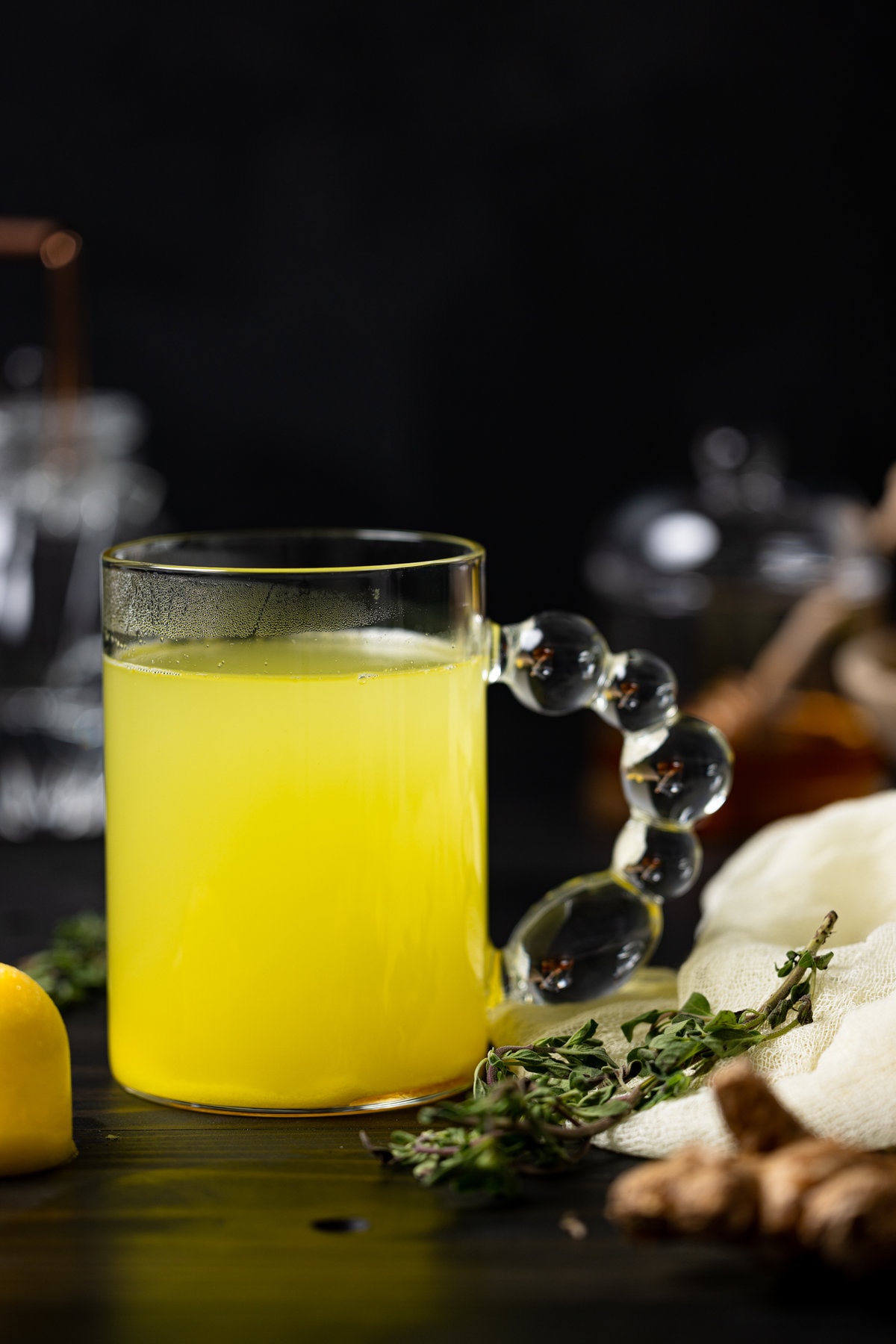 ICE CUBES:
2

cps

filtered water

1

ounce

ginger root, peeled + chopped

1

orange, freshly-squeezed

Skin peel of an orange, chopped into small pieces

½

cup

natural sweetener

(You can use honey or maple syrup)

2

lemons, freshly-squeezed

1

teaspoon

turmeric powder

½

teaspoon

black pepper
TEA:
Hot boiling water

2

Citrus Ginger Turmeric Ice Cubes

(If making smaller ice cubes, you can use twice as much per tea)
BLEND EVERYTHING TOGETHER:
In a high-powered blender, add the water, chopped ginger root, orange juice, lemon juice, turmeric, black pepper, and sweetener, blending until smooth and fully broken down, about 1-2 minutes.
TO MAKE THE ICE CUBES:
Pour the blended mixture into ice cube molds, add the small pieces of orange peels to each ice cube mold, and freeze until solid, about 5 hours (minimum), depending on size.
TO MAKE THE TEA:
In your favorite mug, add 2 ice cubes and top with hot boiling water. NOTE: You can add additional sweetener, if desired.

Sip and enjoy!
ADDITIONAL BOOST: To add a boost to make these ice cubes more powerful, you can add cayenne pepper or apple cider vinegar to the mix (1 teaspoon of either)!
HEALTH BENEFITS: To see the health benefits of each ingredient, see the ENTIRE POST.
EQUIPMENT: Here, I've curated a list of drinkware and mocktail essentials that I use to achieve my favorite drinking experiences, especially with this Tea. Everything from my fave glassware, Beast Health blender, strainers, mason jars, and more. SEE THEM HERE!
Citrus Ginger Turmeric Ice Cubes + Tea.