These Chocolate Chip + Coconut No-Bake Energy Bites are a super easy, quick way to enjoy a healthy snack. Best way to satisfy our taste buds without the unhealthy sugars and additives. These bites are an awesome option for boosting energy, increasing fiber in take, and a great source of healthy nutrients. Packed with bold peanut butter, chocolate chip, and coconut flavors. The perfect sweet treat for breakfast, a power lunch, or a snack in between your meals. Completely Gluten-Free and Vegan.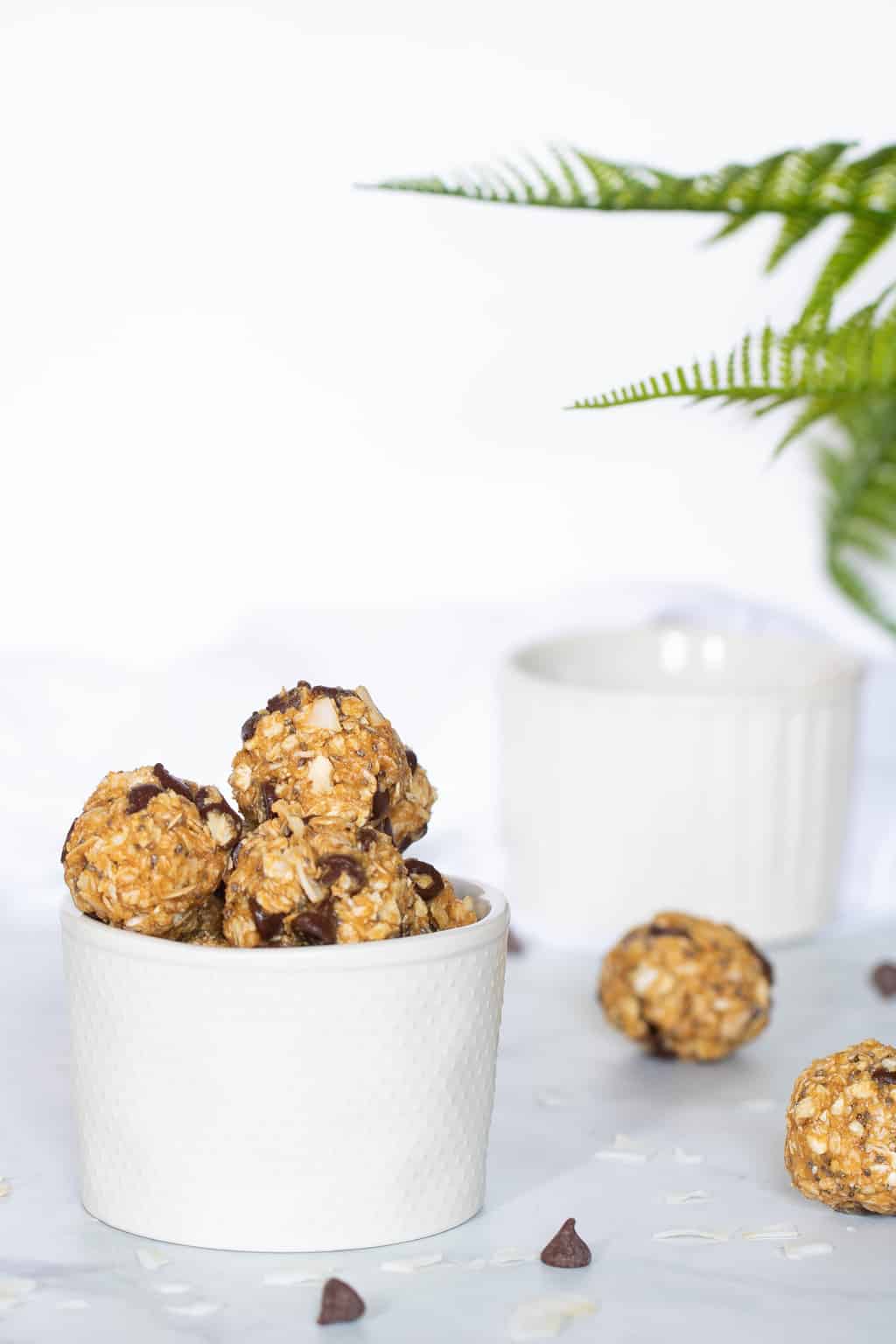 Sponsored Post: This post contains a sponsored item by Navitas Organics, but the content and opinions expressed are all based on my genuine love for this brand and are my own. Thanks so much for supporting the brands I love.
When it comes to recipes, I enjoy making complex dishes as well as easy ones. With so many of us scrapping for the extra time after we've spent most of our days doing everything else---I tend to think about easy, healthy recipes that can be created for the entire family.
Therefore, if you've been an avid reader of Orchids + Sweet Tea, then you've probably already realized the differences in the types of recipes, I've been making lately.
I've noticed your favorites and have been keeping things within the lines of those favorites while including an array of Vegan, Dairy-Free, and Gluten-Free options for those of us who have a sensitivity to specific ingredients.
Per usual, you can always mix & match your ingredients or make the necessary substitutions if preferred. I love to keep some of my recipes open to interpretation as it relates to your own personal taste preference.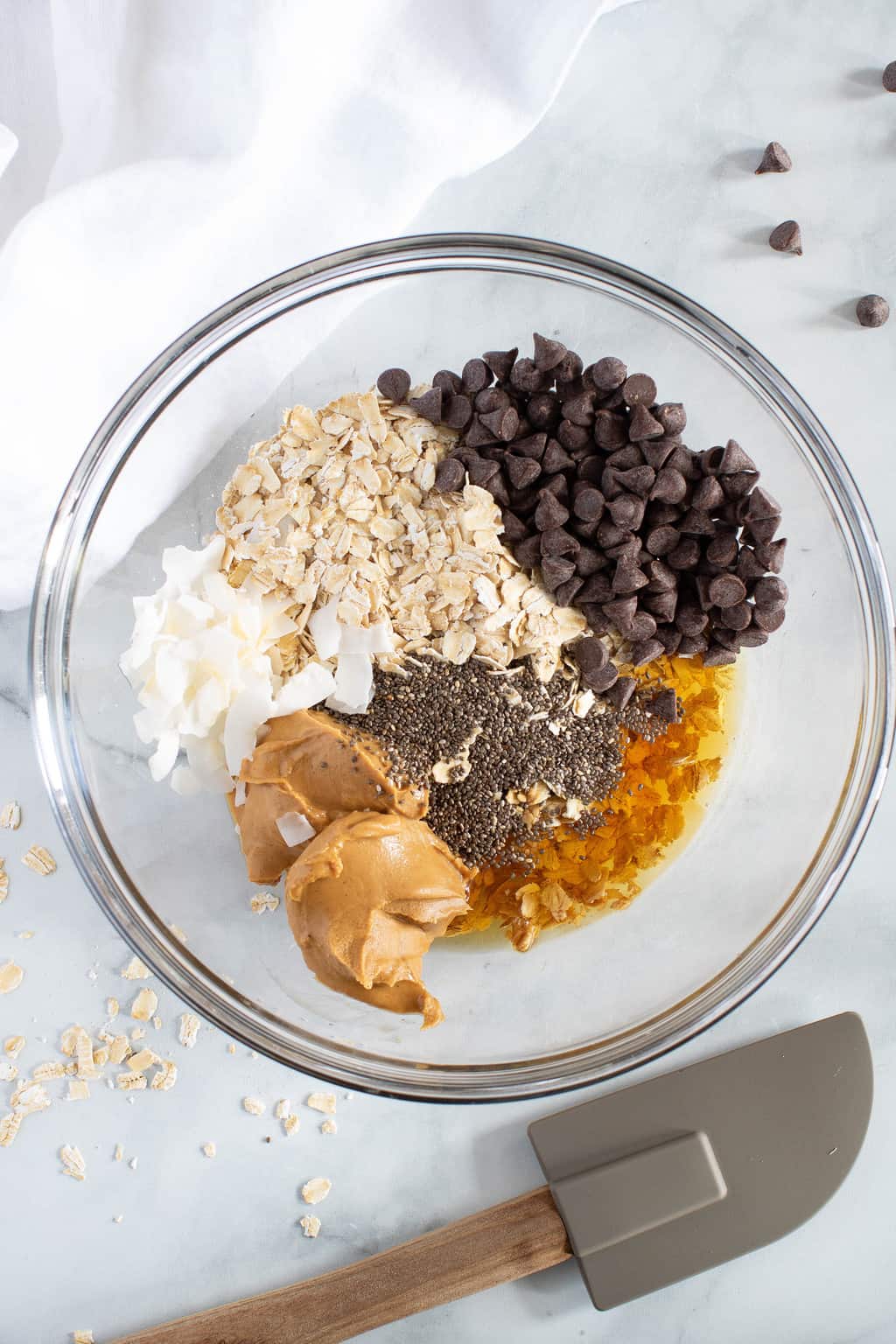 These Energy Bites don't disappoint at all. OK, so some of you might be wondering what an Energy Bite is anyway, right?
Also, because these little sweet treats are no-bake and include a lot of raw healthy ingredients, you can store them for a few days (up to 2 weeks) which makes for a great long-term treat. All in all, these are a win, win in my opinion!
Now Back to What an Energy Bites is.
To break this down, an Energy Bite is basically a protein packed ball of goodness that often consists of old fashioned or rolled oats, some sort of nutty butter (peanut butter, almond butter, that sort of thing!), and flax seeds. That's the basis. Everything else is pretty customizable and can be added or not based on your tastebud's preference.
These little balls of goodness can be made in under 10 minutes and require only a short refrigeration time to ensure that they remain solid.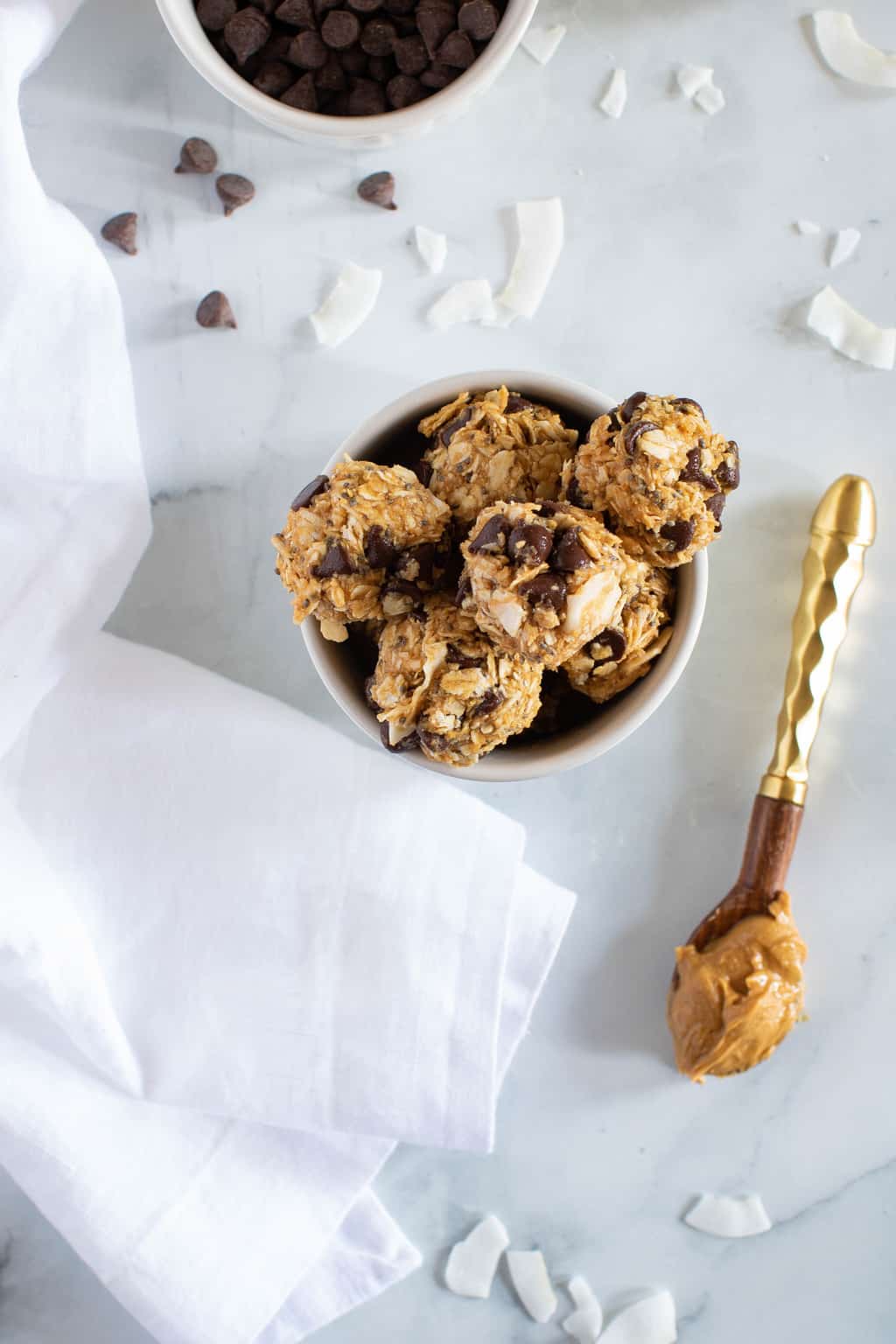 I use to make Energy Bites a lot as a quick way to gain healthy nutrients for breakfast, a snack or dessert, however, it's been a while since I've made my last batch—besides this recipe! I couldn't wait to share these with you because I made a few switches to the recipe's base AND they're just so good!
However, I've been so excited to share this new version of these energy bites with you because it's bold in flavor and complex in texture, depending on the ingredients.
Check out these amazing Crunchy 'PB + Jelly' Energy Bites! Let's not forget about these Chocolate Cranberry Almond Snack Bars, which are full of bold flavor, chewy, and super easy to make.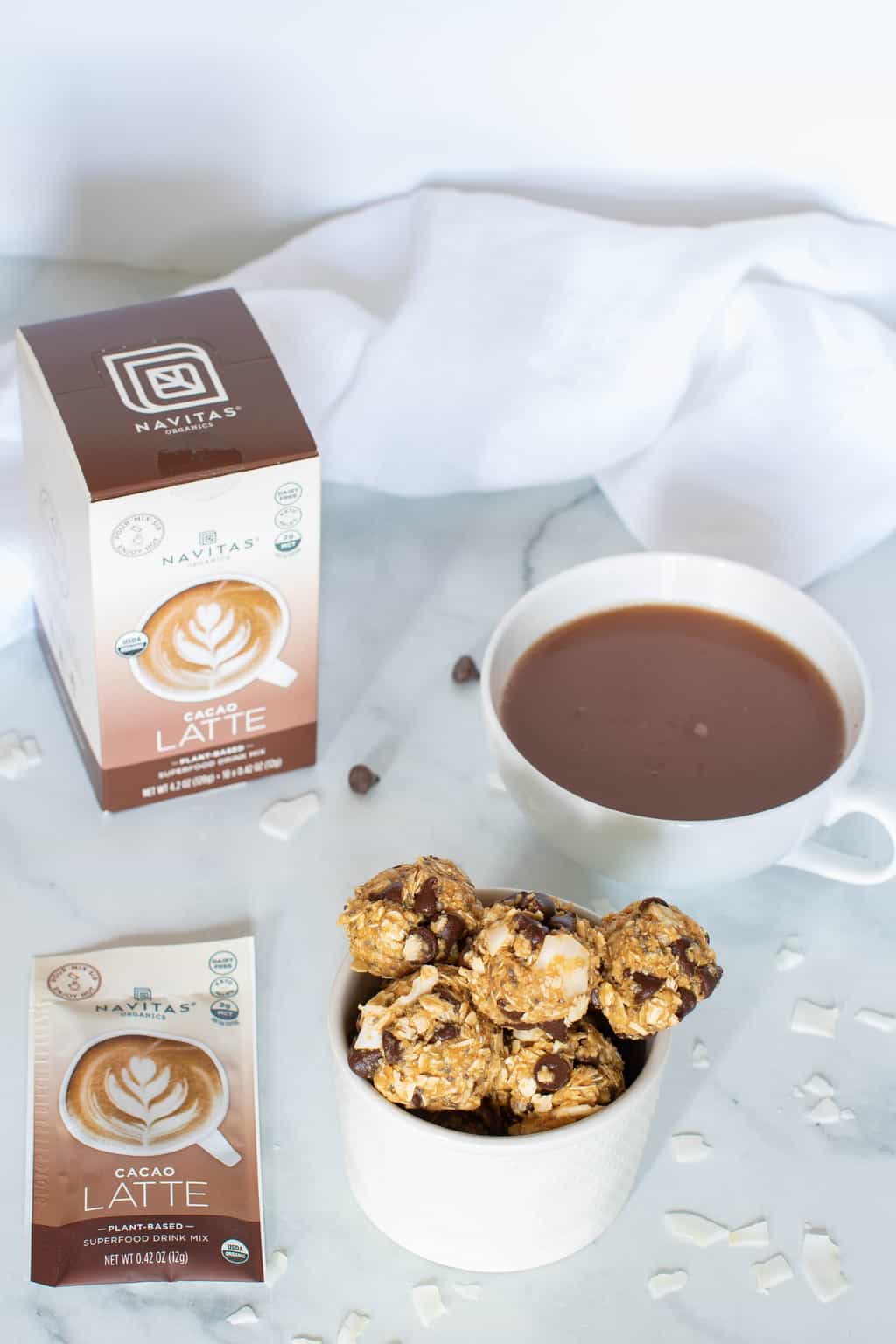 Of course, I couldn't enjoy these little bites without a good cup of coffee or tea. As you can see, I've paired these delicious little bites with a nice cup of Navitas Organics' Cacao Latte, which is super easy to make. Simply add one of their convenient packets to boiling water (or milk for a nice creaminess) and wallah! 
For additional flavor and creaminess as well, you can add a non-dairy creamer. Just perfect and packed with a ton of nutrients!
What is Cacao really? Cacao vs. Cocoa.
OK, so can we talk about Cacao for a sec? Did you know that Cacao AND Cocoa are the same thing?
I know. Insane. I was totally confused about this for a long time and honestly assumed that once was healthier than the other. However, it's come to be determined that they are just used interchangeably.
Chocolate is actually made from Cacao beans (or seeds). It's said that companies who use the term 'Cacao' are referring to the beans, pods, or ground up version of the beans. However, the term Cocoa is often referred to as the powdered version of it all (which is formed after the fat is pressed out of the bean).
Of course there's a whole process that happens and you can find out more about that here.
However, be mindful that since Cocoa has the fat removed for it to be powder-like, it does make Cacao a greater option in terms of health benefits.
Cacao has a host of health benefits which include: antioxidant properties, heart-protective and anti-cancer properties, contains iron and tryptophan (which is an amino acid that helps the body make serotonin—a relaxing chemical).
So of course, it's always best to go with a brand of Cacao that contains those nutrients and are premium to ensure that your body actually receives all of those boosters. Navitas Organics' version of their Cacao or Cacao Latte not only does that, but they are so delicious as well! You can always purchase it on their site or through a large retailer like Amazon.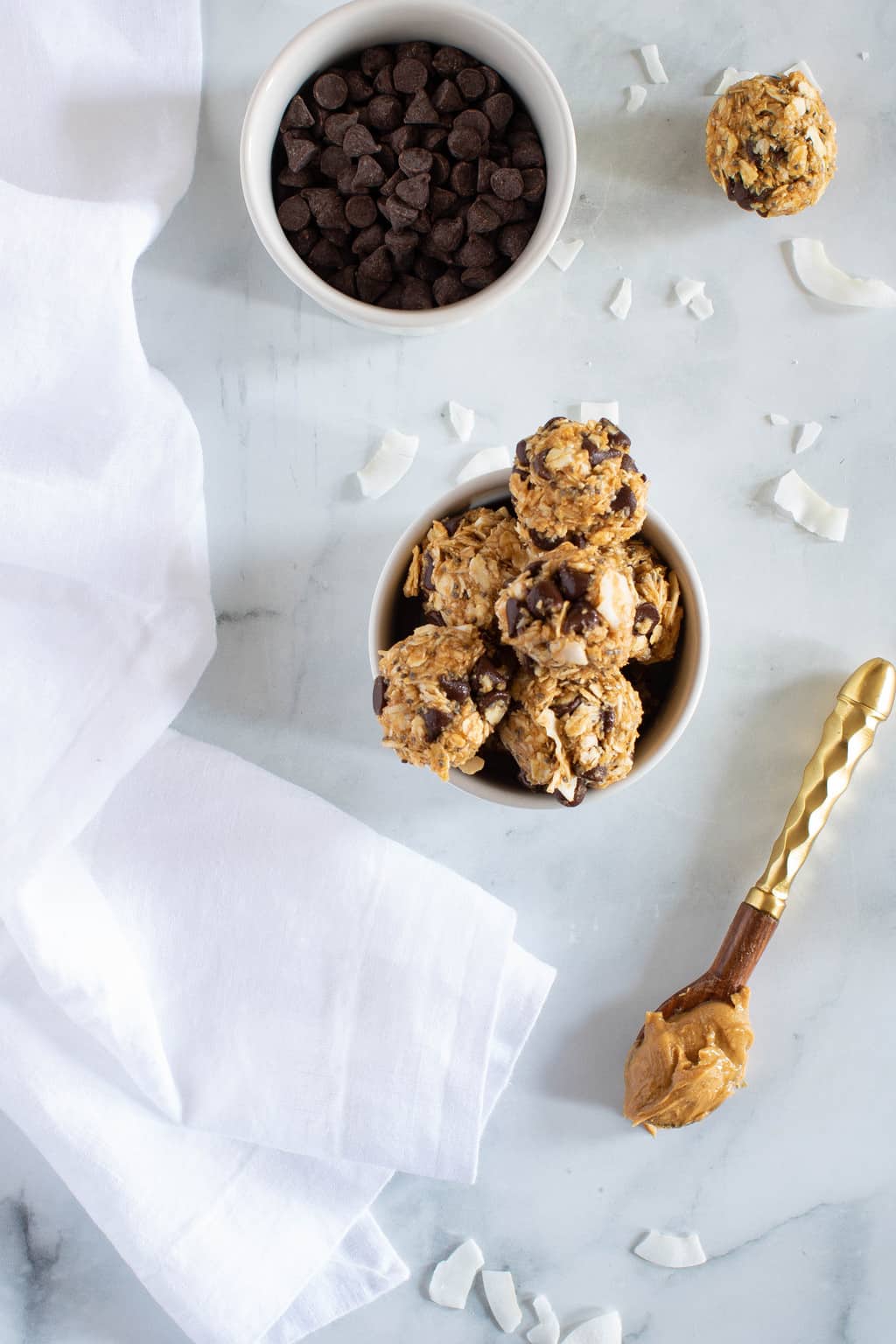 In case you aren't too familiar, Navitas Organics has an array of options which include Cacao, Goji Berries, Maca Powder, Superfood blends, Turmeric, Chia Seeds, Mulberry Berries, and so much!
In addition, they have Latte mixes, Powder Boosts, Power Snacks, and more.
Looking For Great Ideas to Incorporate Navitas' Products?
These No-Bake Cacao Date Loaded Energy Bars are loaded with nutrient-dense ingredients like Cacao, Cacao Butter, Dates, Chia Seeds, Cashew Nuts, Coconut Flakes, Pumpkin Seeds, and Maple Syrup. They make for an awesome packable snack, breakfast replacement, or even dessert if you're into something healthy as a sweet treat. Full of bold flavor, chewy, and super easy to make. Vegan and Gluten-Free.
These Vegan Blueberry Acai Mini Muffins are a great healthy option for the entire family. Loaded with nutrient dense ingredients, these mini muffins are the perfect little bites for breakfast, brunch, a quick packable snack, or sweet treat after dinner. Moist, fluffy, made in just 1 bowl, and in 25 minutes.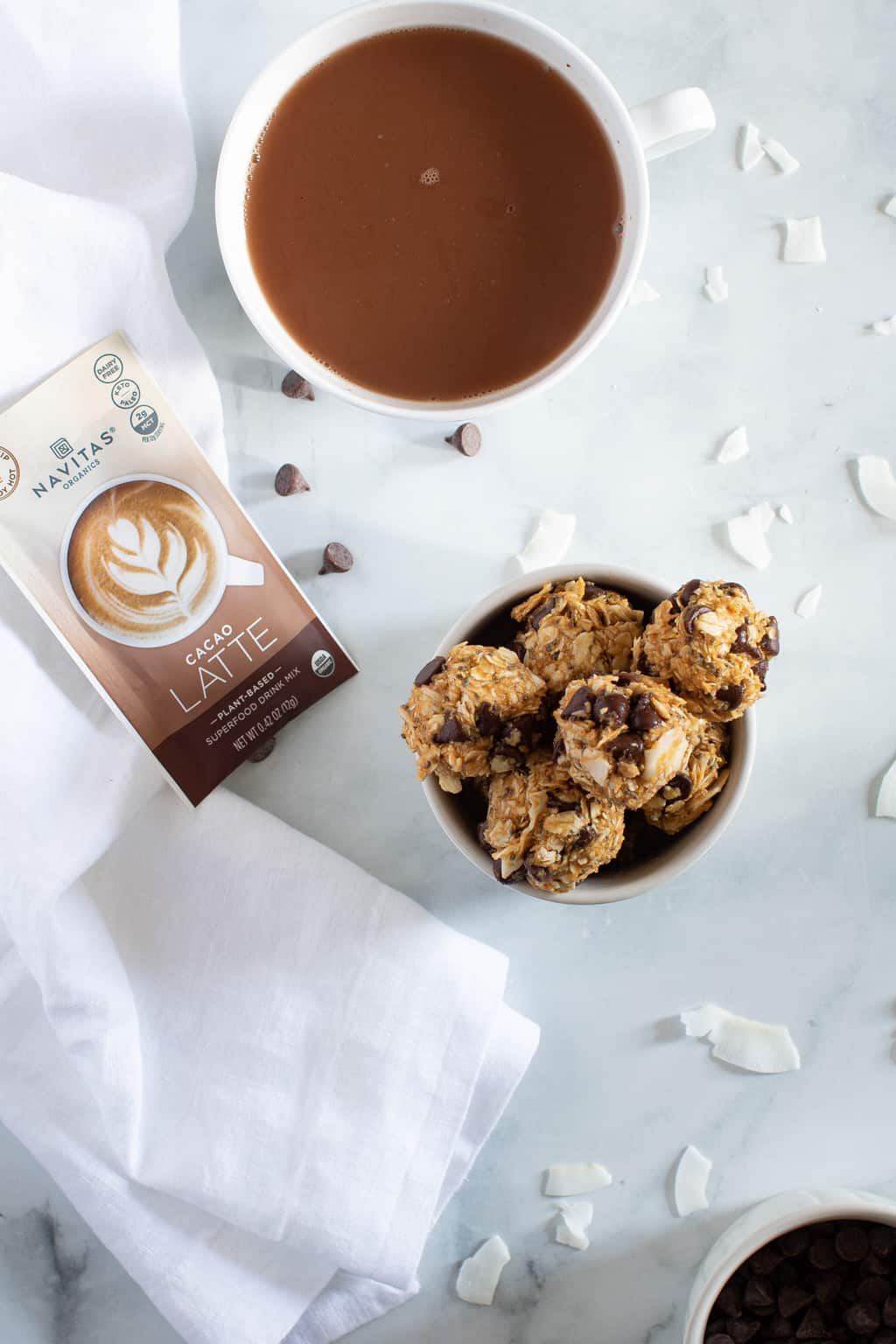 Looking for a Healthier Sweetener Option?
The Best Healthy Sugar Alternatives + Substitutes list is all about finding better ways to enjoy your favorite sweets without compromising your healthy lifestyle. For those who follow a vegetarian and/or vegan lifestyle, this lists offers a few great ideas to incorporate healthy sweeteners into your diet.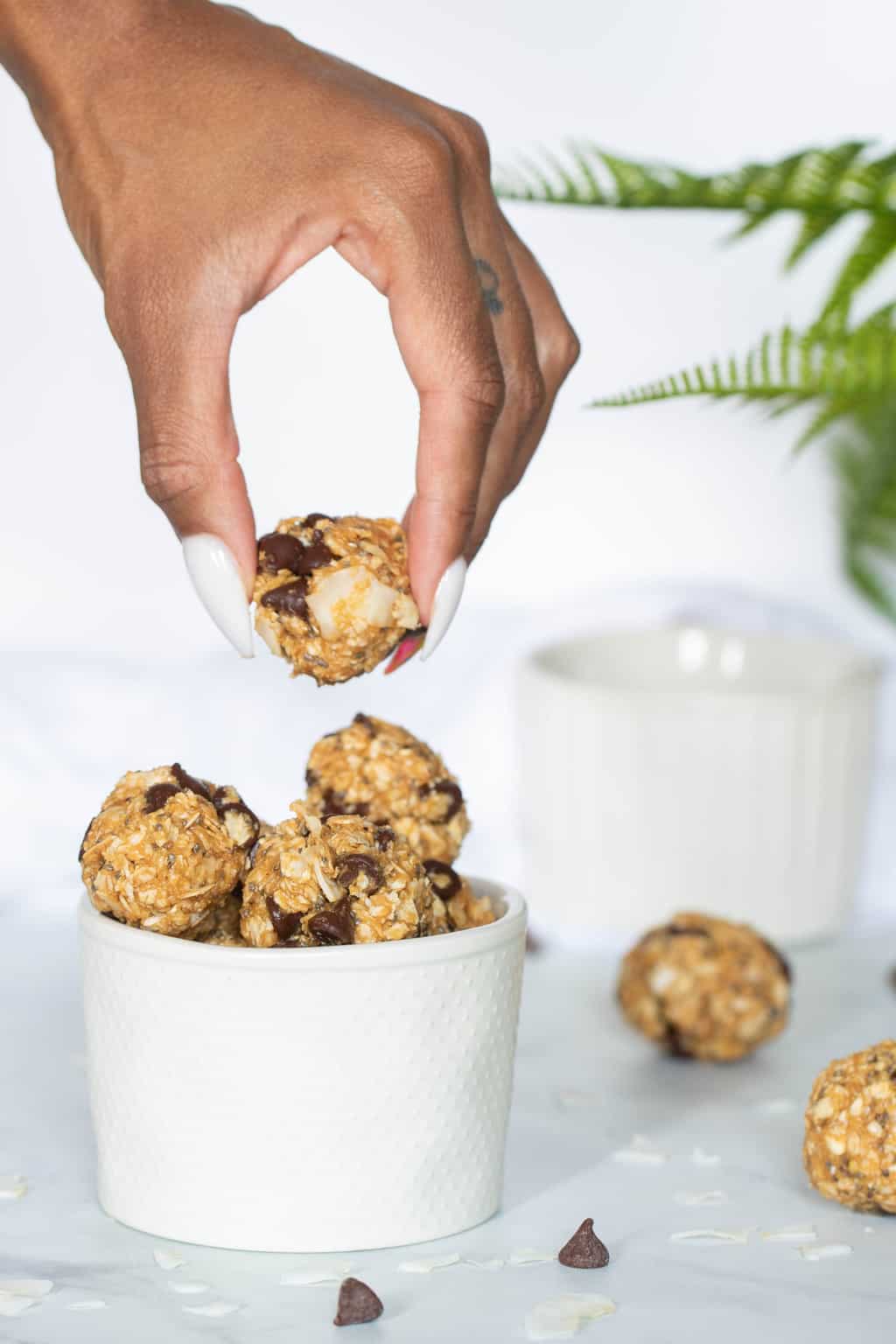 WHAT YOU'LL LOVE ABOUT THESE ENERGY BITES?
They are naturally sweetened.
Super easy to make.
Super quick and uses only a handful of ingredients.
Can be customized to your tastebuds.
Completely Vegan and Gluten-Free.
Versatile and can be enjoyed ANYTIME!
Can be meal prepped.
Very kid-friendly (See Recipe Notes for Nut-Free Butters).
Did I mention---delicious?
WHY DID I ADD COCONUT FLAKES?
For one----coconut flakes add a nice mild, nutty flavor to any dish. Secondly, they have some awesome benefits.
Coconut Flakes add a healthy dose of calories which is beneficial for energy, hence my choice to add them to "Energy Bites". Haha.
In addition, Coconut Flakes are a good source of Manganese, which is needed for healthy connected tissues within the body, as well as blood clotting, and bone formation.
Manganese also plays a role in carbohydrate and fat metabolism, mineral absorption, and blood sugar regulation. 
Lastly, Coconut Flakes also contains Phosphorous (helps with the growth/repair of cells) and Iron (delivers oxygen to your muscles and organs) along with other important minerals such as calcium, copper, magnesium, potassium, and zinc.
HOW TO MAKE THE PERFECT BITES!
Tip #1: Refrigeration is KEY! When it comes to making Energy Bites, it's super important to refrigerate them slightly (for a few minutes) before rolling the dough AND then chilling them again after. Through trial and error, I've found that rolling them as soon as the dough is made makes things far more messy, especially after the 3rd or 4th ball (think—dough melting or not cooperating into a perfect ball).
Tip #2: Using a thicker sweetener definitely helps! While most people use honey as a sweetener, I found that using maple or dates works so much better. Remember, a great 'binder' creates a better outcome. Granted, using honey is just fine if preferred.
Tip #3: Always chop nuts! Again, since Energy Bites are super versatile and customizable, adding nuts are a great possibility. However if using pecans, almonds, walnuts, pine nuts, whatever—-always make sure that they are chopped into smaller pieces. This helps for the rolling process and ensure that things stay together nicely.
MADE OUR RECIPE(S)?
If you choose to make these Chocolate Chip + Coconut No-Bake Energy Bites or any other recipe from us, be sure to tag us on Instagram at #Orchidsandsweettea so that we can share the love, rate, comment below, + share!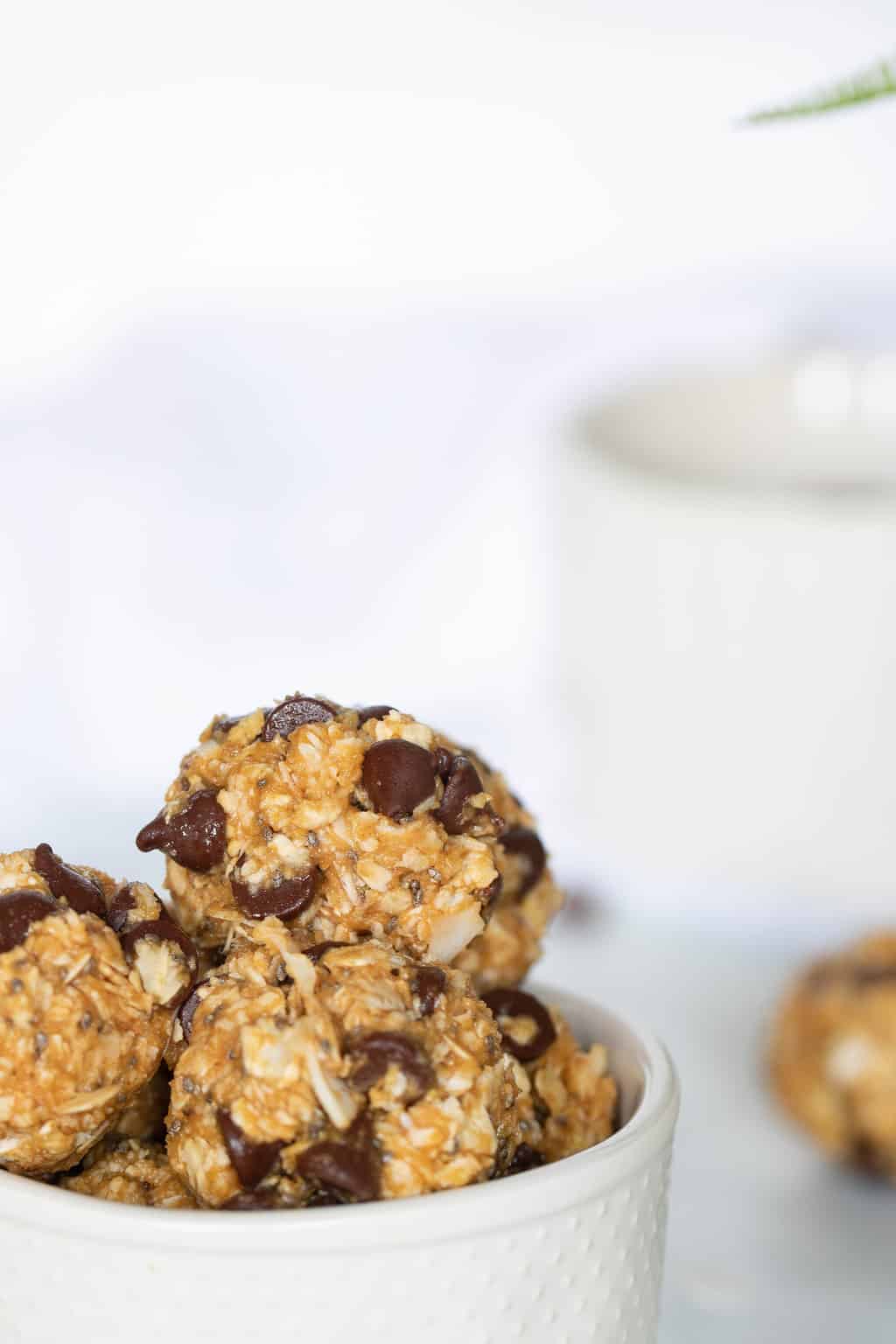 2

cups

 organic GF Rolled Oats

(I use Bob's Red Mills GF Version)

¾

cup

organic Peanut Butter, vegan-approved

(I use Earth's Balance; See Notes!)

2

Tbsps

organic chia seeds

(I use Navitas Organics)

1

tablespoon

ground flaxseed

½

cup

pure maple syrup

(See Notes!)

1

tablespoon

pure vanilla extract

½

cup

vegan semisweet chocolate chips

(I use Enjoy Life Products)

⅓

cup

organic coconut flakes

pinch of

sea salt
Add all ingredients to large bowl and mix everything together using one or both hands to ensure that all ingredients are well combined.

Immediately, add mixture in bowl to the refrigerator (covered) and chill for 30 minutes.

Once chilled, scoop 1 ½ Tbsps of mixture and using both hands—roll into a small ball. Repeat until all mixture is made. NOTE: Be sure to add energy bites to a baking sheet lined with parchment paper to ensure that they remain perfectly shaped.

Now, refrigerate rolled bites again for 5 minutes or so!

Removed from refrigerator and enjoy!
STORAGE: Can be kept refrigerated (covered) for up 2 weeks.
SWEETENER: If you choose to opt out of pure maple syrup, you can always substitute with Agave as well. NUT BUTTER: Instead of using peanut butter, you can also substitute with Almond Butter, Sunflower Seed Butter, Tahini, Soynut Butter, Pecan Butter, Hazelnut Butter, or Granola Butter.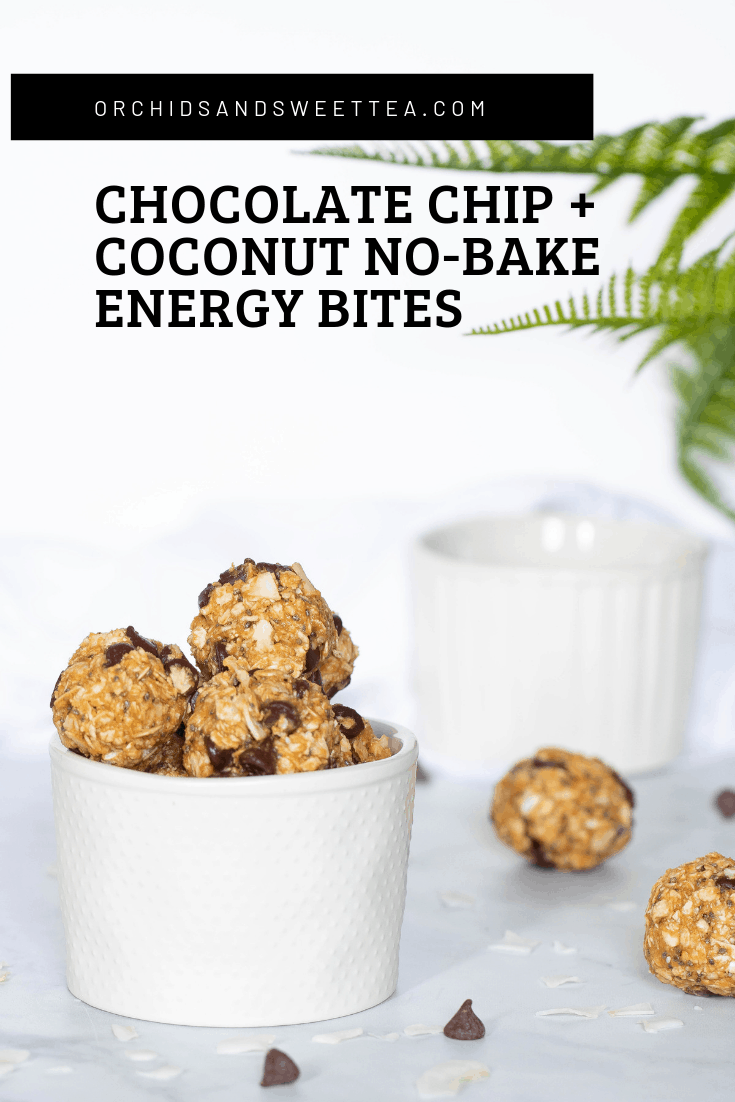 Chocolate Chip + Coconut No-Bake Energy Bites.