Go all-out for St. Patrick's Day, Easter, or any day with this over-the-top Chocolate Chip Cheesecake with Lucky Charms. A crunchy graham cracker crust, fluffy chocolate chip cheesecake, and whipped cream on top makes the perfect seasonal dessert with color and charm.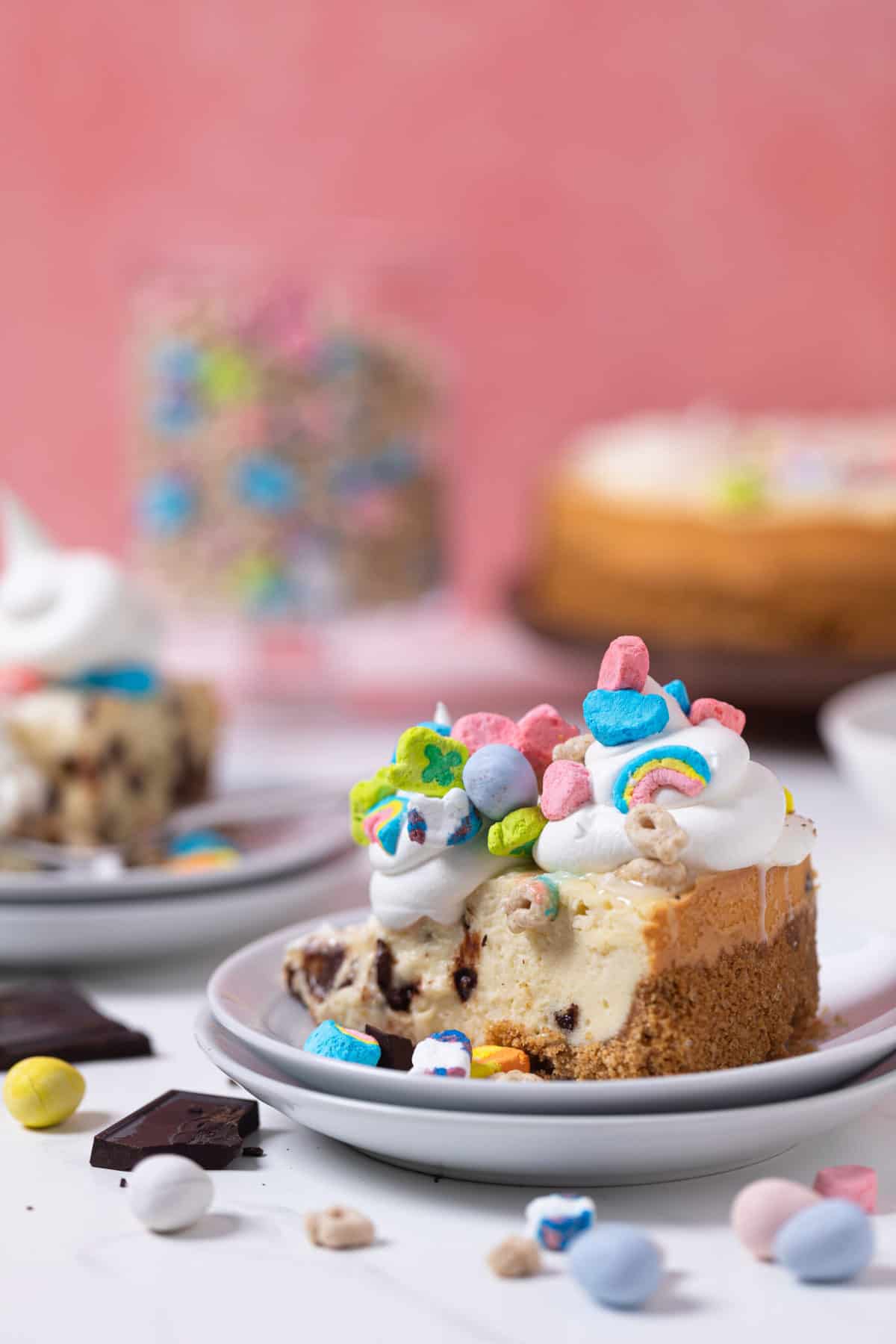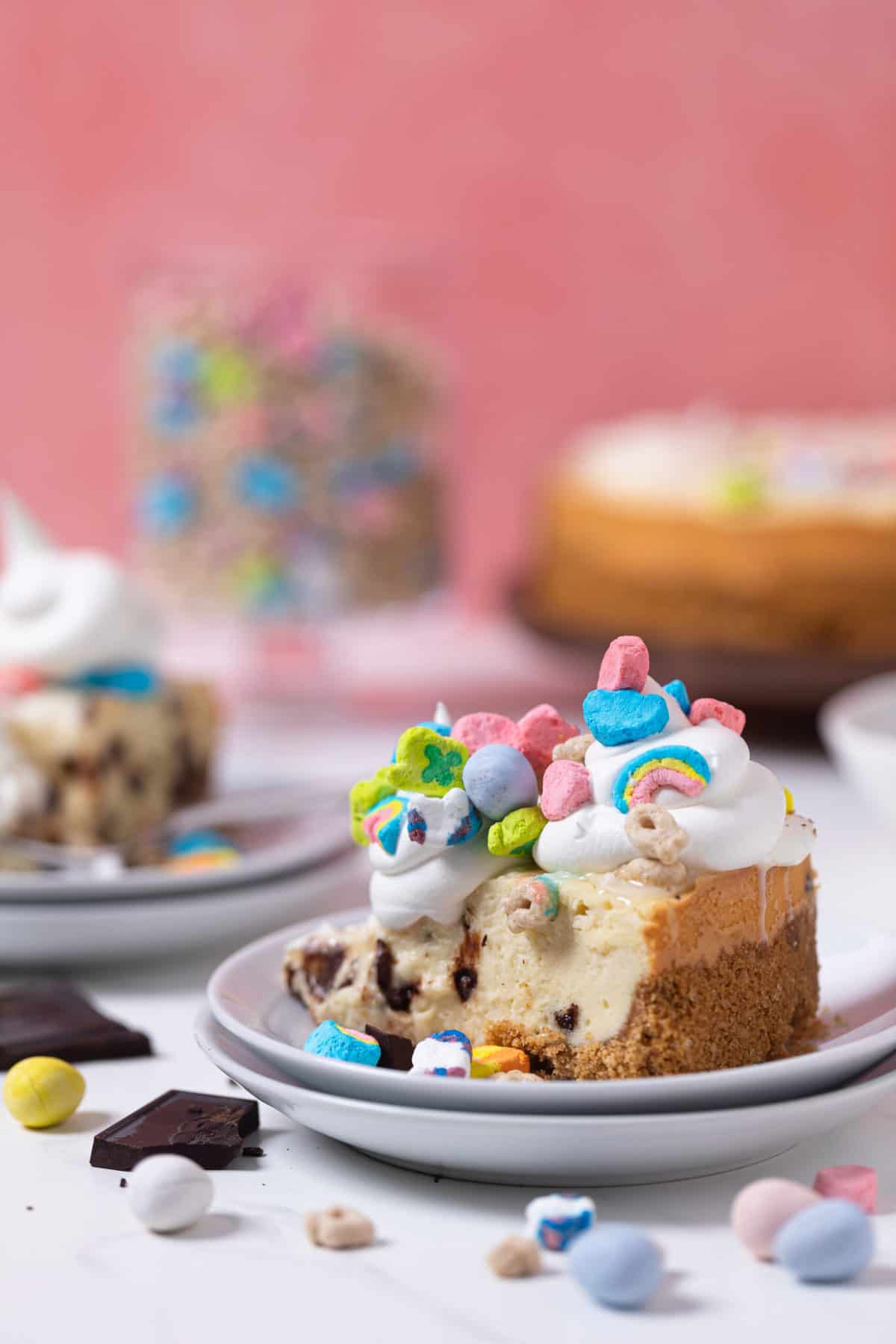 Saint Patrick's Day is right around the corner. And even if you don't usually celebrate the holiday, March is a great time to treat yourself to a sweet treat for no other reason than because you deserve it! Springtime is here and this decadent Chocolate Chip Lucky Charms Cheesecake is the perfect way to celebrate!
CHECK OUT OUR #CHEESECAKE WEEK VIA INSTAGRAM!
This piled-high cake has it all:
An easy and buttery four-ingredient graham cracker crust
A tangy and custard-like sour cream and chocolate chip cheesecake filling
Plenty of Lucky Charms cereal on top, not to mention fluffy whipped cream
In fact, this colorful dessert is also great for Easter. I love to add mini Easter eggs for extra crunch and chocolate, because why not? The pastel colors make the perfect addition to your Easter menu.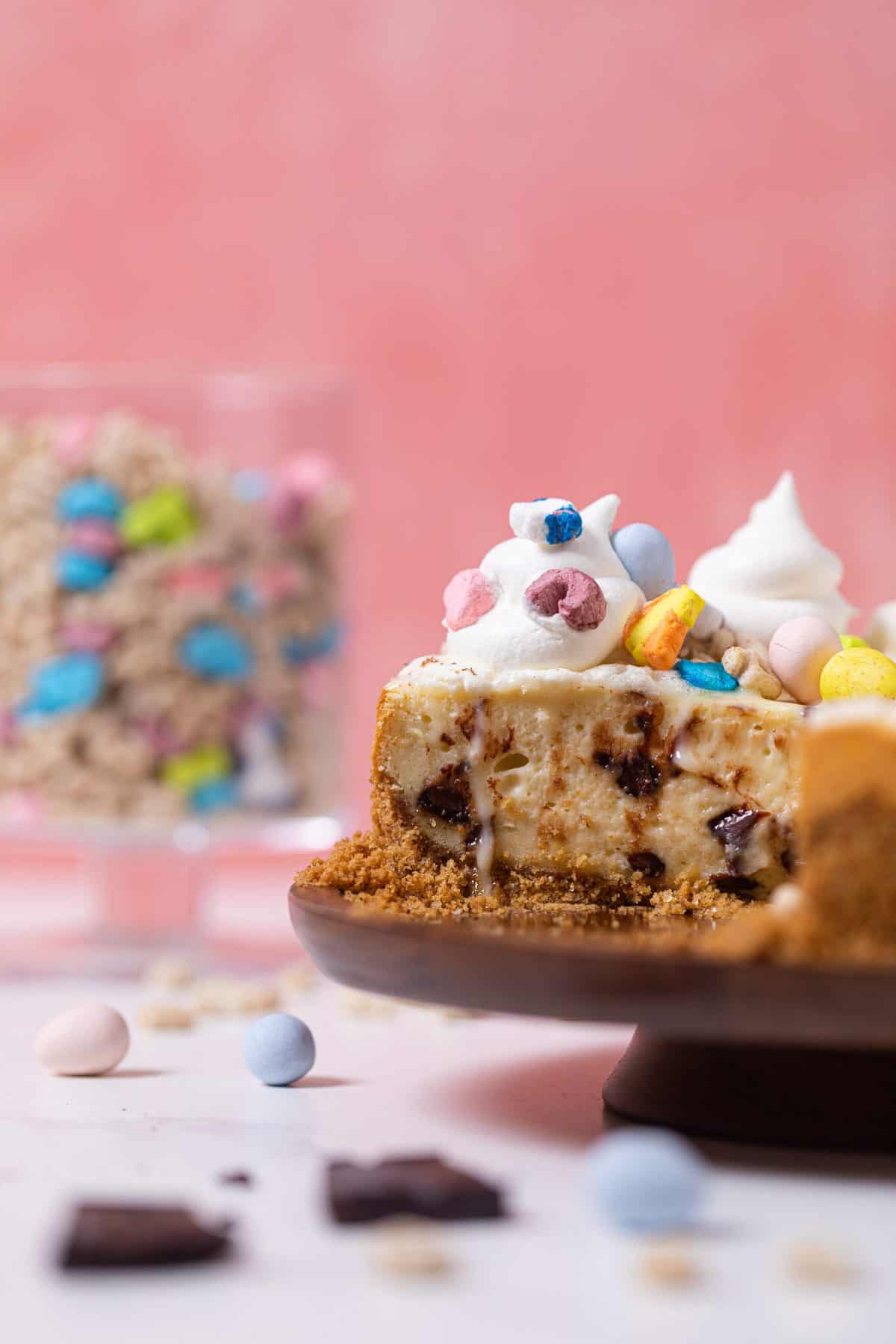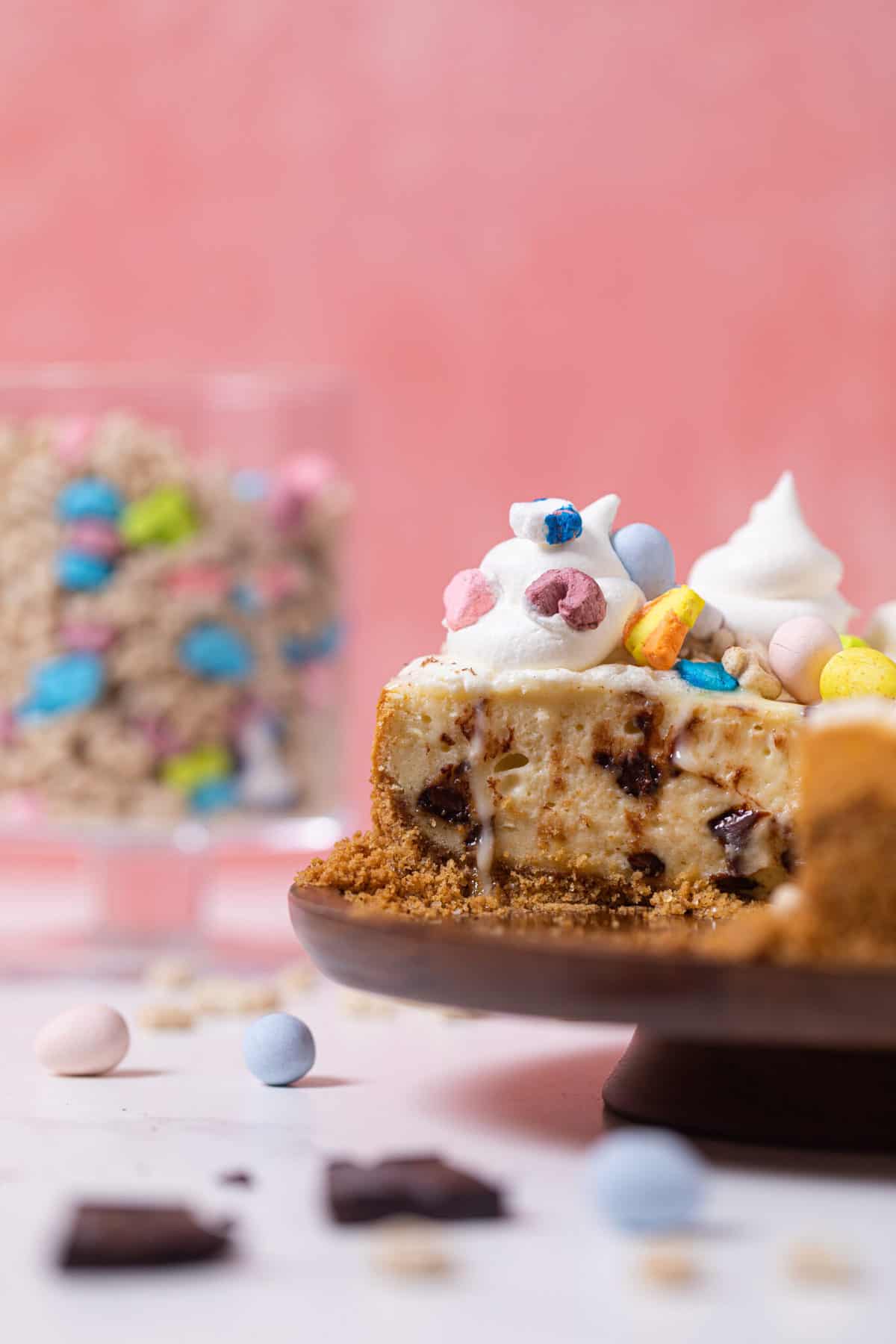 Making Four-Ingredient Graham Cracker Crust
The first step in this is cheesecake recipe is the easy and crispy crust.
Ingredients
To make the crust, you'll need:
Graham cracker crumbs. You can blend the whole crackers in a food processor or place them in a Ziploc bag and have some fun mashing them into crumbs on the counter.
Cane sugar. I recommend organic sugar.
Cinnamon. This spice adds just a hint of warmth to the cheesecake crust.
Butter. Use unsalted butter so your crust is sweet, not savory.
Assembling the crust is a simple matter of combining the ingredients into a uniform mixture and pressing them into a cake pan. Use an 8- or 9-inch round cake pan for this recipe. I find that a springform pan makes things much easier to release after baking. Be sure to grease the pan with butter or nonstick spray before you add the crust.
The graham cracker crust needs to prebake and cool fully before you can add the chocolate chip cheesecake filling.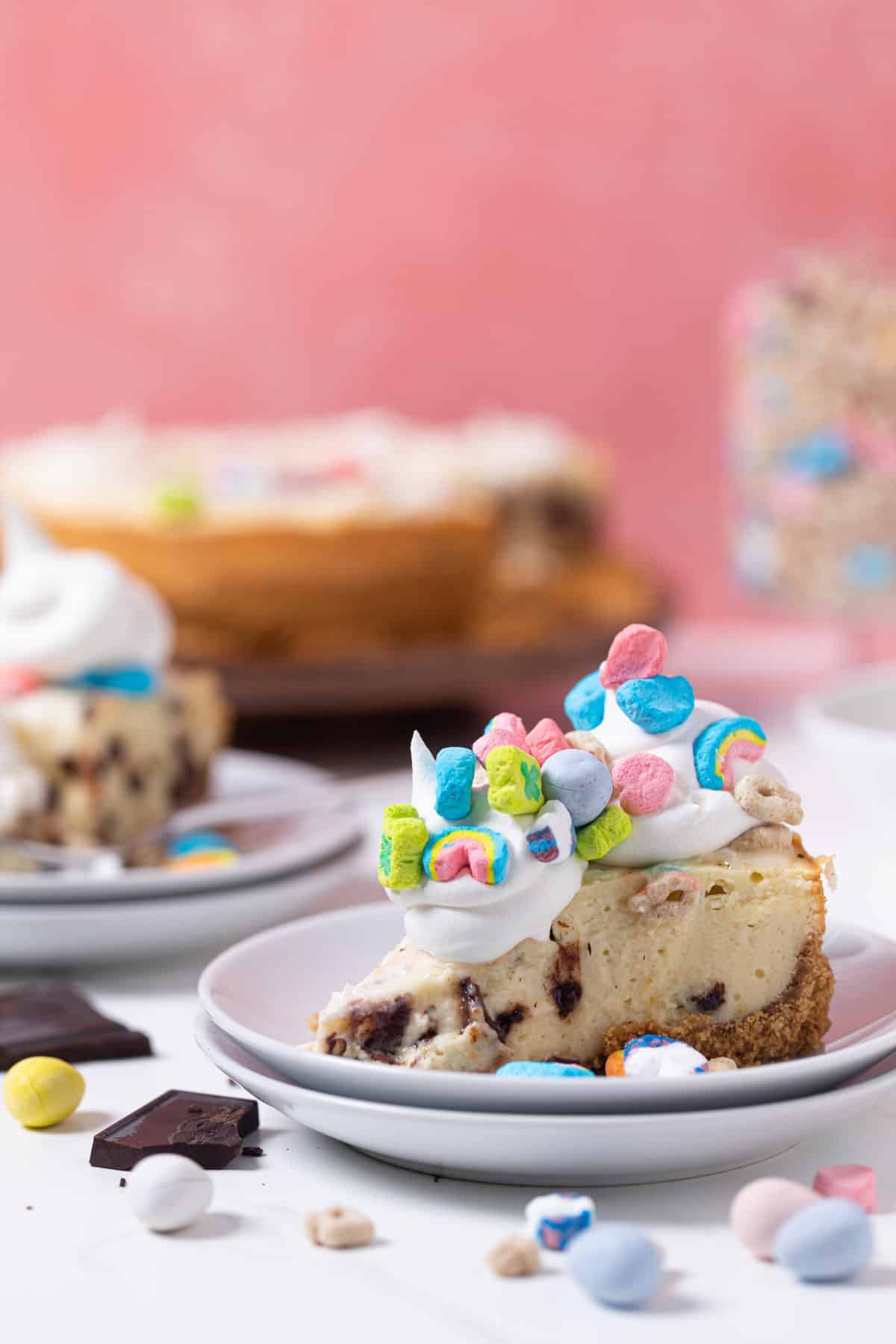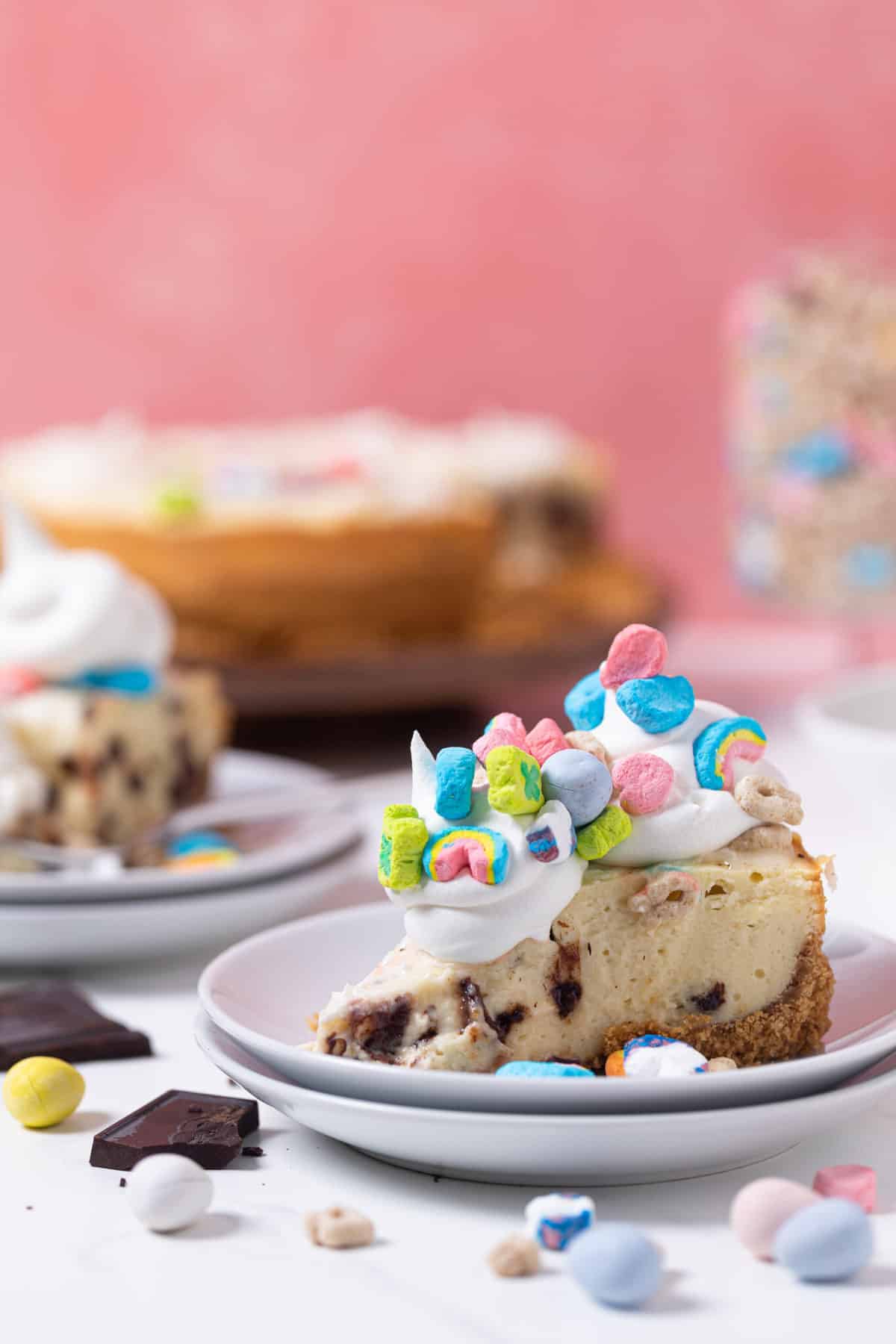 How to Make Chocolate Chip Cheesecake
While the crust cools, get out the ingredients for the chocolate chip cheesecake filling.
Ingredients
Cream cheese. You'll need three 8-ounce packages of organic full-fat cream cheese. Make sure it's softened to room temperature for easy whipping into a creamy and light texture.
Cane sugar. Again, organic is best.
All-purpose flour. I recommend Bob's Red Mill organic flour.
Vanilla extract. This is the ideal flavor balance to the rich chocolate chips.
Eggs. Let your eggs stay on the counter for 30 minutes to an hour so they reach room temperature. Otherwise, you risk your cheesecake mixture separating if you add cold eggs.
Sour cream. You can use low-fat or full-fat sour cream. Or substitute yogurt.
Cinnamon. Add just a pinch!
Semi-sweet chocolate chips. You can use dark or milk chocolate too if you prefer!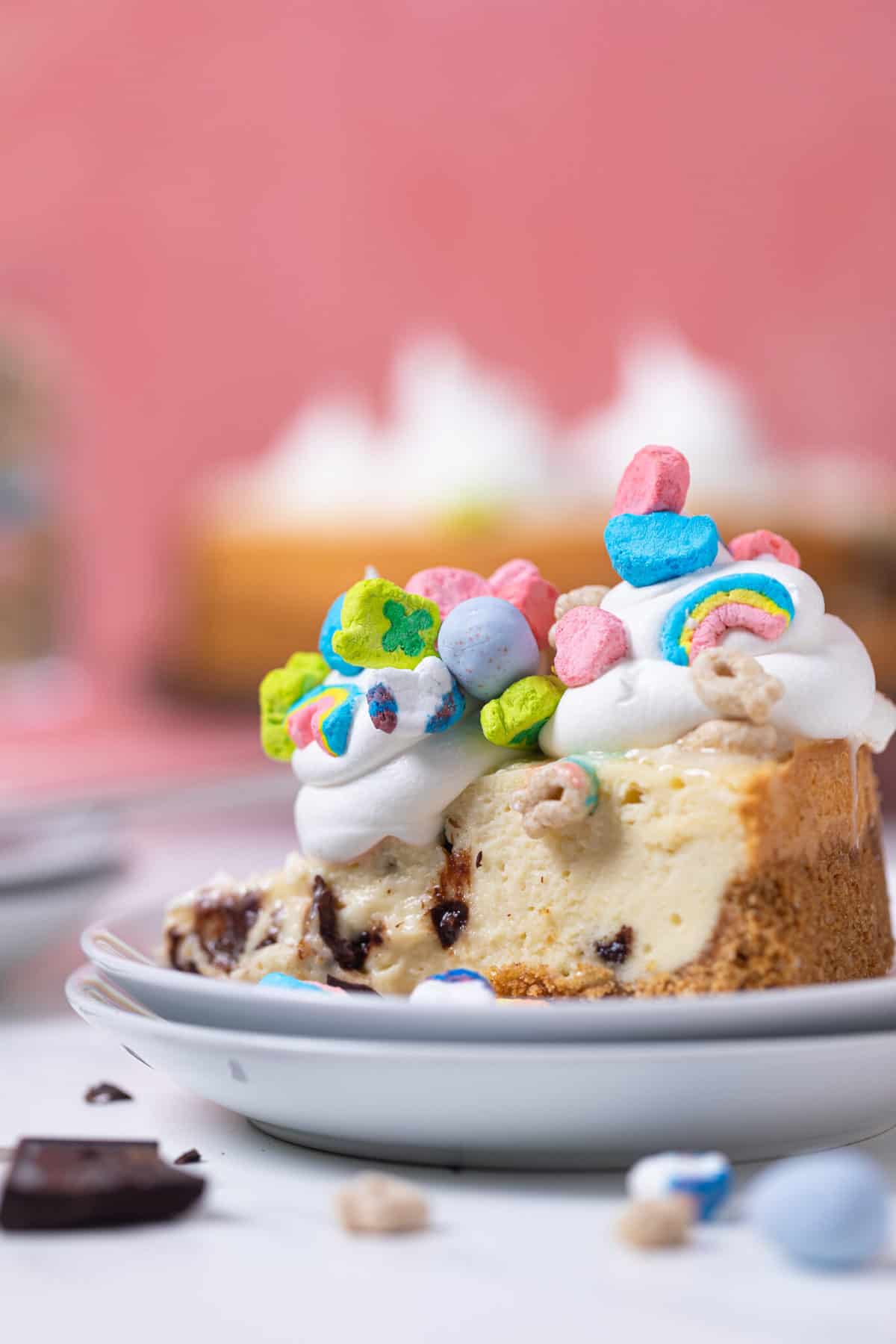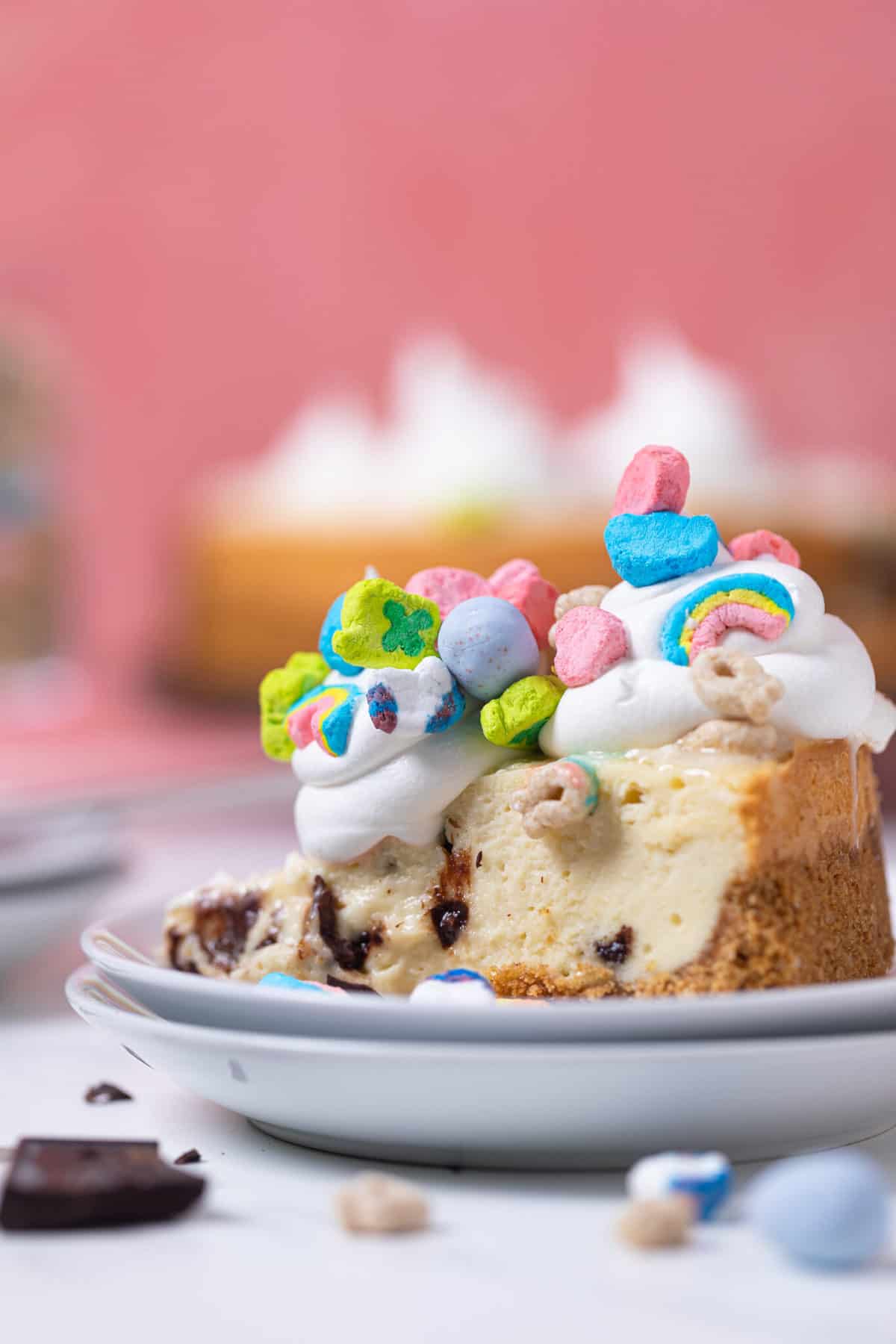 Instructions
It's quick and easy to make the cheesecake filling for this Easter treat. The most important thing is to use room-temperature ingredients.
From there, simply whip everything together using an electric mixer. Start with the cream cheese, sugar, and flour. Then add the vanilla and eggs, beating until just combined. Finally, add the sour cream, cinnamon, and salt and beat on medium-high speed for a good five minutes. This removes any lumps and aerates the batter for a fluffy and springy cake texture.
When you have the perfect texture, add the batter to your cooled cheesecake crust. Be sure to leave some space on the top. The cheesecake will rise as it bakes and you don't want a messy overflow. If you're worried about that, place a baking sheet under the cake pan.
Bake the cheesecake until the center is set and a toothpick comes out clean.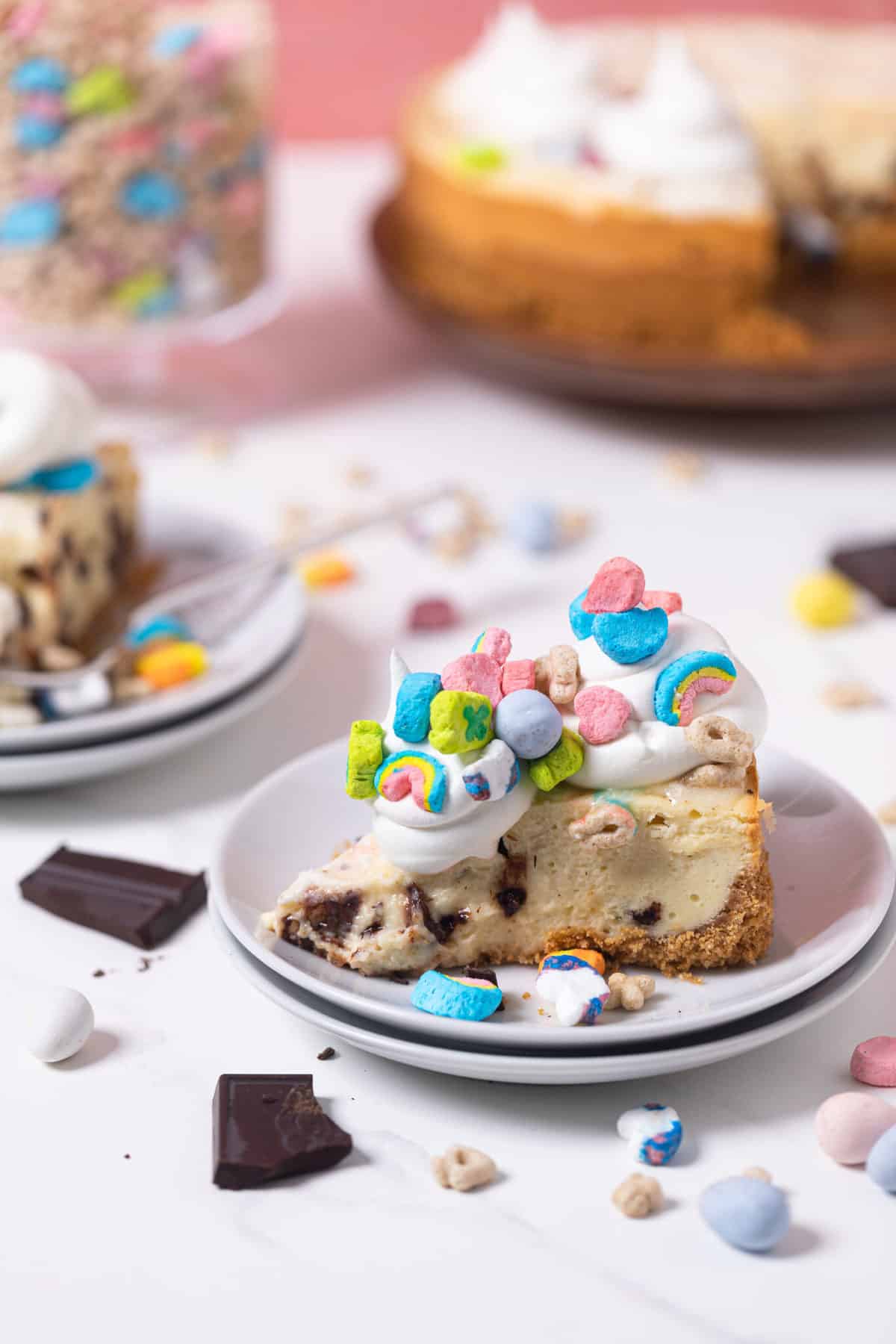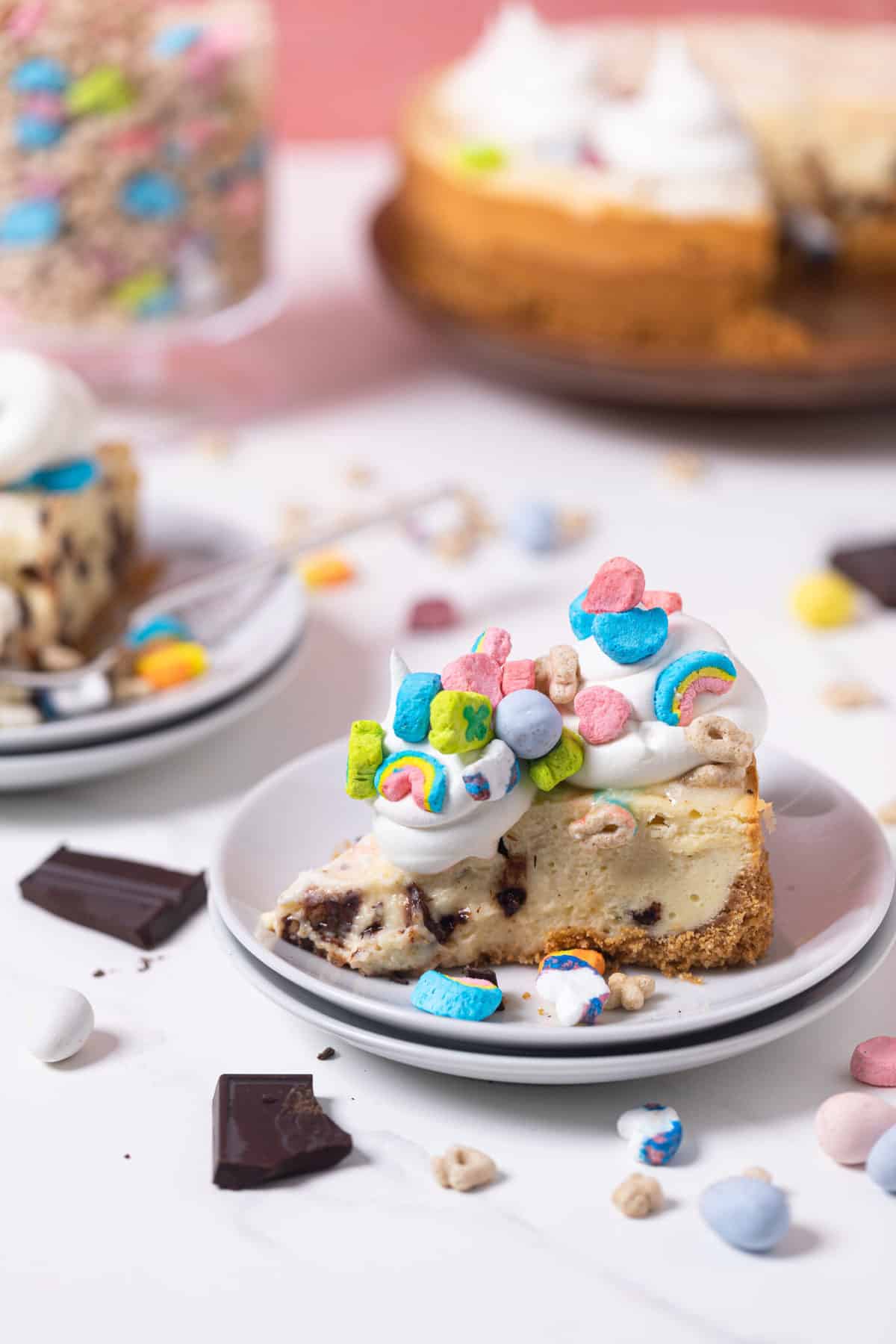 How to Prevent Cracks in a Cheesecake
My trick to prevent cracks in a cheesecake is simple. After the cheesecake is done baking, turn the oven off and leave the cake inside for five minutes with the door halfway open.
In addition, I recommend placing a pot of water in the oven when the cheesecake cooks. The steam evaporates and helps the custard cook evenly all the way through. Otherwise, if your cooking environment is too dry, the edges may cook quickly and dry out before the center cooks through, which can cause cracking.
Finally, let the cheesecake cool in the pan for up to 15 minutes. When it's fully cooled, wrap the cake with plastic wrap and let it set in the fridge. If you have time, the cheesecake will have the best texture if it chills in the fridge overnight.
Serving & Garnishing
Serve this festive chocolate chip cheesecake topped with a sprinkle of lucky charms for color and crunch. I also like to add a dollop of homemade or store-bought whipped cream to complete the look. And for Easter, don't forget the pretty pastel chocolate eggs.
To make your own quick whipped cream, follow these instructions:
In the bowl of an electric mixer on medium-high speed, whip the organic heavy cream (2 cups), using the whisk attachment for 4-5 minutes, until fluffy peaks begin to form. NOTE: When it begins to thicken after the first 2-3 minutes, gradually add in 1 tablespoon vanilla extract and a pinch of sea salt.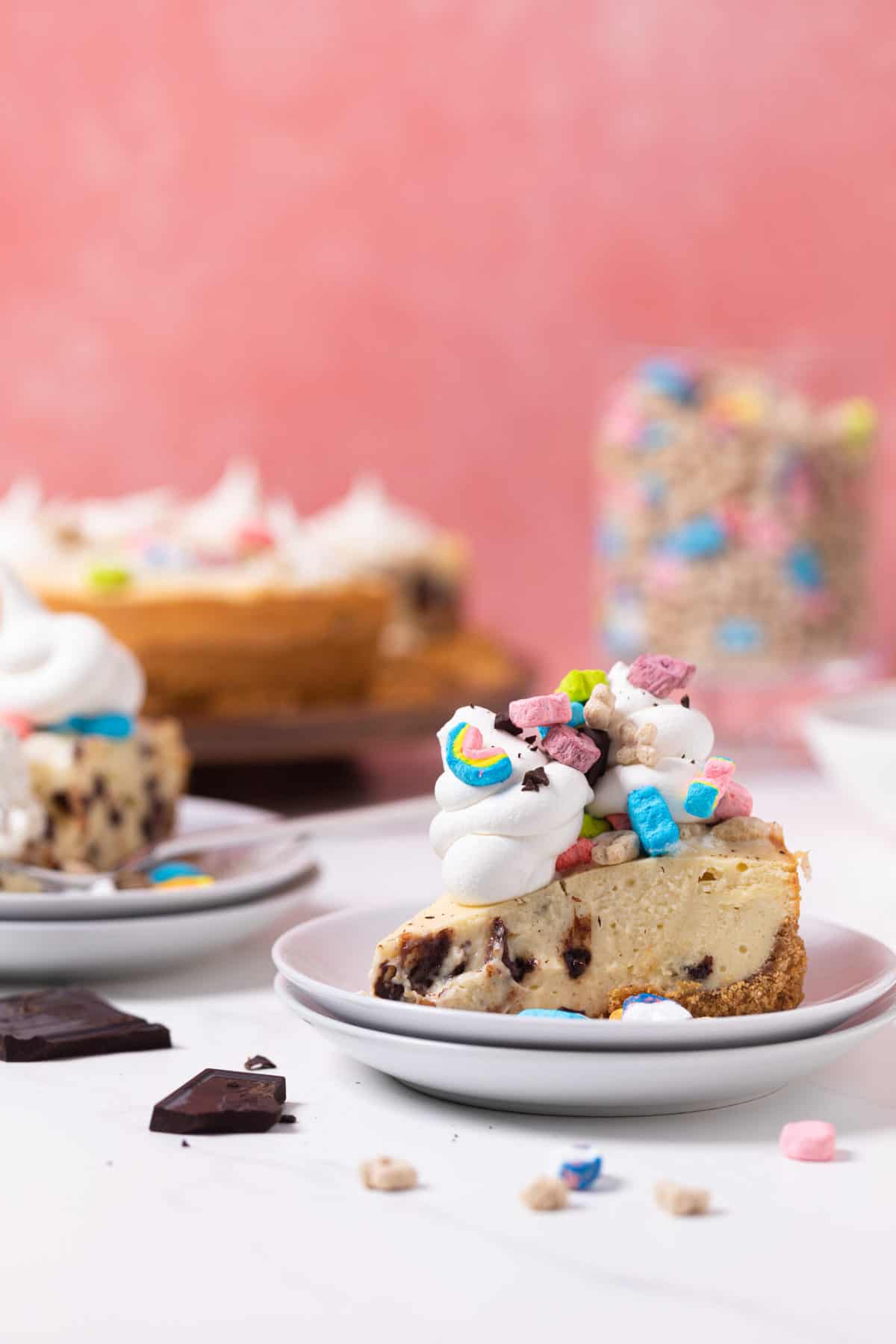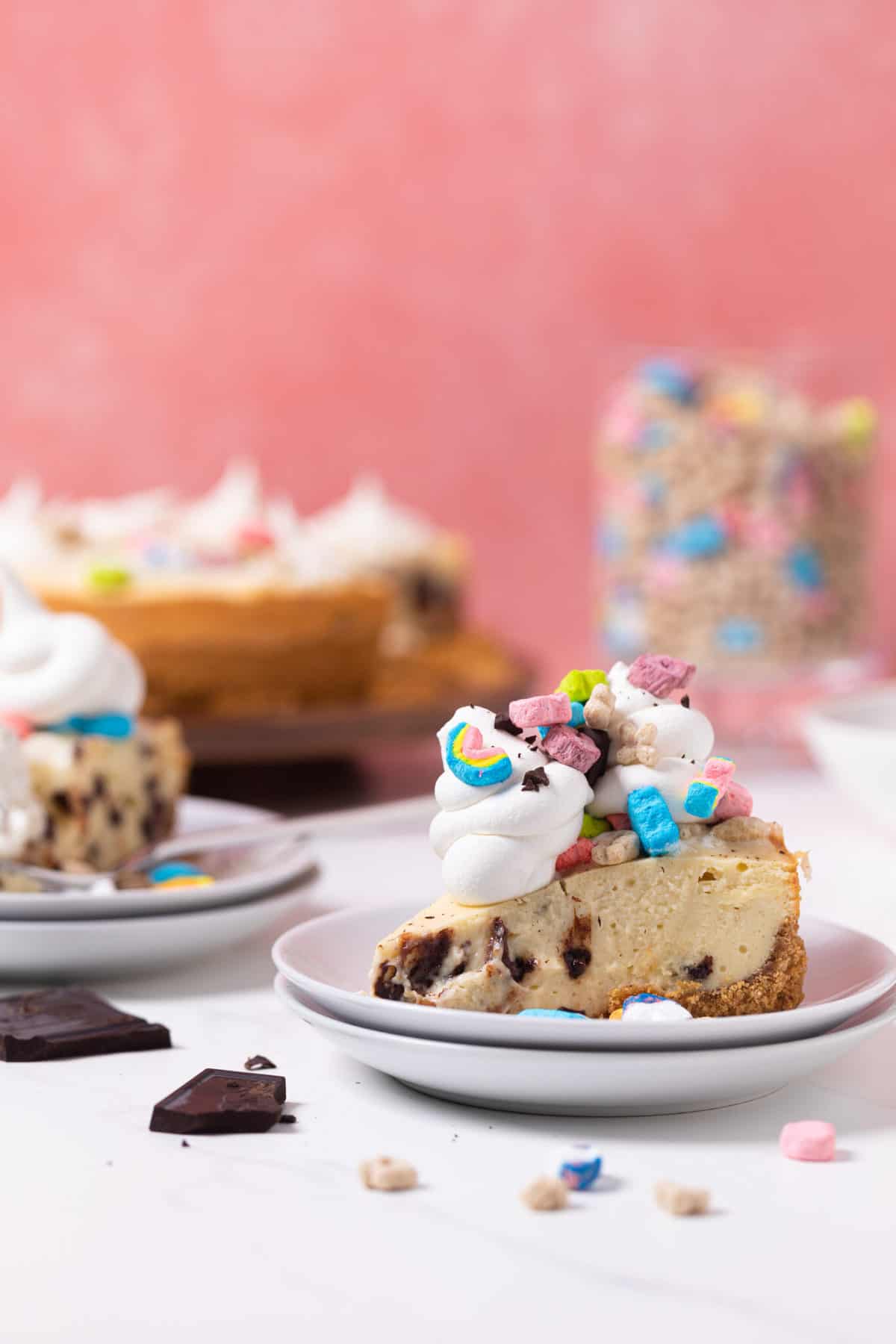 Storage
Store leftover cheesecake in an airtight container or tightly wrapped in plastic wrap in the fridge for up to five days. You can also store the cake in the freezer and simply place in the fridge for a few hours to thaw before serving.
More Favorite Cheesecake Recipes
CHOCOLATE CHIP CHEESECAKE FILLING:
3

(8 oz.) packages

organic cream cheese, softened at room temp. 

1

cup

organic cane sugar 

4

Tbsps

organic all-purpose flour

2

tsps

vanilla extract

3

organic eggs, room temp.

½

cup

low-fat sour cream

(See Notes!)

pinch of

ground cinnamon

¼

teaspoon

sea salt

2

cups

semi-sweet chocolate chips
OPTIONAL TOPPINGS:
Lucky Charms cereal

Whipped cream, store-bought or homemade

(See Notes!)

Chocolate Easter egg candies
GRAHAM CRACKER CRUST:
Preheat oven to 350 degrees Fahrenheit and prepare a non-stick 8 or 9-inch cheesecake pan by lightly greasing it with butter.

Grind the graham crackers, until almost finely ground (it's OK to leave a few medium chunks, if your'e a lover a little crunch!). Combine the graham cracker mixture, cinnamon, pure cane sugar and melted butter in a small bowl and mix with a spatula until well incorporated.

Add the mixture into the prepared pan and press down into the bottom with your fingers (focusing on the middle) to ensure that it's perfectly covering the bottom and sides (like a deep well).

Bake the crust for about 5 minutes and then remove from oven and allow it to cool until you're ready to use.

In the meantime, make your cheesecake filling.
CHEESECAKE FILLING:
In the bowl of an electric mixer, mix together on low speed: the cream cheese, pure cane sugar, and flour until combined. Be sure to scrape the sides and bottom of the bowl if needed.

Next, add the vanilla extract and the first two eggs and beat slowly until mostly combined. Then add the remaining egg and mix until well combined, still mixing everything on low speed. Now, add the sour cream, pinch of cinnamon and salt, and continue mixing.

Change mixer attachment to a whisk and beat on medium-high speed for 1-2 minutes or so until completely smooth and lump-free. NOTE: DO NOT OVER-MIX. Be sure to stop once the batter becomes smooth. Fold in chocolate chips.

Pour the batter into the prepared pan until just about filled. NOTE: Leaving a little room at the top prevents the cheesecake from spilling over while baking.

Bake the cheesecake for 35-40 minutes (until center comes out mostly clean when tested with a toothpick or knife), then turn off the oven and allow it to sit in the oven for another 5 minutes with the oven door halfway open to avoid cheesecake from deflating. NOTE: When baking, I always prepare a medium pot with water and add it to the oven as well, to keep cheesecake temperature even and to add moisture.

Remove cheesecake from the oven and allow it to cool for 10-15 minutes and then remove it from your pan carefully. Continue cooling to room temperature before covering the top with plastic wrap and putting it in the refrigerator for at least two hours or overnight (for best results).

Once chilled, top with whipped cream (homemade or store-bought) and add your lucky charms cereal to the tops or your favorite Easter themed candy, etc.

Bon Appetit!
STORAGE: Leftover Cheesecake can be stored (tightly wrapped) in the refrigerator for up to 5 days. For best results, keep cheesecake in the freezer until the night before you're ready to serve. Defrost by refrigerating.
SOUR CREAM: If you don't want to use low-fat sour cream for this recipe, you can substitute with full-fat sour cream or yogurt.
HOMEMADE WHIPPED CREAM: In the bowl of an electric mixer on medium-high speed, whip the organic heavy cream (2 cups), using the whisk attachment for 4-5 minutes, until fluffy peaks begin to form. NOTE: When it begins to thicken after the first 2-3 minutes, gradually add in 1 tablespoon vanilla extract and a pinch of sea salt.
LUCKY CHARMS: For extra fun, you can always add 1 cup of lucky charm marshmallows to your cheesecake batter!
Calories:
743
kcal
|
Carbohydrates:
88
g
|
Protein:
21
g
|
Fat:
36
g
|
Saturated Fat:
20
g
|
Polyunsaturated Fat:
2
g
|
Monounsaturated Fat:
11
g
|
Trans Fat:
0.3
g
|
Cholesterol:
99
mg
|
Sodium:
851
mg
|
Potassium:
681
mg
|
Fiber:
6
g
|
Sugar:
61
g
|
Vitamin A:
430
IU
|
Vitamin C:
0.1
mg
|
Calcium:
387
mg
|
Iron:
5
mg