Indulge in the ultimate homemade ice cream experience with this No-Churn Cookies + Cream Ice Cream. This delightful recipe is a game-changer, as it requires no fancy ice cream machine and is incredibly easy to make, whipped together in less than 10 minutes. With a creamy vanilla base generously studded with chunks of Oreo cookies, it's a dessert dream come true for cookie enthusiasts. Say goodbye to store-bought ice cream and embrace the joy of making your own creamy, cookie-loaded creation at home. Gluten-free + Dairy-free Option.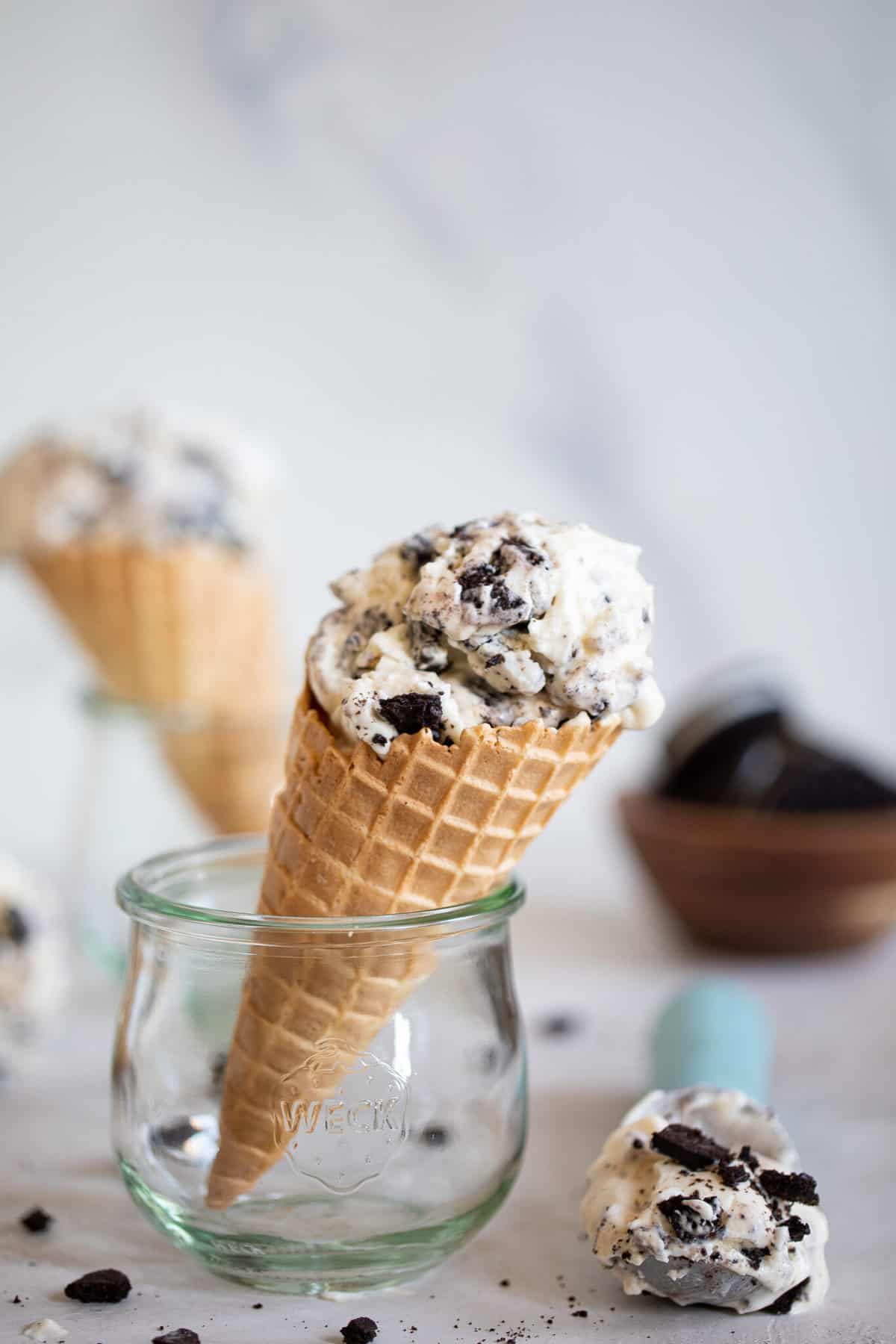 Calling all Oreo lovers!! If you're an avid Orchids + Sweet Tea follower, y'all know I have a sweet spot for Oreos. Which means I couldn't help but create some mouthwatering Oreo recipes over the years for you. So my fellow Oreo enthusiasts, here's some to try next Peppermint Oreo Cheesecake, and these One-Bowl Fluffy Vegan Oreo Pancakes. And if that isn't enough, wash it down with the creamiest Oreo Milkshake. OK, maybe I'm a little obsessed.
Why No-Churn Cookies + Cream Ice Cream Works?
This delectable scoopable treat is a winning combination of pure yumminess and ultimate ease. The creamy vanilla base, perfectly mingled with chunks of Oreo cookies, creates a flavor explosion that will leave you craving more. With just a handful of ingredients and a simple process, you can whip up this Oreo ice cream like a pro. Not only can you customize it with your favorite flavors and mix-ins, but it always tastes creamier, smoother, and just better!
If you haven't made ice cream before, this is a perfect recipe to start with. It's a five-ingredient recipe that takes just 10 minutes to make (plus freezing time). Requires minimal effort + no fancy ice creammaker. This a huge hit with the family and is perfect for a sweet cool-down treat over summer or ideal for a cozy winter movie night. What I'm trying to say is this cookies + cream ice cream recipe is perfect ALL YEAR round and can be adapted to be Gluten-free & Vegan!
Jump to: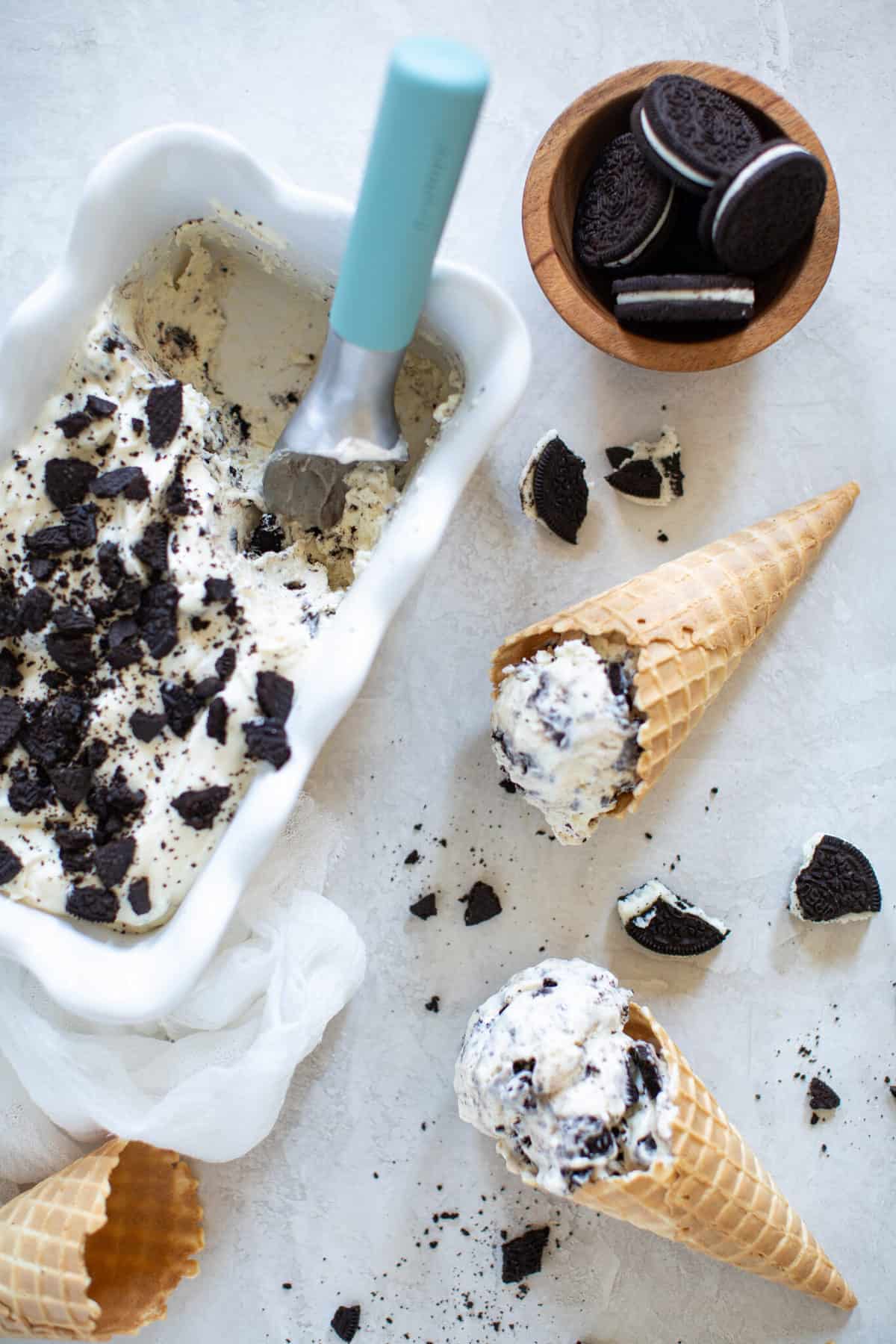 What Ingredients Do You Need? Just These 5!
The homemade ice cream ingredients for this recipe are simple:
Heavy Whipping Cream - The heavy whipping cream is the key ingredient that gives the ice cream its creamy and rich texture. It adds a luscious and smooth consistency to the dessert, making it truly indulgent.
Sweetened Condensed Milk - The sweetened condensed milk provides the necessary sweetness to the ice cream base. It helps to balance the flavors and gives the ice cream a velvety smoothness.
Vanilla - Vanilla extract enhances the overall flavor profile of the ice cream, adding a warm and comforting taste.
Oreos - Oreos are the star of this ice cream, providing bursts of chocolatey goodness and crunchy texture. They add a playful element to the dessert, creating a delightful contrast with the creamy base.
Sea Salt - A pinch of sea salt enhances the flavors and balance the sweetness.
Combining these ingredients creates a symphony of flavors and textures, resulting in a delectable Oreo ice cream that is smooth, creamy, and packed with the irresistible taste of cookies and cream.
How To Make Cookies + Cream Ice Cream
TO MAKE THE ICE CREAM:
In the bowl of an electric mixer on medium-high speed, whip together the heavy cream and vanilla until stiff peaks form.
Now, fold in the sweetened condensed milk and sea salt into the whipped cream.
ASSEMBLE + FREEZE:
Immediately pour everything into a 9x5 loaf pan (or small metal bowl), crush Oreo cookies and add them into the batter, stirring slightly to incorporate them in the middle. Then top the batter with more crushed Oreos.
Tightly wrap the top of pan with foil paper or heavy duty plastic wrap and freeze for 6 hours or overnight.
To serve, remove from the freezer and let it sit at room temperature for a couple of minutes to help it soften slightly before scooping.
Bon Appetit!
Here, I've curated a list of baking essentials that I use to achieve my favorite baked goods, especially with this No-Churn Cookies + Cream Ice Cream. Everything from my fave large scoop, baking sheet, liners, and more. SEE THEM HERE!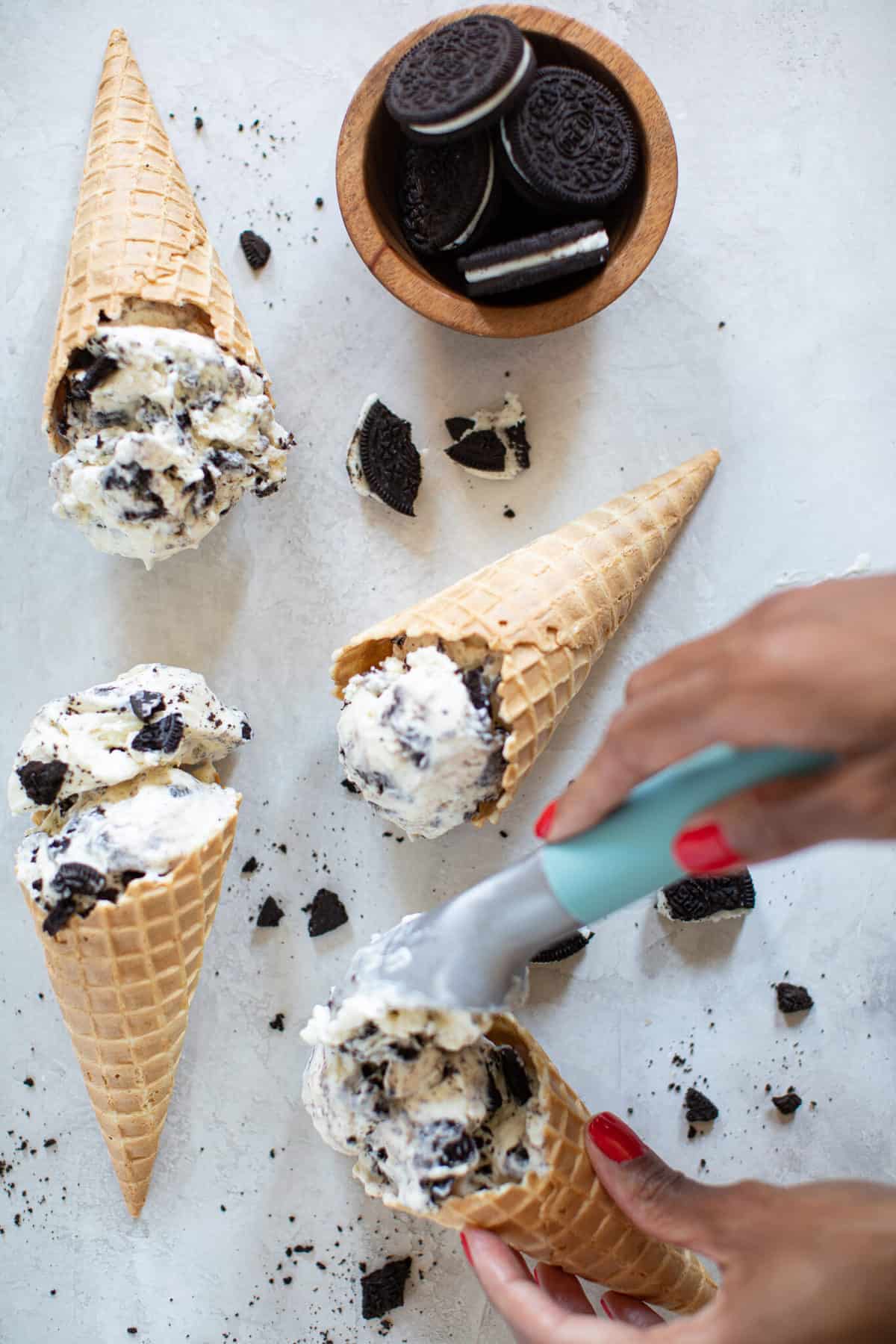 Ice Cream Without a Machine?
Yes, you read that right! This No-Churn Cookie + Cream Ice Cream does not need to be churned or processed in any way for the ice cream to freeze. AKA ice cream without an ice cream maker! It does take a little technique to perfect the consistency, but it is so easy that anyone could do it!
If you take sweetened cream, flavor it, and freeze it, you will be very disappointed. Unfortunately, ice cream needs air whipped into it, which is what most ice cream machines do as they freeze the base. Freezing cream will cause it to solidify, and you will never be able to scoop it out.
Instead, I use heavy whipping cream and whip it to stiff peaks. Then, I fold it into sweetened condensed milk along with my other mix-ins to keep the mixture airy. This way, I get perfectly scoopable ice cream once it has hardened in the freezer.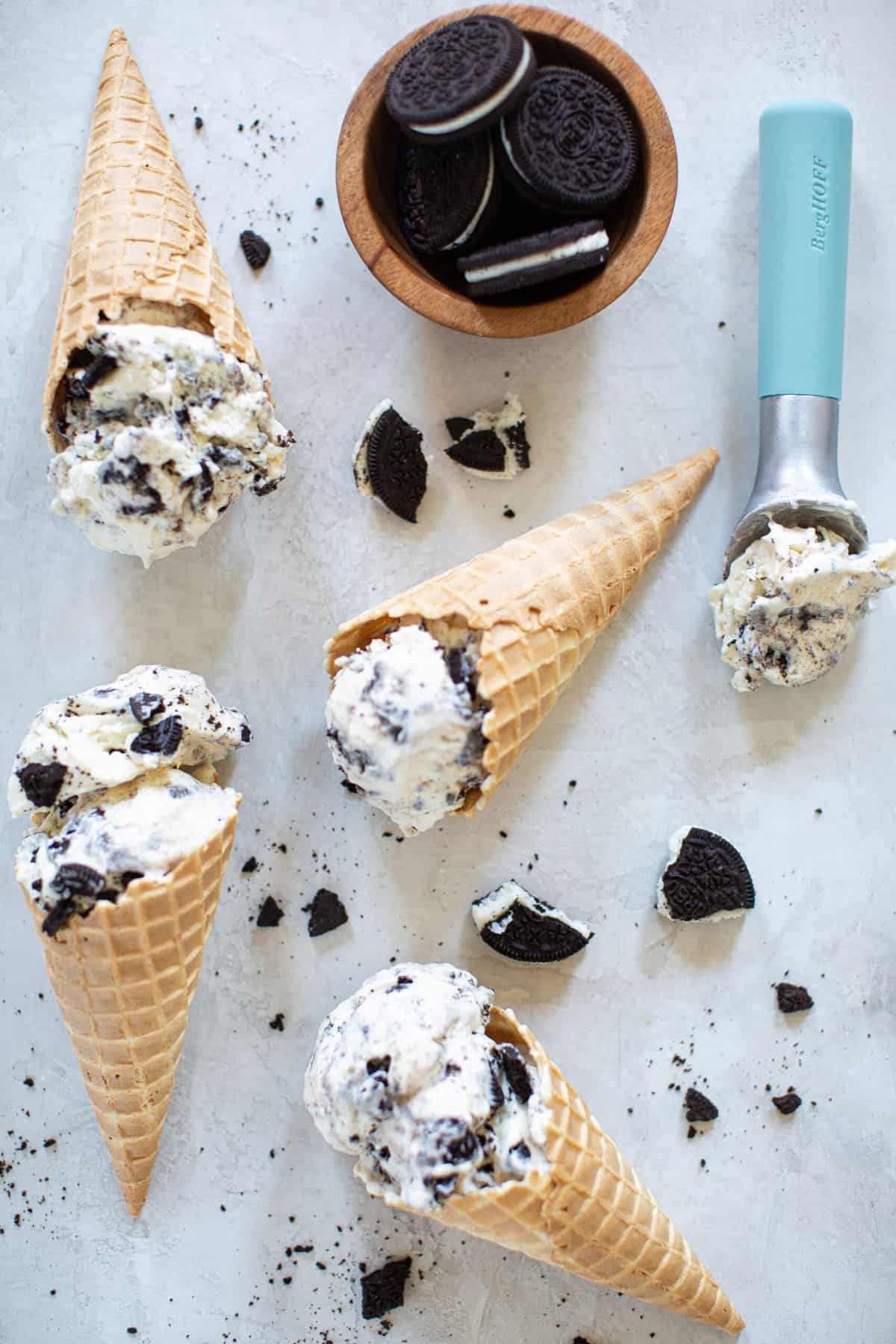 Why You Will LOVE Cookies + Cream Ice Cream
Oreo magic meets vanilla perfection.
No churn ice cream = SIMPLE & EASY
So much better than store-bought
Rich in flavor + SO creamy
Perfectly sweet & scoopable
A true crowd pleaser
No fancy equipment needed!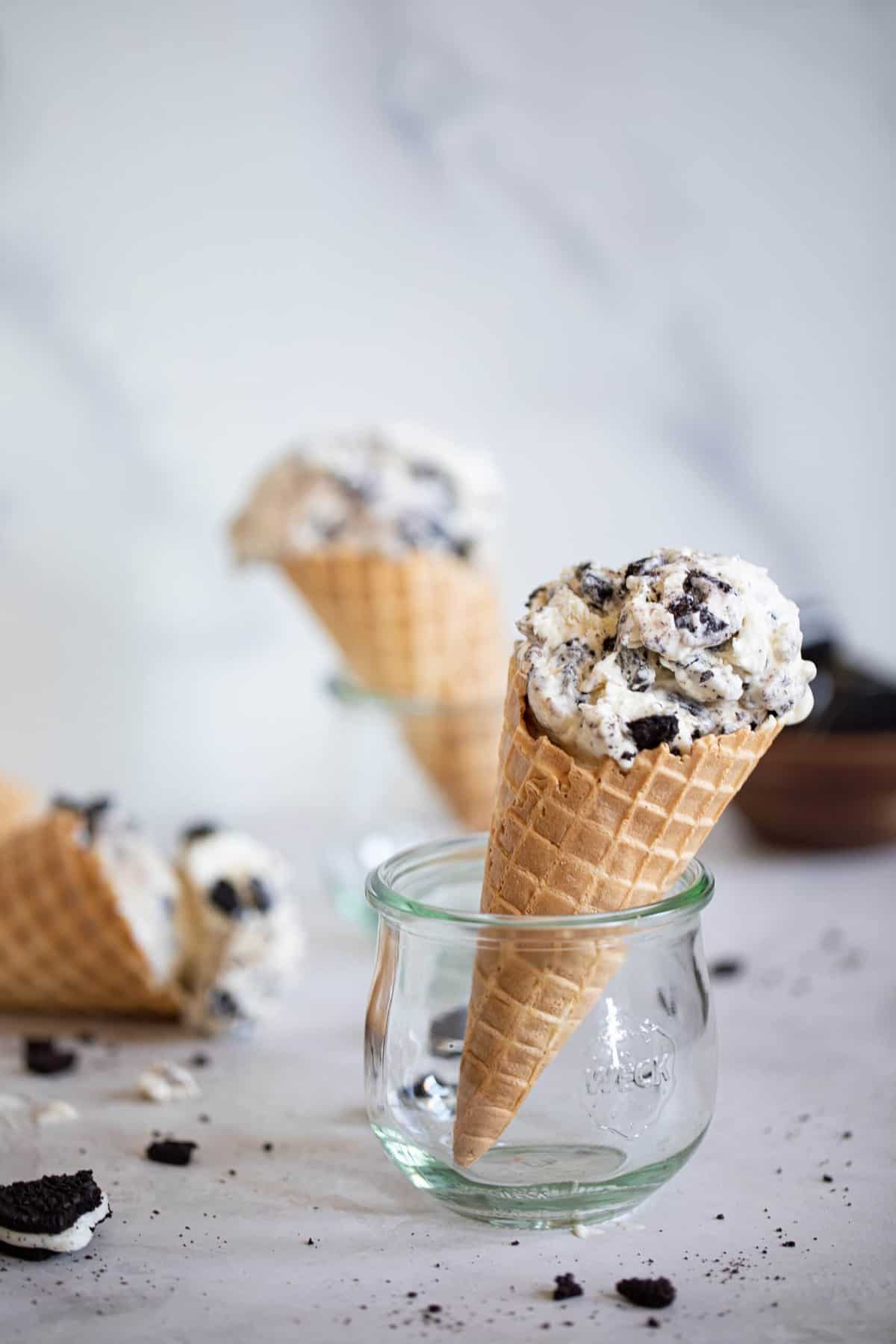 Serving Suggestions for No-Churn Cookies + Cream Ice Cream
Although homemade Cookies + Cream Ice Cream is amazing simply served in a cone, here are some ideas to elevate it to the next level -
Classic Sundae: Scoop generous portions of the ice cream into bowls or waffle cones. Top it off with hot fudge sauce, whipped cream, and a cherry for a classic and indulgent sundae.
Make ice cream sandwiches: Take two cookies of your choice (chocolate chip, oatmeal, or even Oero cookies for double the Oreo goodness!), and sandwich a generous scoop of cookies + cream ice cream between them. Roll the edges in crushed waffle cones or mini chocolate chips for an extra crunch.
Blend milkshake magic: Whip up a creamy milkshake like this Oreo Milkshake by blending the homemade ice cream with your favorite milk like this Homemade Oat Milk or Creamy Cashew Milk
Ice Cream Pie: Press a cookie crust into a pie dish, fill it with Oreo Ice Cream mix, and freeze until firm. YUM
Pair with a warm brownie: Serve with warm brownies like this Chocolate Oreo Skillet Brownie for a heavenly combination!
Affogato: Pour a shot of hot espresso or strong coffee over a scoop of your cookies + cream icecream. Watch as the creamy ice cream melts into the rich, velvety coffee for a heavenly dessert-drink combination.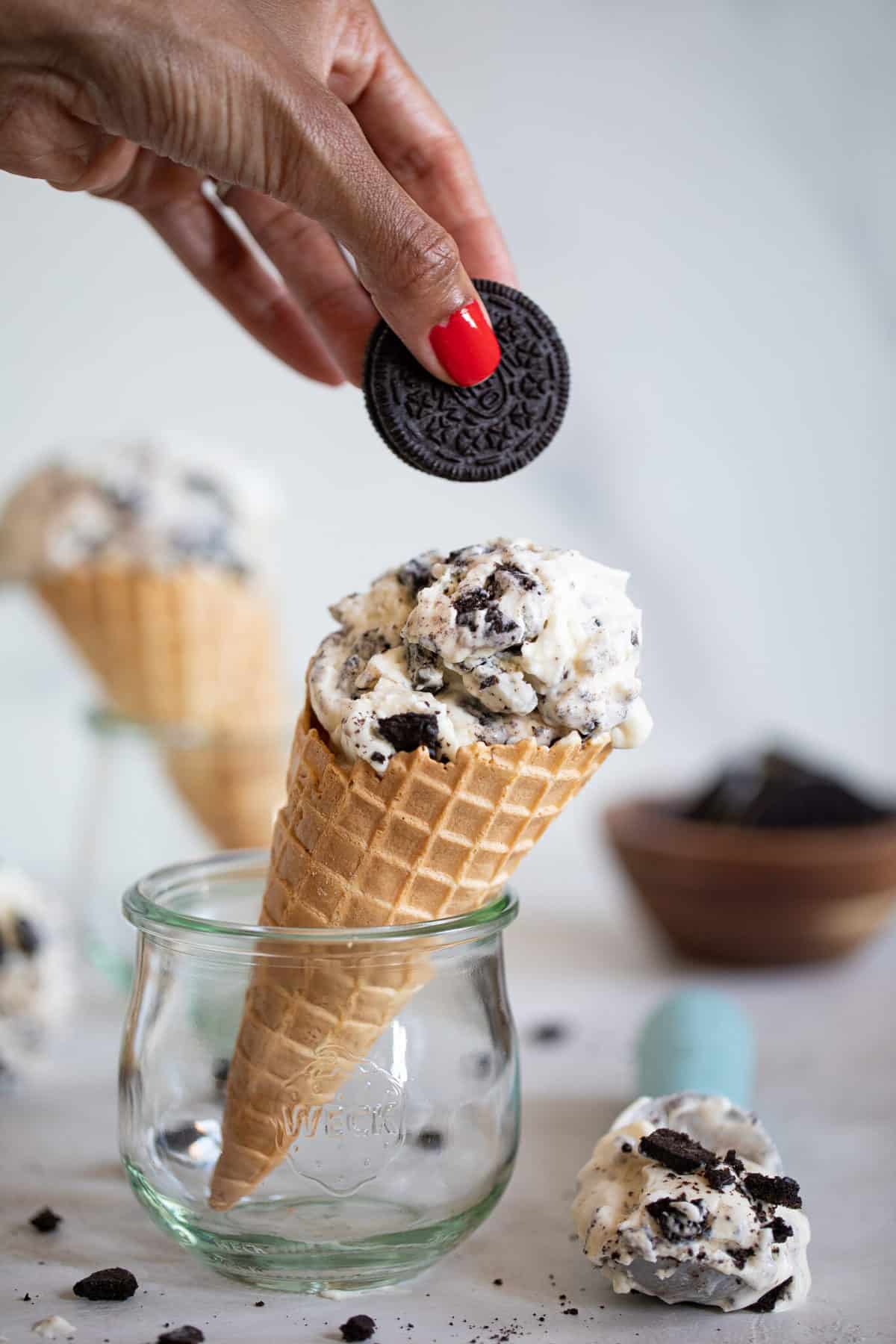 No-Churn Cookies + Cream Ice Cream Q + A's
How To Store Cookies + Cream Ice Cream?
While you may find that this creamy cookie-filled ice cream disappears in a few hours out of the freezer, you can keep it for up to two weeks. Store in an airtight container in the freezer to prevent ice crystals.
Is This Cookies + Cream Icecream Cream Recipe Gluten-free?
No-- But it can be! Just use Gluten-free Oreos in place of the original variety. The ice cream itself is already gluten-free. If you want to enjoy this in a cone, you will need to buy GF waffle cones!
Can I Make This Homemade Ice Cream Vegan + Dairy-free?
Yes! Luckily oreos are already vegan. Just sub the condensed milk with 1 (7oz) can of DF sweetened condensed milk and sub the heavy cream for a vegan heavy cream.
Can I Add Mix-Ins to The Ice Cream?
Absolutely! Not only can you make this ice cream without an ice cream maker, you can also get creative and add additional mix-ins like chocolate chips, nuts, or more caramel swirls. Just be sure not to overload the mixture, as it can affect the texture of the ice cream.
How Long Does This No-Churn Icecream Take To Freeze?
The freezing time can vary depending on your freezer temperature and the depth of the ice cream in the container. Generally, it takes around 4-6 hours for the ice cream to become firm. It's best to check its consistency periodically and adjust the freezing time as needed.
What Oreos to Use For Ice Cream?
I just use classic Oreo cookies, but there are so many types of Oreo flavors now that you can test out!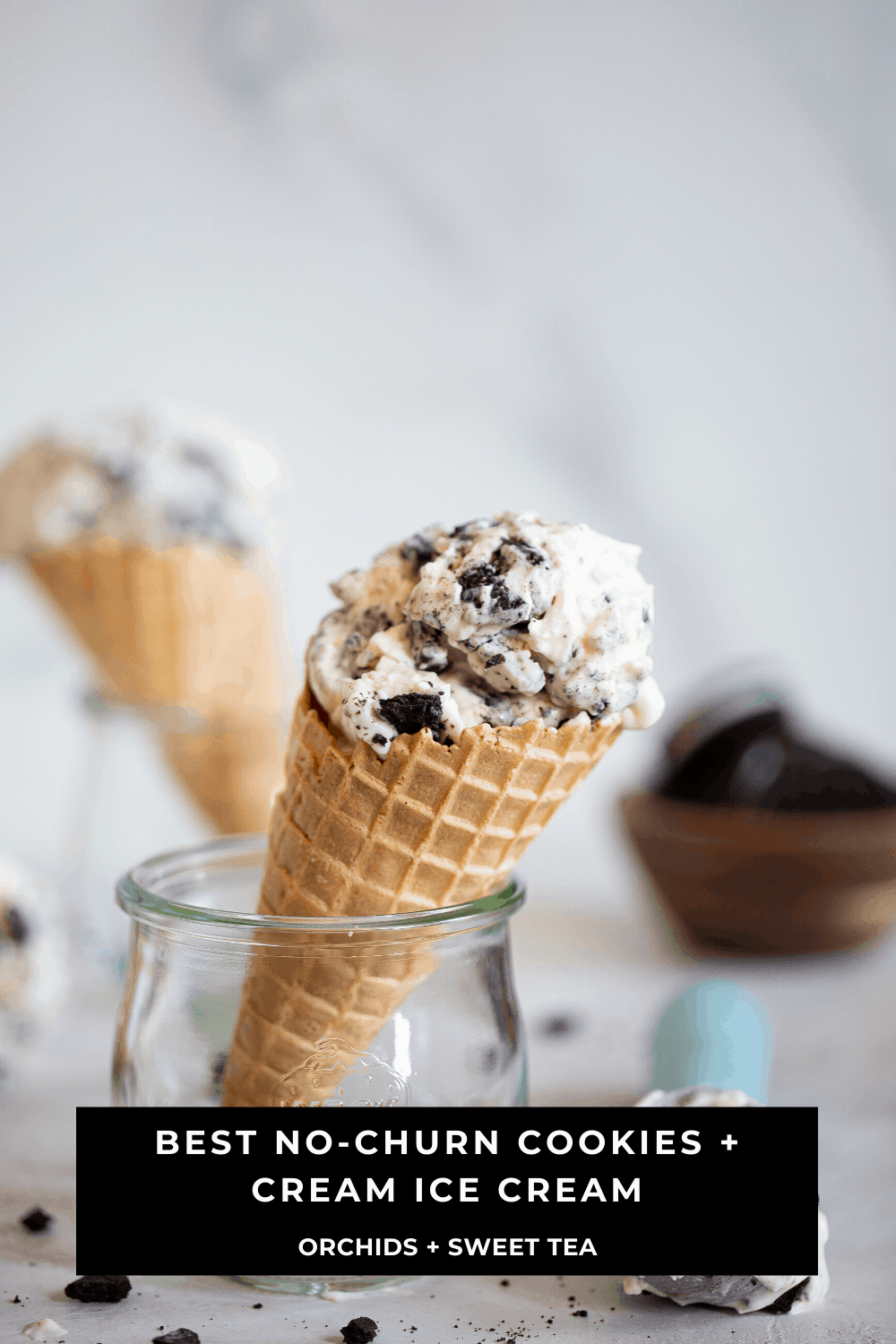 More Ice Cream Recipes You'll Love!
If you love this No-Churn Cookies + Cream Ice Cream recipe, try these out next!
MADE OUR RECIPE(S)?
If you choose to make this No-Churn Cookies + Cream Ice Cream recipe or any other recipe from us, be sure to tag us on Instagram at #Orchidsandsweettea so that we can share the love!
Total Time:
6

hours
5

minutes
2

cups

organic heavy whipping cream

(I use Organic Valley)

1

(14 oz.) can

sweetened condensed milk, low-fat

(I use Eagle's Brand)

1

teaspoon

vanilla extract

pinch of

sea salt

1

package

Oreo cookies

(See Notes!)
In the bowl of an electric mixer on medium-high speed, whip together the heavy cream and vanilla until stiff peaks form.

Now, fold in the sweetened condensed milk and sea salt into the whipped cream. Next, add in the Oreos and fold until fully incorporated.

Immediately pour mixture into a 9×5 loaf pan (or small metal bowl) and freeze for 6-8 hours. 

To serve, remove from freezer and let sit for a couple of minutes to soften slightly and enjoy on a cone or in a dessert bowl.

Bon Appetit!
OREO COOKIE: To incorporate cookies, simply crush an entire row and half of Oreos in a medium bowl and fold into ice cream mixture. To top the ice cream mixture after placing in a loaf pan, separate each cookie and scrape off the filling so that only the cookie itself is being used. You'll need approximately 2 rows of Oreo cookies or so to achieve the entire recipe, about 18-20 cookies.
STORAGE: When kept in an air-tight container, ice cream lasts for about 2 weeks.
Calories:
834
kcal
|
Carbohydrates:
92
g
|
Protein:
11
g
|
Fat:
49
g
|
Saturated Fat:
26
g
|
Polyunsaturated Fat:
4
g
|
Monounsaturated Fat:
16
g
|
Trans Fat:
0.04
g
|
Cholesterol:
112
mg
|
Sodium:
398
mg
|
Potassium:
498
mg
|
Fiber:
2
g
|
Sugar:
69
g
|
Vitamin A:
1344
IU
|
Vitamin C:
2
mg
|
Calcium:
256
mg
|
Iron:
9
mg
Best No-Churn Cookies + Cream Ice Cream.