This Decadent Dairy-Free Chocolate Milkshake recipe is completely life-changing. It is the perfect healthy sweet indulgence with bold cacao and chocolate flavors, a creamy dairy-free base made from cashew milk ice cream, and topped with a velvety coconut whip cream. Super easy and quick to make, with only a handful of ingredients and a mouthful of goodness!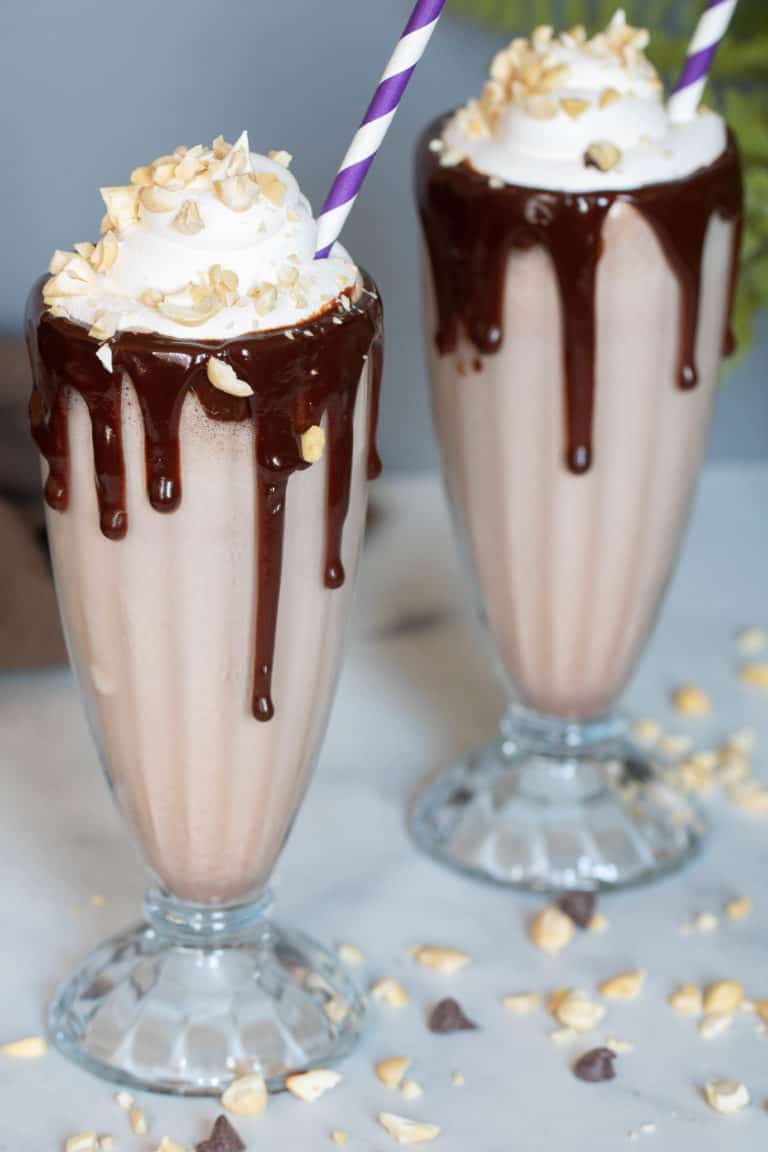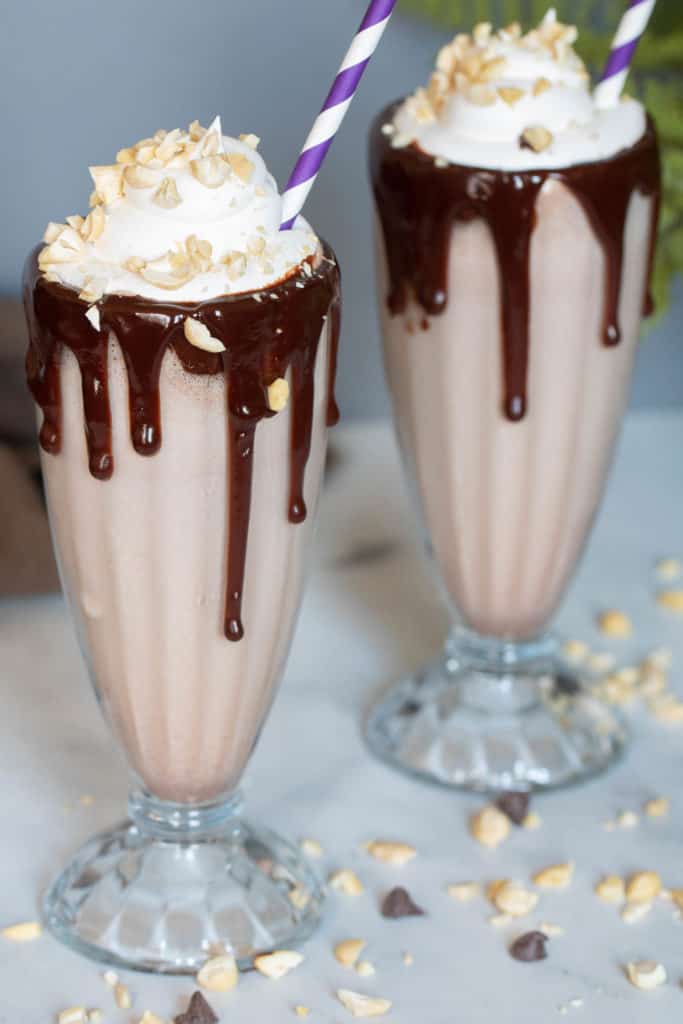 With January FINALLY coming to an end and Valentine's day right around the corner, why not indulge in this decadent sweet treat which is perfect for two.
Funny thing is, I've always thought that milkshakes weren't the thing that brought REAL satisfaction. Haha. But I stand corrected.
Now that I make my own milkshakes, I am a believer! Plus, I love being able to choose my personal favorite ice creams (my go to's– Talenti, Haagen Dazs, and So Delicious Dairy-Free) to include in my milkshake.
Secondly, I enjoy making my own milkshakes because I am able to fully customize the rest of the ingredients since most of my recipes are catered to being dairy-free or vegan.
If you've been an avid follower of Orchids + Sweet Tea, then you'll know that this isn't my first milkshake recipe (although it's been a while) and it probably won't be my last. Haha.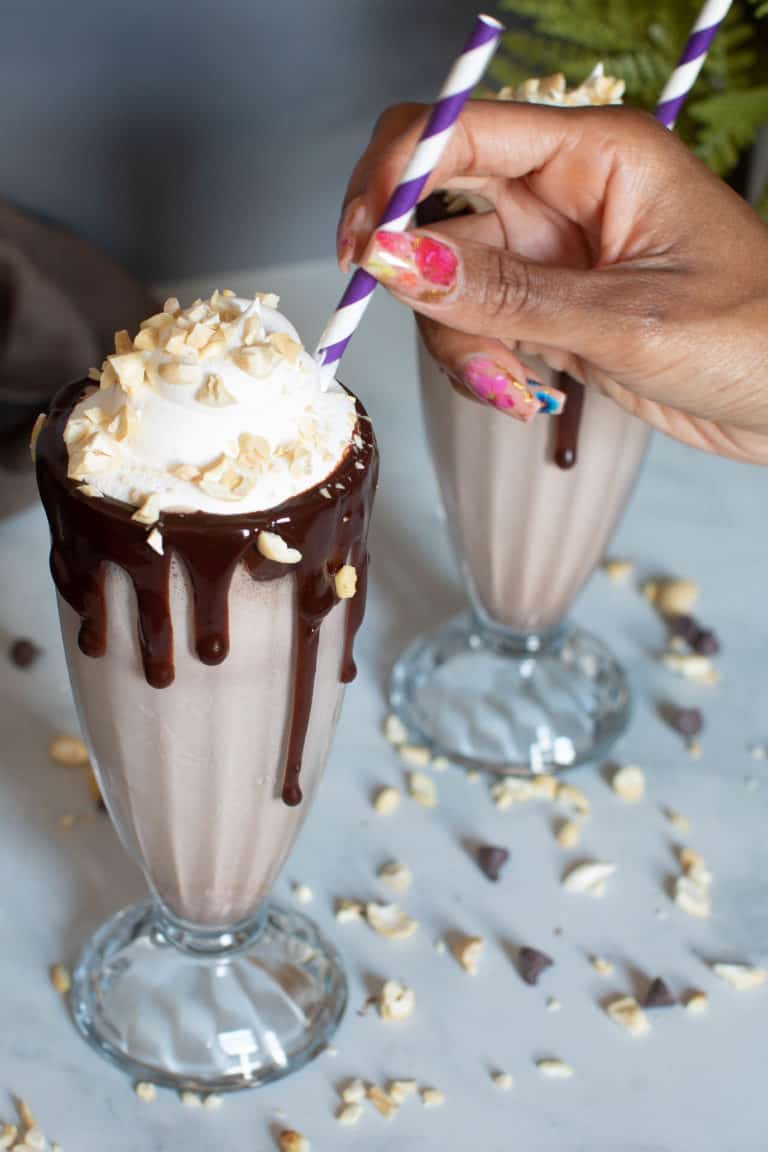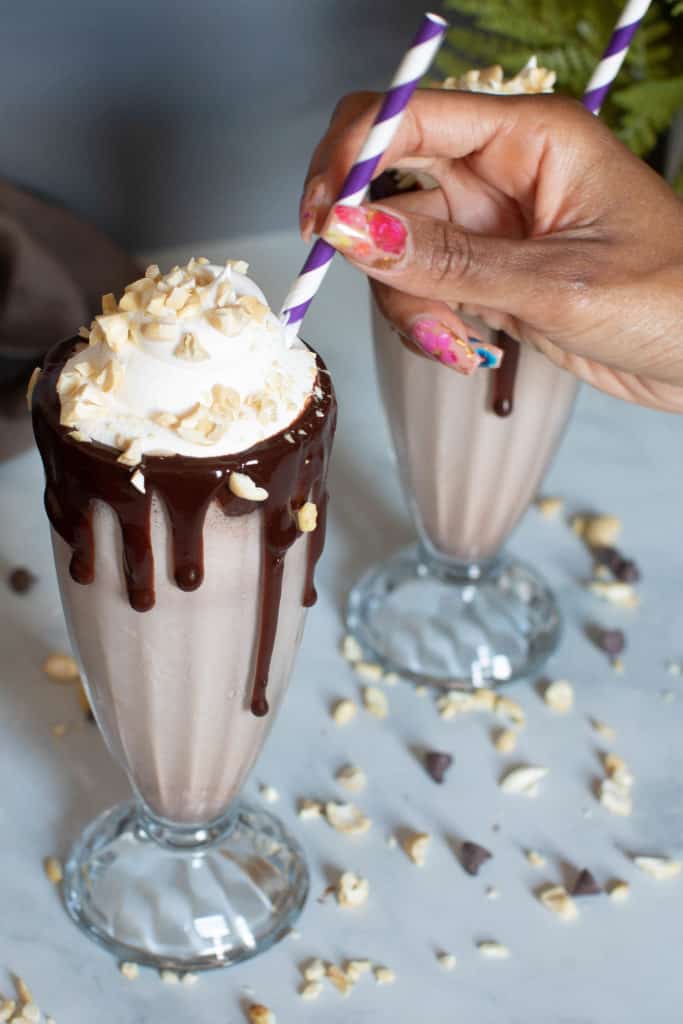 I just love milkshake recipes because they are SUPER EASY to make, but also just so damn good. Don't you agree?
Good news! I've included a few of my top favorite Milkshake recipes that are currently on the blog below:
This 5-Ingredient Strawberry Cheesecake Milkshake recipe is a real sweet treat and you've ready correctly—only uses 5 ingredients! Reminds you of a velvety slice of cheesecake by the flavors, Graham cracker crumble, and fresh strawberry compote to top things off! 
This Very Vanilla Cashew Milk Milkshake recipe is the perfect vegan sweet treat that will surely satisfy your biggest sweet tooth.
This Dairy-Free Chocolate Chip Cookie Milkshake recipe is completely decadent in flavor. Super easy and quick to make, with only a handful of ingredients. 
This Vegan Peanut Butter + Pecan Milkshake is a real recipe gem. Full of peanut buttery creaminess, double thick, ultra smooth, rich, has a slight nutty taste, and is a sure sweet tooth satisfier; this recipe is the best way to add a nice sweet kick to your day. 
This fabulous Salted Caramel Chunky Milkshake is a real sweet treat. Incredibly velvety, smothered with caramel sauce, and little bits of chocolate chunks, this recipe is every bit of "heaven in a glass".  Super easy to make and can be whipped together in less than 10 minutes.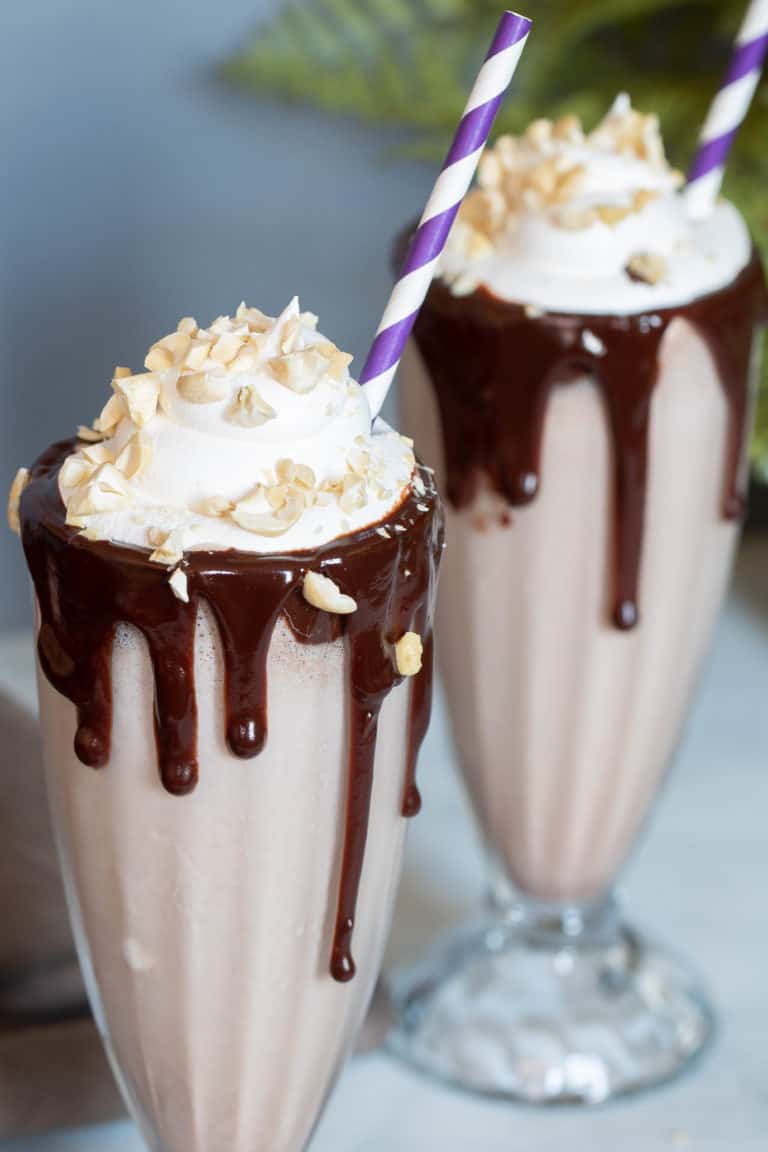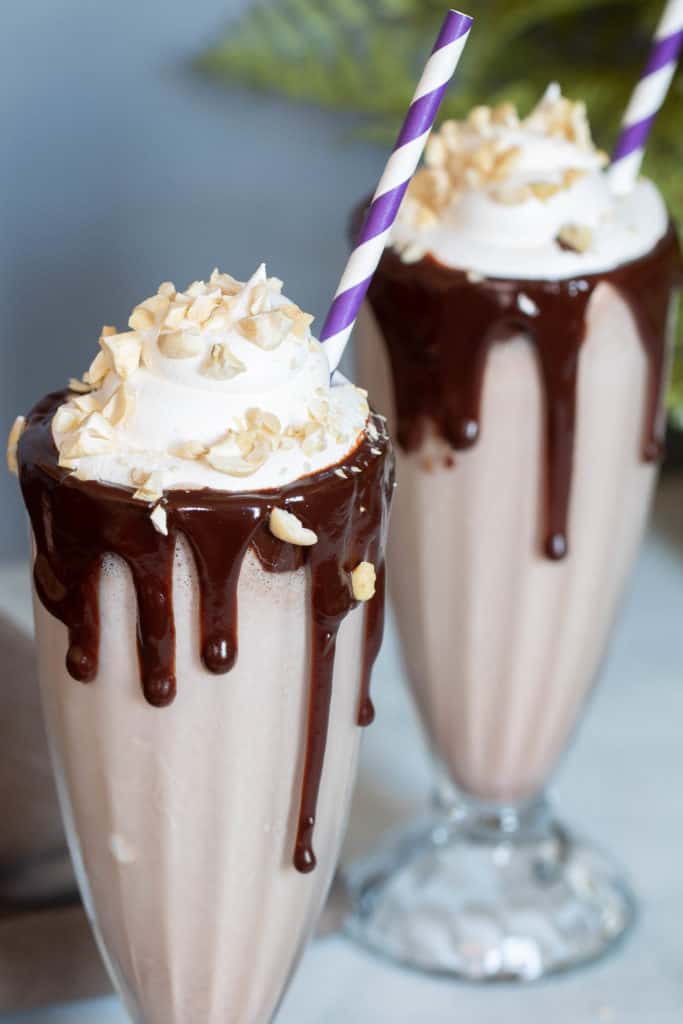 Despite chocolate being the main ingredient for Valentine's Day, I also wanted to pair it with cacao which is a healthy alternative.
Together, they both create a nice richness that one can appreciate in every sip.
Well, who am I kidding? Chocolate is a fan favorite for many of you who follow us, so I couldn't help but give you a few more delicious chocolate options.
Need Valentine's Day Ideas For That Special Someone?
These Valentine's Day Lemon Cupcakes are melt in your mouth cupcakes that will be the perfect surprise sweet treat for your loved one. Soft, fluffy, + extra moist, these cupcakes are bursting with bold lemon flavor in every bite. 
These Mini Chocolate Brownie Bundt Cakes are the perfect sweet treat for Valentine's Day!  They are incredibly moist, fluffy, and most certainly for the absolute chocolate lover. 
These Not So Classic New York-Style Cheesecake Bites are the best rendition of an old-time favorite with a real twist! Not only are these little bites the perfect size, but they come fully packed with a beautifully crunchy Graham Cracker + Walnut crust; a nice creamy, velvety cream cheese base, and topped with a delicious strawberry glaze topping.
These Fluffy Vegan Oatmeal Whole Wheat Pancakes are the perfect way and healthy way to kick start your day! Completely fluffy and oil-free, these pancakes are truly irresistible. For Valentine's Day, add a few slices of fresh strawberries and chopped walnuts and you have yourself a romantic breakfast dish. Made in just a few short steps and under 10 minutes.
These Strawberry Cream Cheese Breakfast Scones will surely bring forth some sort of brightness to your day. This recipe boasts a fresh strawberry and cream cheese filling that is wrapped together well by a flaky, buttery crust and a vanilla cinnamon glaze that will have you licking your fingers for more.
We're on YouTube! SUBSCRIBE to Stay-Up-To-Date on Our Recipe Videos!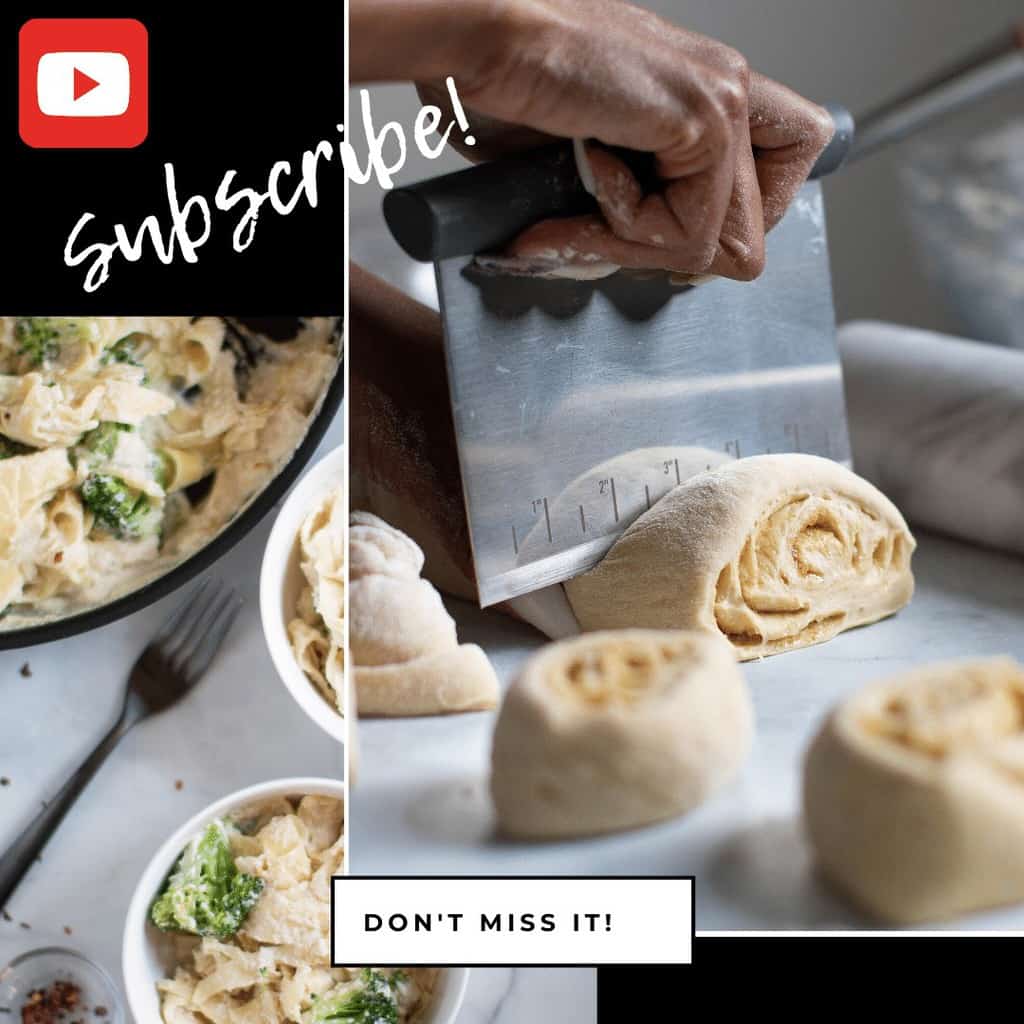 WHAT IS CACAO REALLY? CACAO VS. COCOA.
OK, so can we talk about Cacao for a sec? Did you know that Cacao AND Cocoa are the same thing?
I know. Insane. I was totally confused about this for a long time and honestly assumed that once was healthier than the other. However, it's come to be determined that they are just used interchangeably.
Chocolate is actually made from Cacao beans (or seeds). It's said that companies who use the term 'Cacao' are referring to the beans, pods, or ground up version of the beans. However, the term Cocoa is often referred to as the powdered version of it all (which is formed after the fat is pressed out of the bean).
Of course there's a whole process that happens and you can find out more about that here.
However, be mindful that since Cocoa has the fat removed for it to be powder-like, it does make Cacao a greater option in terms of health benefits.
Cacao has a host of health benefits which include: antioxidant properties, heart-protective and anti-cancer properties, contains iron and tryptophan (which is an amino acid that helps the body make serotonin—a relaxing chemical).
So of course, it's always best to go with a brand of Cacao that contains those nutrients and are premium to ensure that your body actually receives all of those boosters. Navitas Organics' version of Cacao not only does that, but it's so delicious as well! You can always purchase it on their site or through a large retailer like Amazon.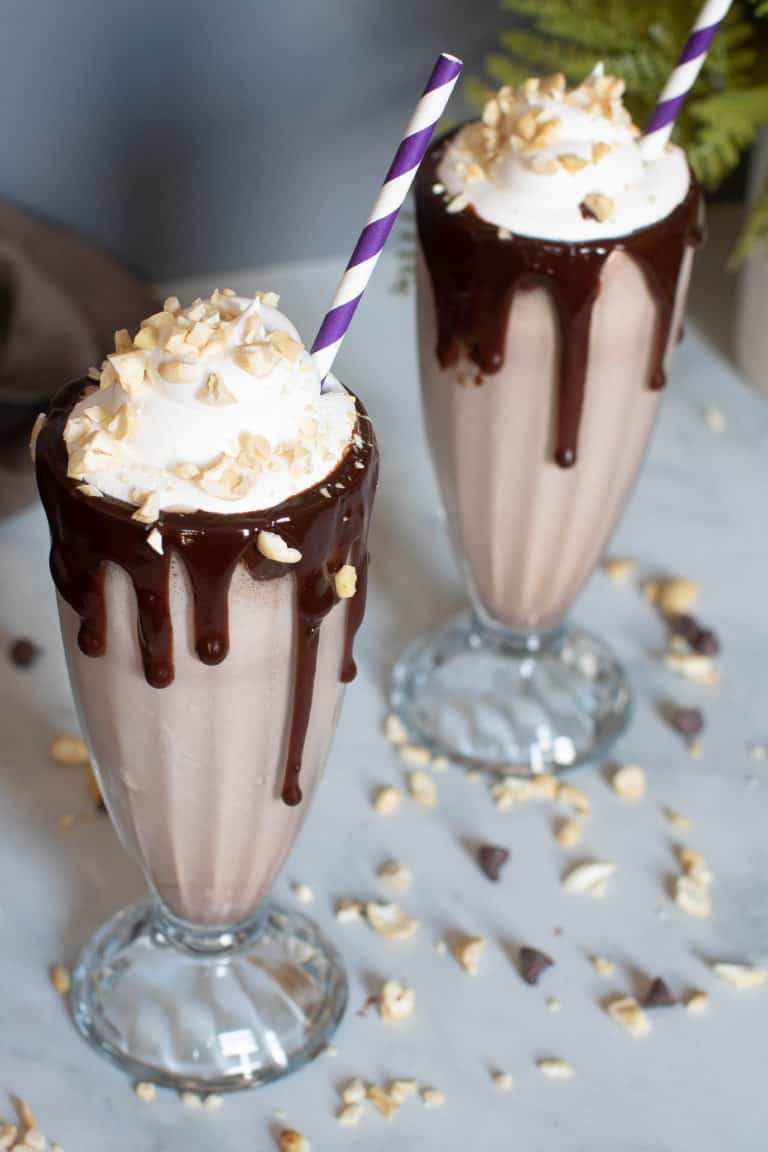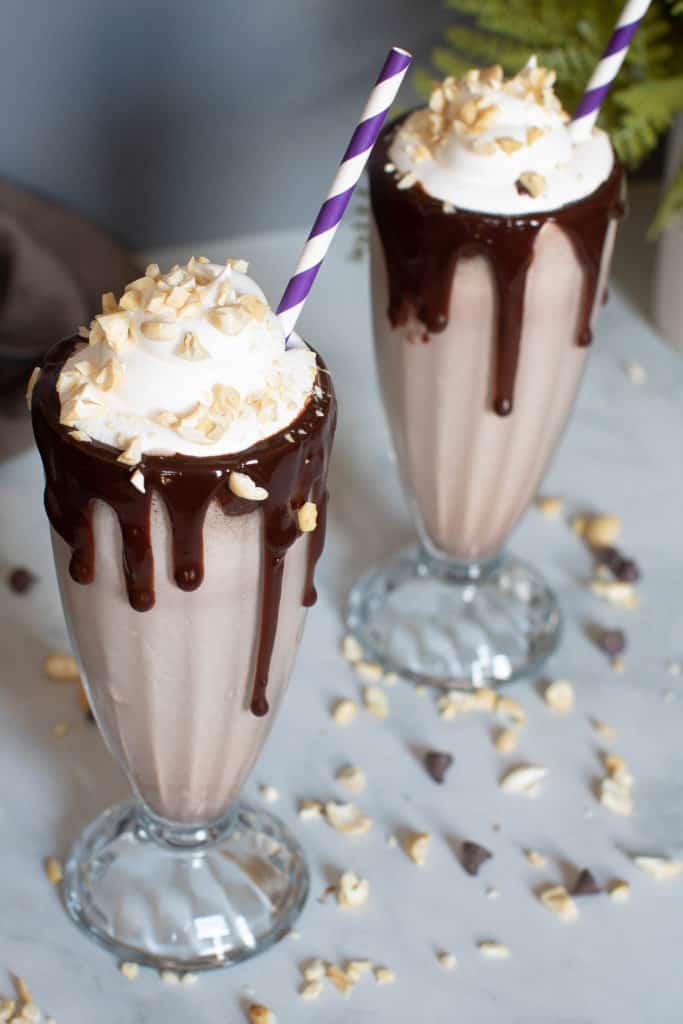 Now, let's dig into this tall glass of goodness, shall we?
In a small pot on low heat, add chocolate chips and milk, whisking constantly until full melted and smooth. Once melted, remove from heat. Let cool slightly, about a minute or so.
Add the dairy-free ice cream, your favorite non-dairy milk (I used So Delicious as well), cacao, melted chocolate, and vanilla extract, to a blender and blend on medium-high speed, until smooth, about 1-2 minutes. Add additional melted chocolate for more decadence or a darker color.
Once milkshake consistency is met, pour milkshake into tall glasses, and top each milkshake with CocoWhip! (also from So Delicious) or homemade (See Notes!), drizzle of melted chocolate, and chopped cashews, if desired.
Add a straw and sip away and enjoy!
MADE OUR RECIPE(S)?
If you choose to make this Best Decadent Dairy-Free Chocolate Milkshake recipe or any other recipe from us, be sure to tag us on Instagram at #Orchidsandsweettea so that we can share the love, rate, comment below, + share!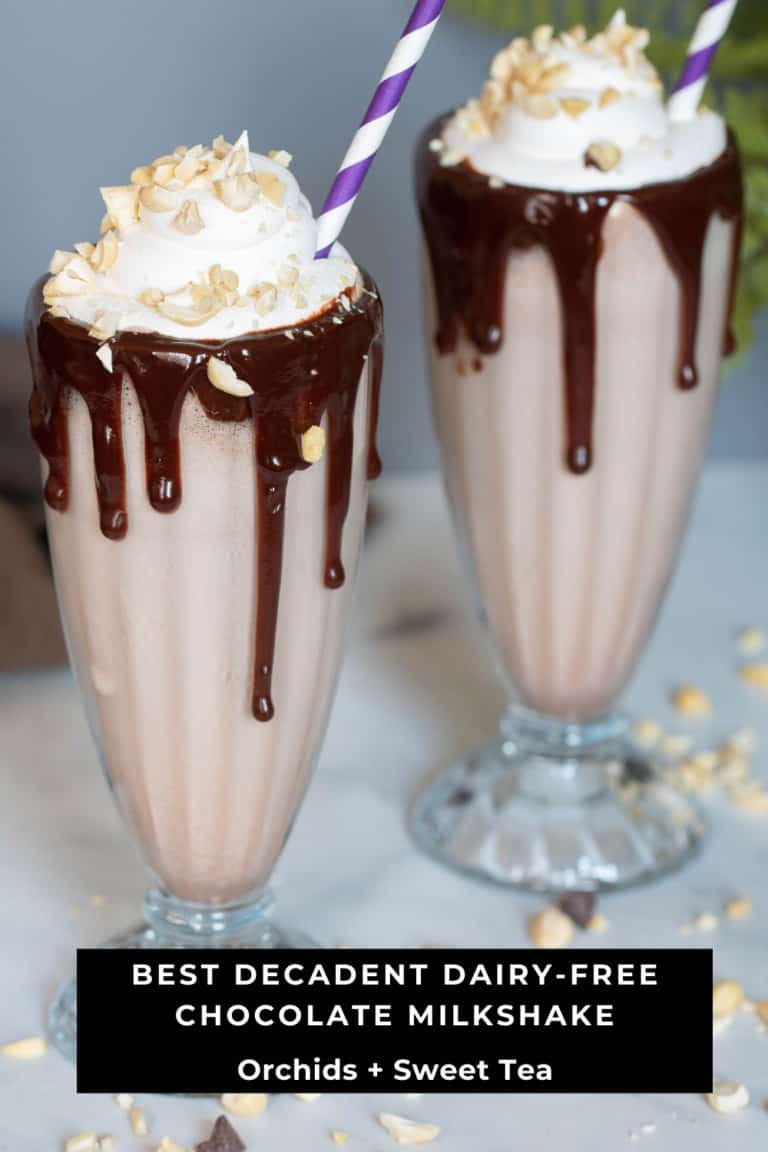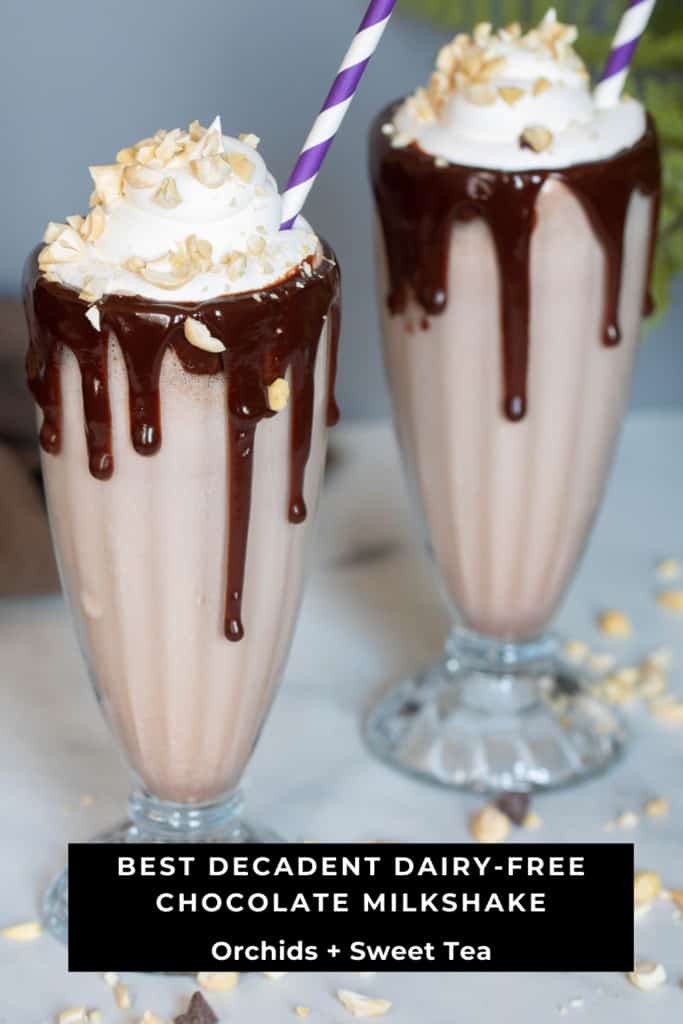 3

cups

So Delicious Cashew Milk Very Vanilla Ice Cream

(See Notes!)

1/2

cup

Cashew Almond Milk

(I use So Delicious Dairy-Free; You can use your fave plant-based milk!)

1

Tbsp

vanilla extract

1

Tbsp

Navitas Organics Cacao Powder 

(See Notes!)

1

cup

Coco-Whip! or Homemade Dairy-Free version

(I use So Delicious Dairy-Free: See Notes!)
STORAGE: Best if consumed right away. If not, ensure that milkshake is stored in an air-tight container or mason jar and kept in the freezer. To thaw out, remove milkshake from freezer and place in the refrigerator for 30-40 minutes for a creamy consistency.
DAIRY-FREE ICE CREAM: You can use So Delicious' Cashew Milk version or their Almond Vanilla or Soy Milk version. 
PLANT-BASED MILK: I love using Almond milk, however, you can use your own personal favorite—Coconut, Oat, Soy, etc.
COCO-WHIP!: You can purchase So Delicious' Coco-Whip topping or make it homemade. Great homemade recipe by leelalicious.
NAVITAS ORGANICS: For this recipe, I used the Cacao Powder.
Best Decadent Dairy-Free Chocolate Milkshake.