This Banana Mango Raspberry 'Sunrise' Oats Smoothie is tropics in a glass. Full of fruity flavor, this smoothie is creamy, enjoyably thick, and super easy to make—-whipped together in just 5 short minutes. A healthy way to stat your day or even replace a meal.
HAPPY WELLNESS WEDNESDAY, YA'LL!
To kick things off and delve right into #wellnesswednesday, I'm so happy to share this smoothie recipe with you. While I've fallen off the bandwagon for sometime, I use to enjoy a good smoothie religiously.
I remember not being able to start my morning with whipping together a quick smoothie for my husband and I. It was the easiest and quickest thing to make when you're getting ready for work. Who else understands?
Smoothies are just the most genius things ever made and I sometimes use them to get my little one to eat his veggies and fruits. This approach is definitely an awesome way of making eating healthier less fussy and troublesome.
He's at that stage where textures, smells, and visual appeal is SUPER IMPORTANT when it comes to trying anything new or old. Does anyone else ave a picky eater on their hands?
While it can be frustrating sometimes, I'm learning that being creative is an awesome way to make things run more smoothly.
On another note, since we're doing all things wellness today, I'll share my own personal wellness plans. Lately, I've been putting together a list of foods that I'll be incorporating my diet going forward. If you've been following this blog, then you'll know that I've had a long struggle with eliminating dairy from my diet completely.
Yes, I've mastered minimizing it a bit, however, I'm planning on removing it entirely, at least more than 90% of the time. So, I've been researching great alternatives to specific foods that don't work well with my body, such as cheese, other dairy, pastas, etc.
I even went as far as changing up the places that I'll be purchasing most groceries to ensure that I am able to stick to this healthier diet. In my searching, I was able to locate Thrive Market, which sells a ton of organic and vegan options. Yeesssss!
I'm so excited to try a few options such as chickpeas pasta, lentil pasta, and other awesome choices. It's all about eating healthier, to stay healthier.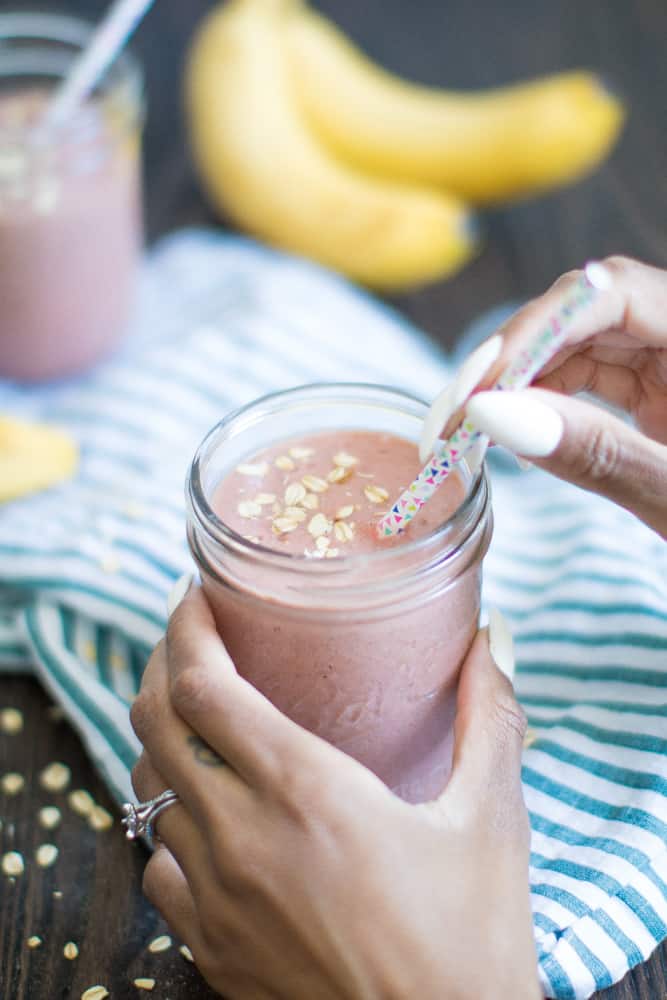 Speaking of eating healthier, are you aware of some really cheap, but nutritious options? These 7 cheap and nutritious plant-based staples make it easy to eat healthy without exploding your pockets.
And if you're thinking about following a full plant-based diet and decided to completely discard meat products, then here are some Awesome Meat Substitutes to Try This Year, which offers an awesome list of great alternatives.
Now back to smoothies! In the beginning of the year, I chose to go on a detox using smoothies and it was a refreshing experience. I believe that it's super important to detoxify your body ever so often, especially with all the variety of things we tend to eat on a daily basis (good + bad). A little cleanse and "rest" for our digestive system does the body wonders, trust me! To see what smoothies I used, see the list of Healthy Detox Smoothies for the New Year.
For this 'Sunrise' smoothie, I wanted to toss together a few tropical flavors and it worked! Usually, I use water as my base, but this time for added creaminess, I chose to use coconut milk.
Here's what you'll need to make TWO medium glasses of smoothie:
2 large bananas
1 cup frozen mango
1 cup frozen raspberries
1 Tbsp chia seeds
1/2 cup rolled oats
1 cup of coconut milk (I used this amount instead of 1/2 cup to avoid smoothie from being overly thick)
Optional add-ons: yogurt, ground flaxseed meal, orange juice, peanut butter, lemon juice
Just add all the ingredients to a blender and blend until desired consistency is met. Wallah!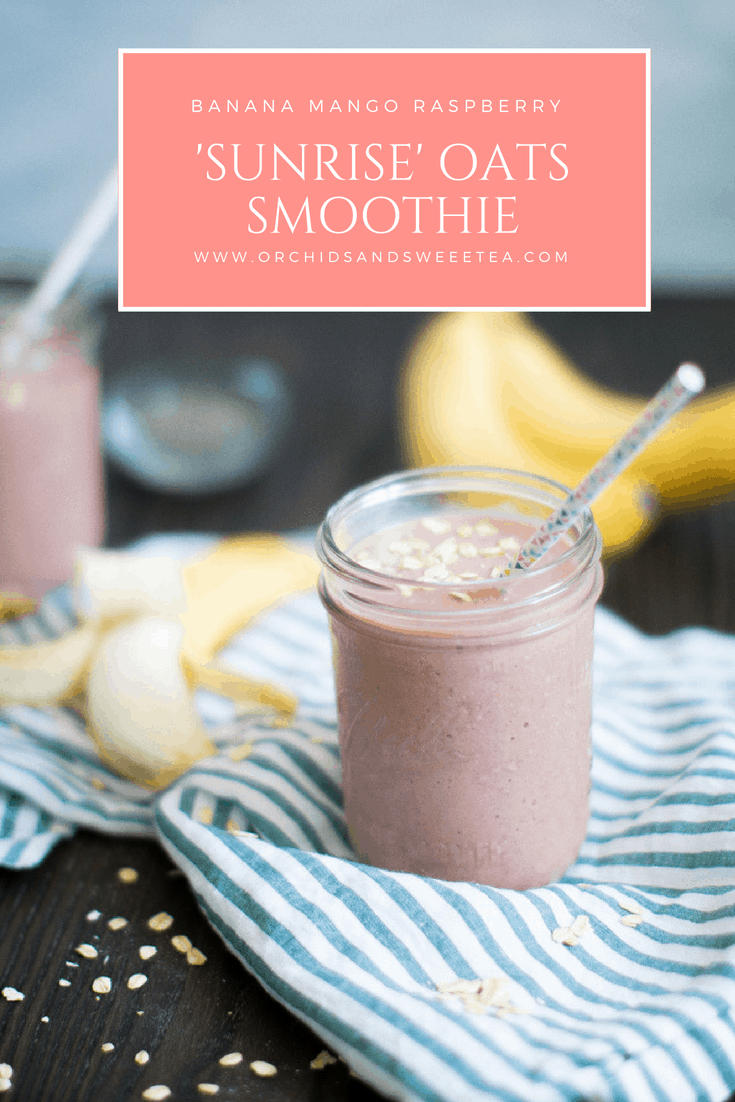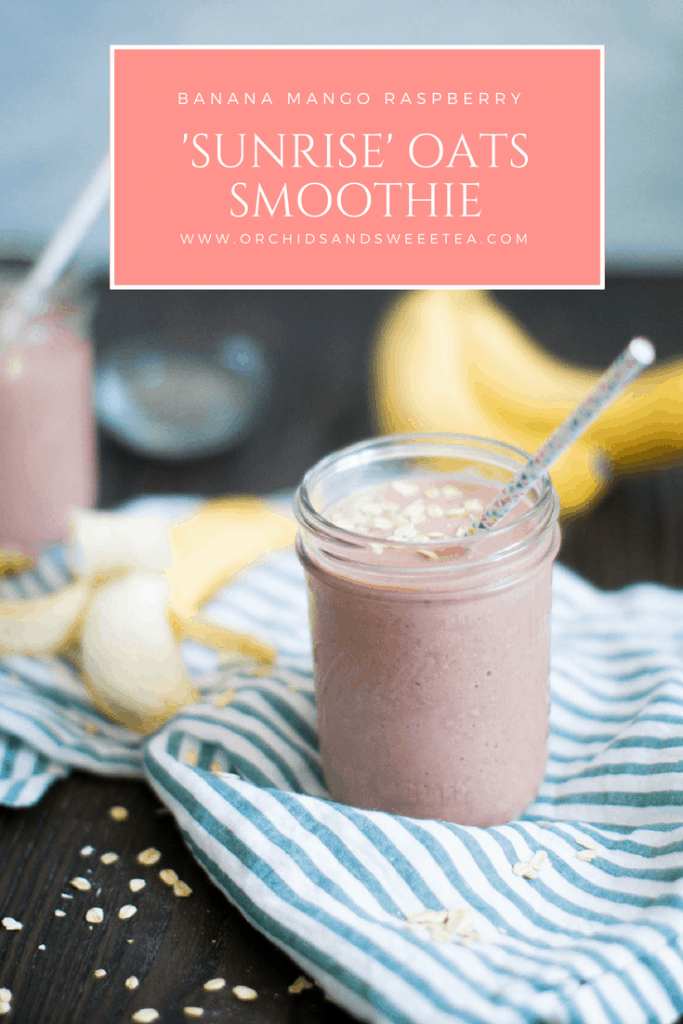 2

large

bananas

1

cup

frozen mangos

1

cup

frozen raspberries

1

Tbsp

chia seeds

1/2

cup

rolled oats

1

cup

coconut milk
Simply add all ingredients to blender (wet ingredients first), and blend until desired consistency is met.
Optional add-ons: yogurt, ground flaxseed meal, orange juice, peanut butter, or lemon juice.
**If using another liquid add-on, use only 1/2 cup of coconut milk in the recipe.
Banana Mango Raspberry 'Sunrise' Oats Smoothie.