This Bacon + Veggie Sunrise Breakfast Omelet is the perfect breakfast item. Loaded with brown sugar bacon, tomatoes, jalapeños, onion, bell peppers, spinach, and cheese. Yum! This is surely a delight and a great way to kick start your morning!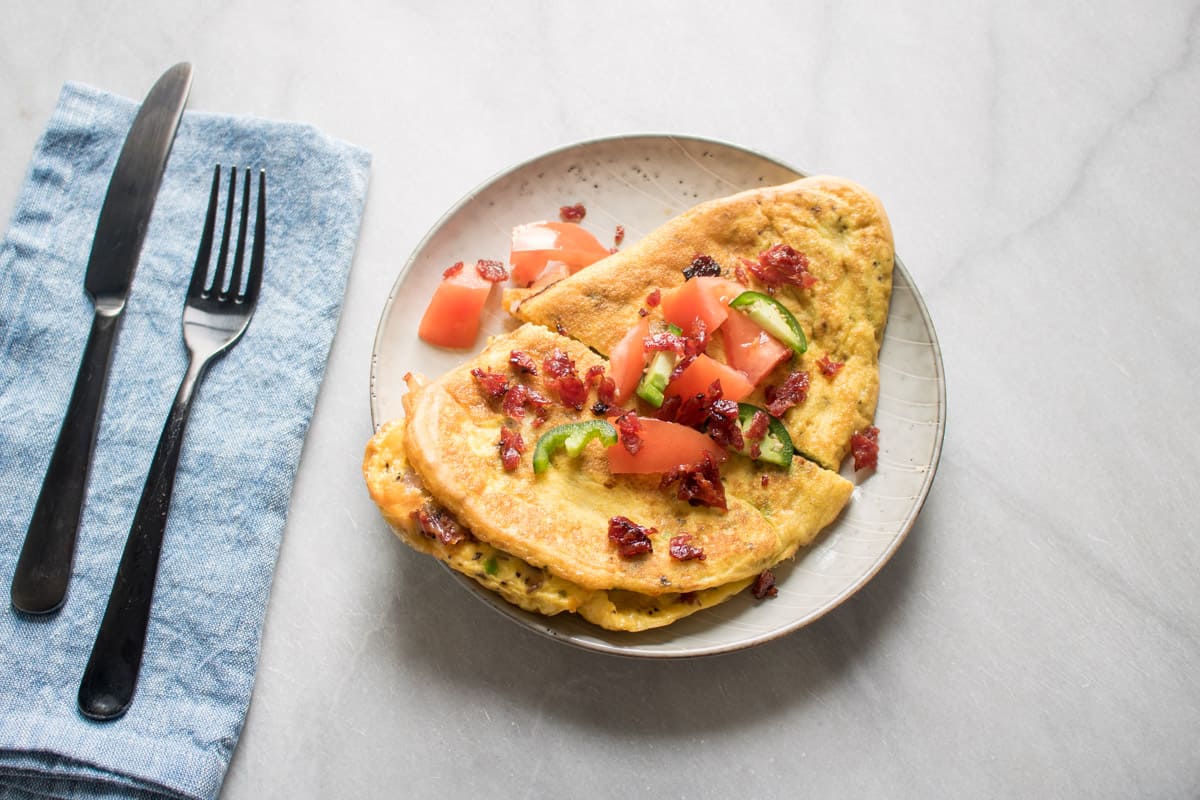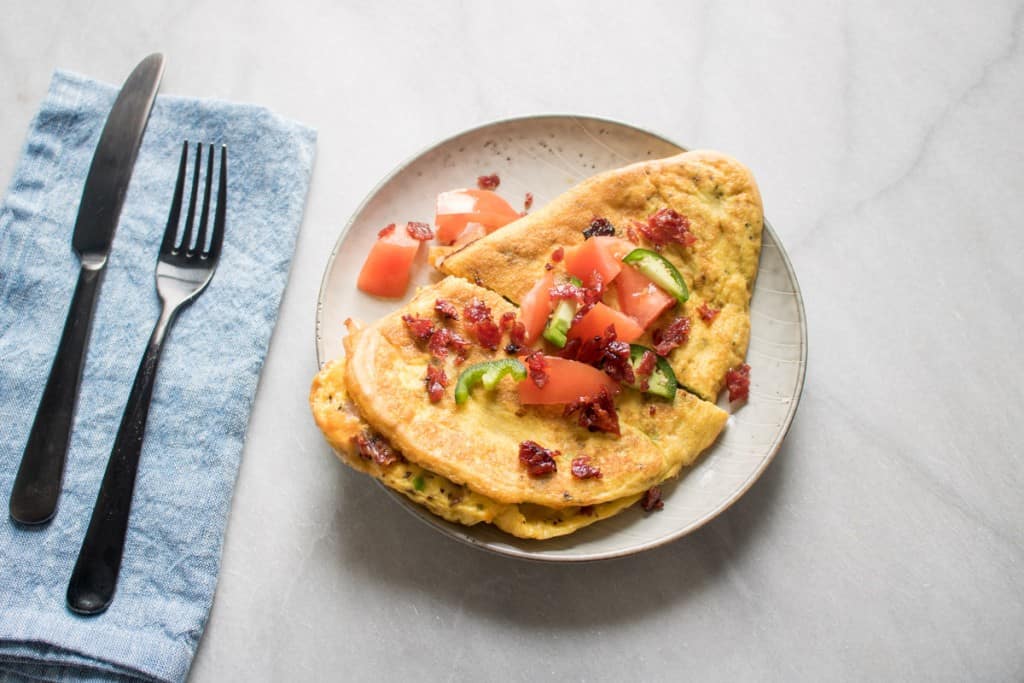 What? An omelet? Yes. An omelet that comes loaded with flavor and is super easy to make! But can I be honest for a moment?
I've been so bad at making omelettes (when it comes to keeping it's shape!) that I had to invest in an omelet pan from Crate and Barrel. Haha.
Trust me, if you're anything like me, then this is heaven sent. It's pretty easy to use and your omelet comes out seamless. Hey, we all need a little help sometimes right!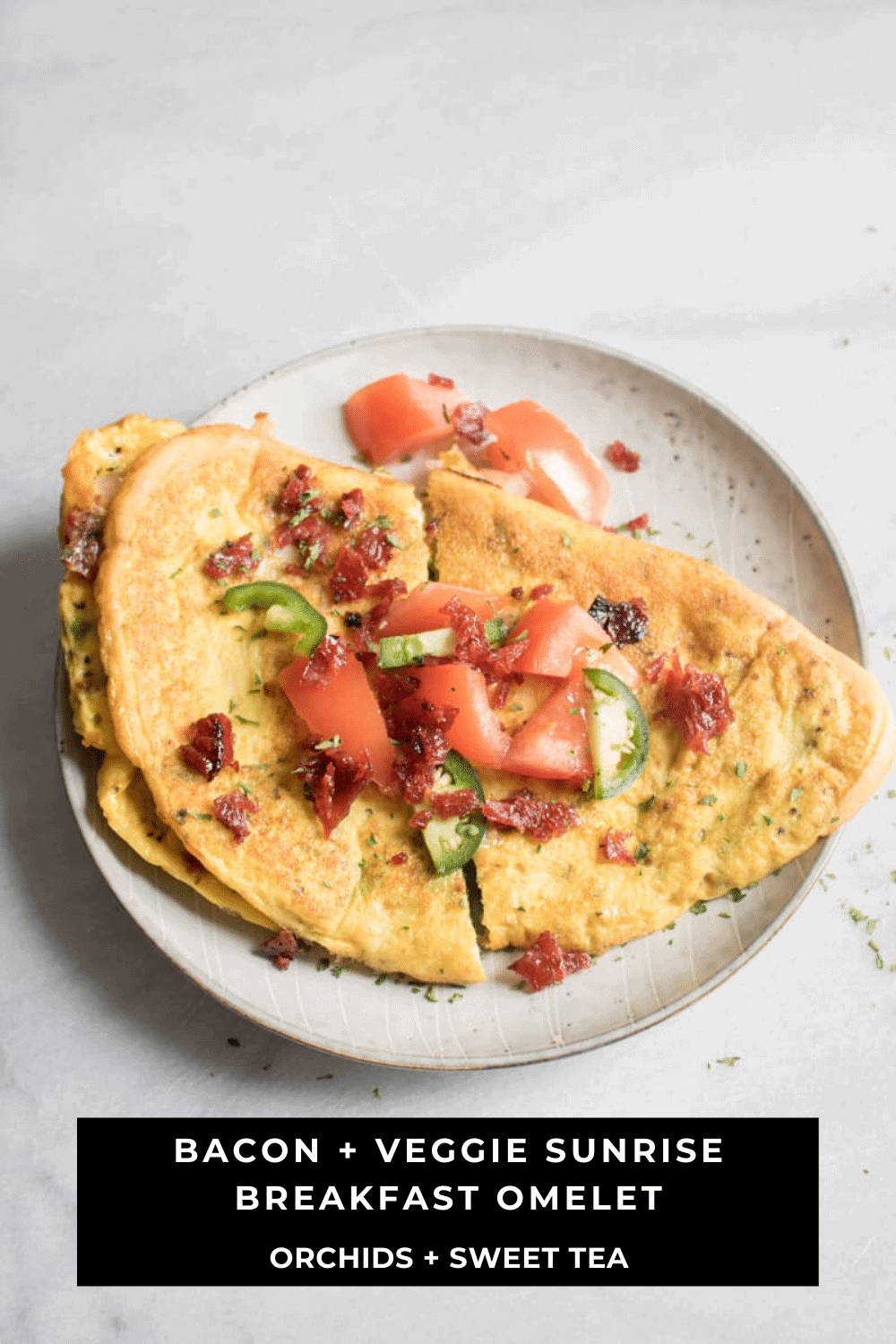 Be sure to check out another great breakfast recipe idea using egg here:
Packed with a velvety roasted inside of mashed sweet potato tossed in shredded sharp cheddar cheese, topped with spinach, fluffy scrambled eggs, and a bold flavor from the brown sugar bacon; these Loaded Spinach, Bacon, Egg, + Cheese Sweet Potato Boats are the perfect way to kick-start your day, meal prep for the week ahead, or even to enjoy for brunch.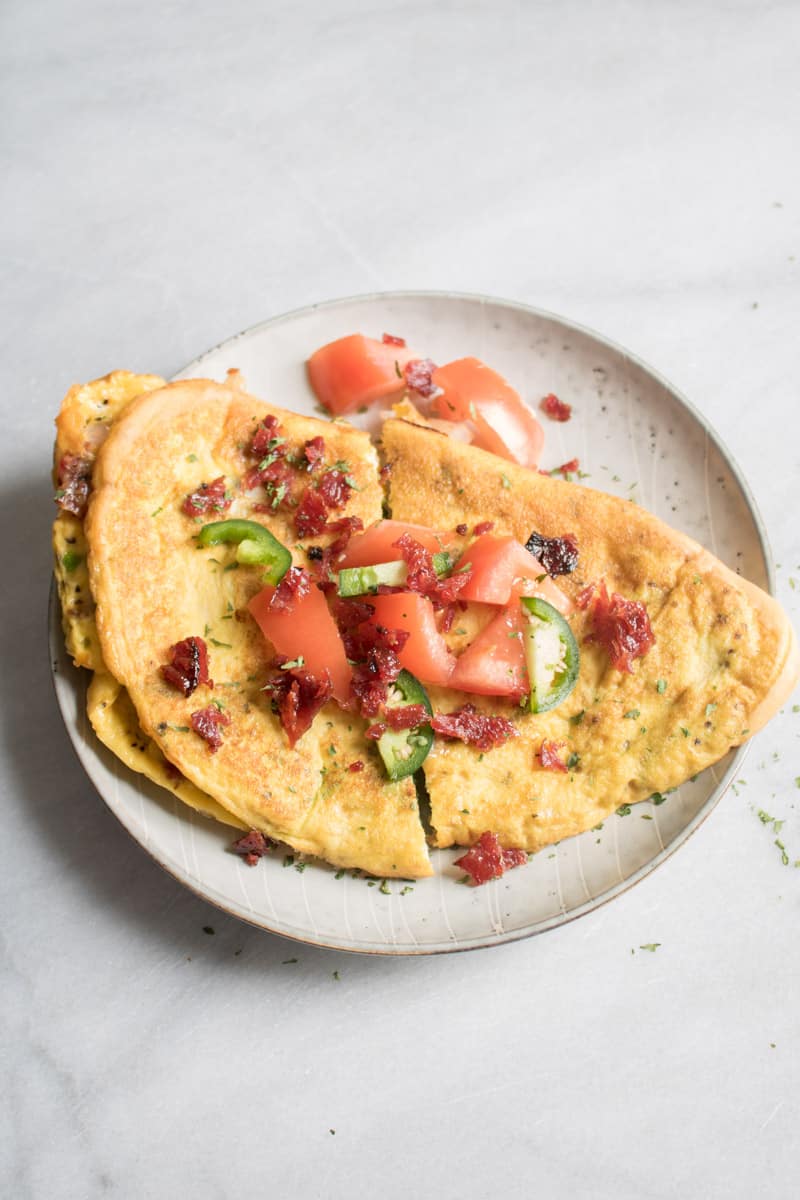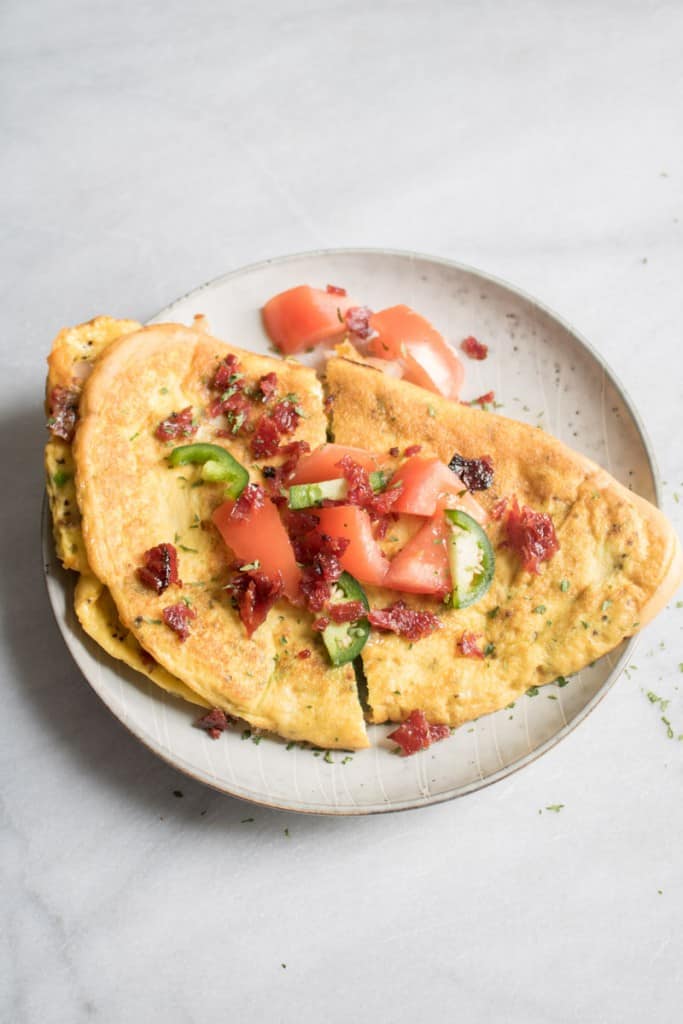 Now, back to the recipe! At first, I wanted to make an all veggie omelet, but then I thought about bacon and I just couldn't resist.
Instead of adding just any plain ole' bacon of course, I wanted to add a bit of sweetness by using 'brown sugar bacon'. Ever tried it?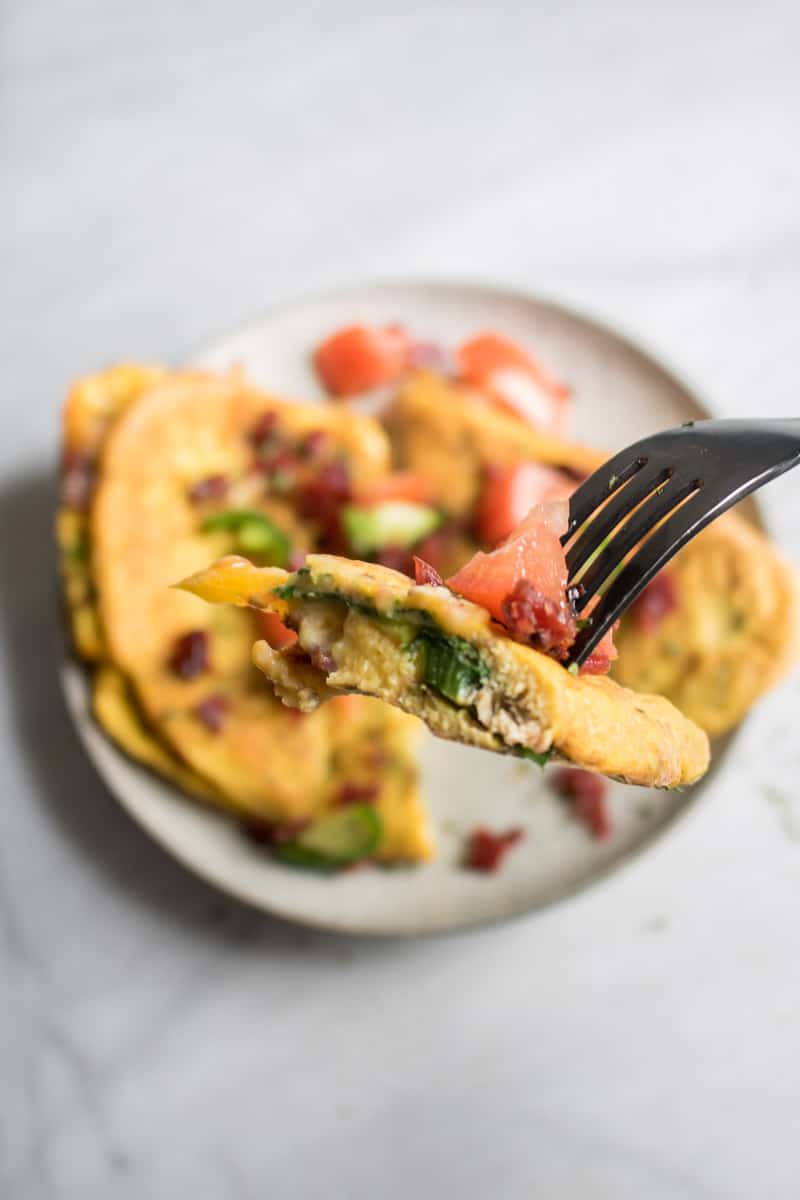 Brown sugar bacon is simply bacon (natural turkey bacon for me!) that is fried in the oven with brown sugar sprinkled all over each strip. With this method, it becomes caramelized and GOOD!
Once my bacon was made, I simply minced it into medium chunks using a food processor and continued on with my other omelet ingredients.
For the omelette, you simply use 3 eggs per omelet (in my case, I used 6 for two people), spinach, diced bell peppers, red onion, jalapeños, tomatoes, cheese, dried parsley and salt + pepper.
Place your eggs in a medium bowl and whisk together, adding salt + pepper. Then you heat your pan (on medium-high) and add 1 Tbsp of olive oil, coating it well with a paper towel.
If using the omelet pan, add eggs evenly to each side of pan and let it cook for 1 minute until bubbles begin to form.
Next, on each side, add your veggies, cheese, and bacon and then close the lid and let it cook on each side (about 3-4 minutes) until well done in the center and all ingredients are cooked through.
Serve immediately and add your own favorite side (fruits, toast, etc). Wallah!
MADE OUR RECIPE(S)?
If you choose to make this Bacon + Veggie Sunrise Breakfast Omelet recipe or any other recipe from us, be sure to tag us on Instagram at #Orchidsandsweettea so that we can share the love!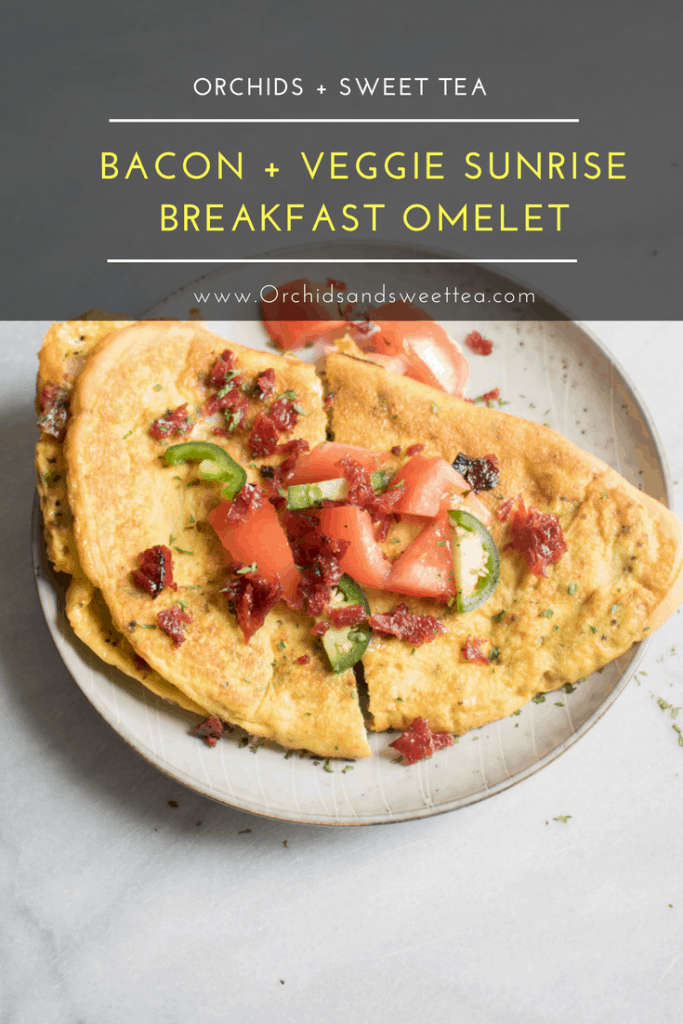 3

large

organic eggs

(I use Organic Valley)

1

cup

chopped organic turkey bacon, cooked

(That's about 8-10 slices; See Notes!)

1/2

medium

red onion, chopped

1

medium

tomato, diced

1

medium

bell pepper, diced

1

small

jalapeno, diced

1

tsp

dried parsley

pinch of

sea salt + black pepper, to taste

1/2

cup

organic shredded Sharp or Mozzarella cheese + more if needed!

(I use Organic Valley)

handful of

organic spinach, minced finely

1

Tbsp

extra virgin olive oil, for cooking
Heat oil in a skillet (or omelet pan) over medium-high heat and add 1 Tbsp of olive oil (spreading it evenly with a paper towel). Whisk eggs in a medium bowl and season as desired with a pinch of dried parsley, sea salt and pepper.

Add whisked eggs to your skillet or omelet pan and add jalapeno, onion, bell pepper, spinach, sugar bacon, and cheese evenly atop your eggs. Cook for 2-3 minutes until the eggs are set and the bottom of the egg is golden. **If using omelet pan, flip pan on opposite side after 2-3 minutes and let it cook another 2-3 minutes**

Remove from heat and add the diced tomatoes, additional brown sugar bacon, jalapeno, cheese and any other garnish as desired. Serve warm.


Bon Appetit!
ORGANIC VALLEY: For this Casserole, I used my usual go-to Organic Valley eggs as well as one of their line of cheeses—Mild Cheddar, instead of regular cheddar.
BROWN SUGAR BACON: 
Ingredients:
8-10 slices of thick cut bacon or turkey bacon
1/4 cup maple syrup
1/3 cup brown sugar
Directions: 
Place the bacon on a parchment paper lined baking sheet and brush the tops of the bacon with maple syrup and sprinkle on some brown sugar.
Bake in a pre-heated 400 degree Fahrenheit oven for 10-15 minutes or so, flipping the bacon and brushing the opposite side with maple syrup and sprinkling the brown sugar as well. Bake for another 10-15 minutes or until it is completely caramelized and crispy. 
Bacon + Veggie Sunrise Breakfast Omelet.